For Sonakshi Sinha's 27th birthday, the Dabangg star gave herself a unique present. Posting a photograph of herself on Instagram, she revealed her collar bone portraying a new star shaped tattoo.
The caption read:
"Surpriiiiise! my birthday gift to myself is this tattoo… My guiding star, now always with me :)" http://instagram.com/p/ovDDJOldIP/
Sonakshi Sinha's tattoo got us thinking more about what getting a tattoo may symbolize.
Beginning with the roots of the tattoo, getting inked has an interesting history dating back centuries. The first recorded tattoo is on a South African Chicoran mummy from 6,000 BC!
Used to symbolize many different life moments or transitions, the tattoo has been used to mark rites of passages, spiritual commitment and of course, the famous proclamations of love – to name a few.
A celebrity getting inked is far from unusual.
However, a tattoo is a serious decision and often a symbolic one and once you look harder, perhaps the tattoo can provide interesting insights into a person's journey.
Exploring the 5 inked Bollywood female celebrities below makes it clear that they are much more than just a pretty face:
1. Priyanka Chopra: "Daddy's lil girl"
Body part: Wrist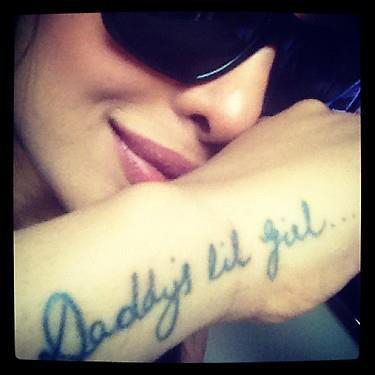 2. Celina Jaitley: "Peter"
Body part: Ring finger (Jaitley's husband's name)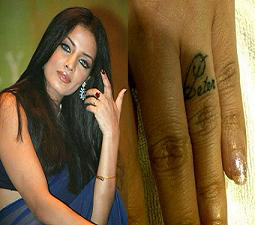 3. Esha Deol: "Om" and the vedic Gayatri Mantra
Body Part: Shoulder Blades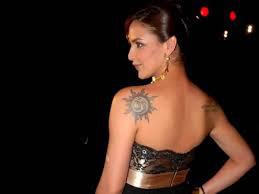 4. Sushmita Sen:
"Aut Viam inveniam aut faciam" (Latin: "I will find a way or make my own.")
Body Part:  Forearm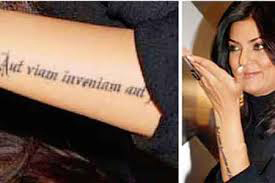 "Soli deo glory" (Latin: "Glory to God alone")
Body Part: Right wrist
"I Am"
Body Part: Left Wrist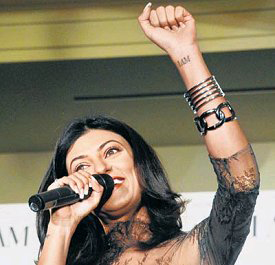 5. Kangna Ranaut: A warrior Angel
Body Part: Nape of her neck