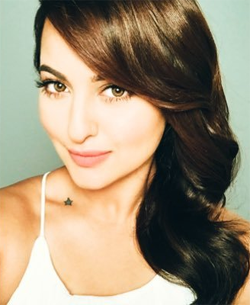 The publicly acknowledged queen of dubsmash, and of social media, Sonakshi Sinha has always been very active on the digital platform, be it while she is shooting or while on her leisure breaks How can we forget the virtual tour on Snapchat to the fun posts on Facebook? She loves to share and be in touch with all her fans and her fans have showered more love for her , making her reach the mark of 20 Million on Facebook.
Sonakshi, who is very strong on digital platforms has reached 20 Million on Facebook. She took to the social FB platform and thanked her fans for all the love and support they have given her throughout her journey on Facebook and other platforms.
The gorgeous actor continued her celebration by sharing pictures and interacting with the fans online who were equally overwhelmed by her gesture.
Given below is the listing of her contemporaries on Facebook!
Deepika Padukone – 29 Million
Sonakshi Sinha – 20 Million
Priyanka Chopra – 17.7 Million
Sonam Kapoor – 13 Million
Shraddha Kapoor – 9 Million
Parineeti Chopra – 6.5 Million