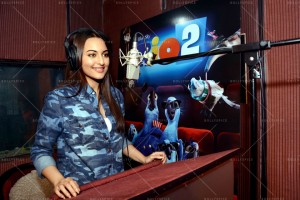 Yes, all you fans of the vivacious and gorgeous actress, get ready to see the stunner not only mesmerize the audiences with her funny lines in the film as Jewel, the memorable macaw (From the hit sequel Rio) but also show her singing talents too!
Sonakshi has sung a few lines in Rio 2 for an interesting party sequence and we hear she had a complete blast while dubbing for the film!
Quote, "I enjoyed dubbing for Rio 2 because its such a fun film firstly, and secondly because I felt like Imran and I were perfect for the characters of Blu and Jewel! Theres a scene where Jewel is dancing and singing so they made me sing a few lines as well! It was such a new experience, I would have even loved to sing more but unfortunately I am only just a bathroom singer!"
Sonakshi Sinha and Imran Khan will feature as the lovable and memorable macaws Jewel and Blu respectively, for Rio 2 releasing on 11th April 2014!! The English version of the movie will see the voices of Anne Hathaway and Jesse Eisenberg again which will be dubbed in Hindi by Sonakshi Sinha and Imran Khan!
Though in the past B-town actors have lent their voices on a small scale, this is the first time such a huge Bollywood association has taken place for a Hollywood franchise.
Fox's Rio 2 in 3D releasing on 11th April 2014 releasing in English, Hindi, Tamil and Telegu which is one of the most anticipated Hollywood movie in India, is an adventure comedy set in the Brazilian city of Rio De Janeiro! The movie will feature the return of Blu, Jewel and their three kids who leave their domesticated life for a journey to Amazon rainforest!