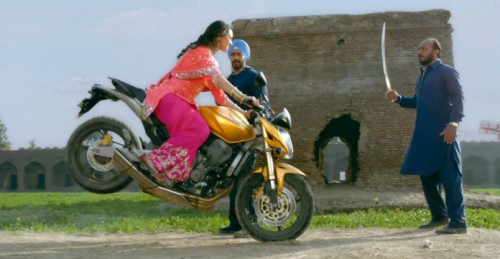 Despite appearing in action film Rowdy Rathore this year, Sonakshi Sinha and action stunts are not a familiar combination but it seems the new box office star looks to change that come the release of Son of Sardaar. Despite having limited experience on riding bikes, Sonakshi is set to take to the wheels Dhoom style for the film.
"Son of Sardaar is all about attitude and it was given that Sonakshi had to do something more than just play a 'soni kudi'. Ajay Devgn is already riding horses in this rustic 'desi' film while Sanjay Dutt is accentuating his imposing personality by driving powerful jeeps. It was felt that a similar trait had to be added to Sonakshi's characterisation as well and this is where it was decided that she would be riding a bike," informs a source close to the film.
All too often some of our favorite stunts have left actors injured therefore the crew are taking no risks with the Sonakshi on her bike. This will be of some release to the actress as she will be assisted by the use of cables to help her execute the scene.
"What you see on screen is something on the lines of DHOOM series, albeit as a spoof and only for a brief period. A new experience for her, it would also surprise her audience. Since the film belongs to the 'seeti maar' genre, expect quite a few coming her way for her 'sardaarni biker' act as well," informs a unit member.
We certainly cant want to see Sonakshi turn bike babe when the Ashwani Dhir directorial hits cinemas in November.