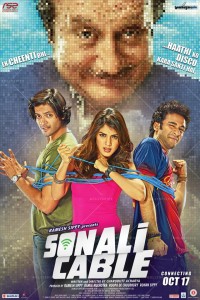 When a script fights the battle amongst hundreds more and finally makes it onto the big screen you know that it must be special. Charudutt Acharya's Sonali Cable is one such script which was chosen at the Mumbai Mantra-Sundance Institute Screenwriters Lab 2012. What intrigues even more is the production house backing the film, one that is known for taking quite the creative risks in recent times and the young versatile cast.
Sonali Cable at heart is your classic David versus Goliath storyline. The small underdog who is wronged by the big guy finally emerges and triumphs against all odds. However, that is not to say Sonali Cable doesn't excite and surprise. It does plenty of that! Firstly, it grabs your attention for being the David vs Goliath story that features a girl as its hero. Then there are the endearing and not-so-endearing yet extremely riveting characters the said hero is surrounded by. All this and a killer of a screenplay for the first half make the film a must watch.
Sonali (Rhea Chakraborty) runs an internet service provider business in Mumbai. She sees this more than just a way to get people online, but rather loves the connection, pun intended, she shares with her customers. She boasts of prompt personalised service delivered in a way that the average man can comprehend, unlike what the big bad corporations taking over the market are offering. By her side is childhood love interest Raghu (Ali Fazal), who also happens to be the son of the local MLA and Sonali's major investor (Smita Jaykar). Then there's her group of employees led by Sada (Raghav Juyal), a fun loving young boy estranged who finds a new home under the shade Sonali's motherly affection. Trouble strikes when a new major corporation (led by Anupam Kher) arrives on the scene to take over the business in Mumbai. The rest of the story is the quintessential battle against the odds that Sonali has to fight to keep her dreams alive.
Acharya pens a mean first half that has you at the edge of your seat! You dive into Sonali's world almost immediately without hesitation. He also balances the genre very finely in the first half keeping it a great balance of comedy and drama. However, post interval the film takes somewhat of a subtle dive. Melodrama takes over, the pace slows down, things being less realistic and more predictable. Of course, this is not as bad as it may sound, but given that you just had a mindblowing time in the first half, the second half does end up disappointing.
Rhea Chakraborty is given quite the meaty role, which may just have been a bit early in her career or perhaps the director ought to have gotten something more out of her. She excels in some sequences but doesn't in others. Though she manages to keep you entertained and engaged. Ali Fazal is top notch as expected. He's got more to do in the film then it has been made out. Raghav Juyal is a constant scene-stealer. It's the fact that he's not onscreen post interval that the second half suffers so much. Smita Jaykar blows your mind with a powerhouse performance. We've seen her as the weeping mother, the supporting silent wife, but it's about time we saw her kicking some butt onscreen, even if it is figuratively. Kudos to the writers for writing such a brilliant role for her. Anupam Kher surprisingly annoys. His character is made out to be a semi-villain and semi-comedian and he fails at the latter rather obviously. He comes across as a nuisance and sticks out as the most unrealistic, over the top character of the film. Muzammil Qureshi as Jayyu and Faisal Rashid as Bobby Bose both leave an impression, as does Nupur Alankar as Chandaji.
A relatable story, brilliantly etched characters (for the most part) and a sincere attempt to deliver something different yet so ordinary is what makes Sonali Cable somewhat of the underdog. Don't let it be forgotten in the crowd of big banner films surrounding its release because even with its flaws it remains as quite the entertaining watch.