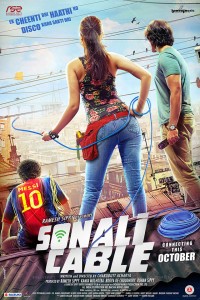 Sonali Cable is writer-director Charudatt Acharya's maiden voyage, being one of the 8 scripts selected for Mumbai Mantra-Sundance Institute Screenwriters Lab 2012. It stars Rhea Chakraborty (Meri Dad Ki Maruti), Ali Fazal (Bobby Jasoos) and Anupum Kher (A Wednesday) in pivotal roles. It also marks the debut of Dance India Dance finalist Raghav Juyal.
The soundtrack features compositions from various music directors including Raghav Sachar ('Kabul Fiza') and Mike McCleary (Nautanki Sala).
Sonali Cable is produced under the banner of Ramesh and Rohan Sippy and hits cinemas 10 October 2014.
Ek Mulaqat Ho kicks of the album, a well composed track by Amjad-Nadeem of the Ankit Tiwari and/or Jeet Ganguly disposition. Jubin Nautiyal's superior vocals more than make up for Sameer's simplistic lyrics. He has a beautiful classical quality yet blends in with the rock ballad like style of the track brilliantly. The unplugged version is equally good. Unfortunately, Altamash's version of the track pales in comparison with Jubin as he arguably lacks the strength Jubin possesses.
Gannu Rocks is a reimaging of the Ganesh aarti, artfully composed by Mike McCleary and written by Kausar Munir. Anmol Malik renders the traditional aarti while Vishal Dadlani belts out Munir's youthfully street translation of same. It is a clever fusion of rock, techno and good old Marathi dhols.
Cheenti Cheenti Bang Bang by Daniel B George is an enthusiastic albeit chaotic track with some dance-track like interludes undoubtedly for Juyal to showcase his talents. Ultimately the mish-mash make is rather unremarkable.
Raghav Sachar's somber Mausam Yeh Kyun Badal Gaya is beautifully rendered by Kshitji Tarey with equally good lyrics by Kumaar. Kshitji brings a sufiana vibe to an otherwise contemporary track. It is an impressive fare that is easy on the ears.
Daniel George's Sapney Apney while well composed suffers from mediocrity. In its attempt to be youthful, it comes off as amateurish, particularly in the face of Ek Mulaqat which is quite elegant.
Sikkay is a simple track composition wise but the opening guitars and the piano interlude is quite nice. The highlight of the track is Kirkire's lyrics brought to life by a very earthy and fresh rendition by Amitabh Narayan.
In summary Sonali Cable is a decent fare, the highlights being Jubin Nautiyal's versions of 'Ek Mulaqat' and Mike McCleary's 'Gannu Rocks'. 'Sikkey' and 'Mausam' follow as close runner ups. Ultimately, it was a brilliant showcase of fresh up and coming talents in music and demonstrated a commendable effort on their part.