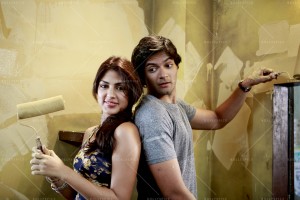 Charudutt Acharya, whose directorial debut Sonali Cable is all set to hit the silver screen is brimming with excitement for not only it is his first project, it is also a film he has written! Thanking his stars for the exceptional team, Acharya cannot help but feel lucky about the brilliant actors he roped in for his first film. In fact the director says he has become a fan of his lead pairs, Ali Fazal and Rhea Chakraborty, especially about leading lady, he says, "Rhea is young, when I saw her at the audition I felt her raw energy which I personally liked about her. Before starting the shoot of the film, I kept workshops for 6 weeks. During the workshops we used to rehearse each scene day and night. I am glad that during the workshop each actor contributed their 100%, no doubt there was lot of time invested but no one ever complained about it. This is the biggest thing for me and I am obliged to the actors."
Sonali Cable, starring Rhea Chakraborty, Ali Fazal, Raghav Juyal "CrockRoaxz" and Anupam Kher, written and directed by Charudutt Acharya, produced by Ramesh Sippy, Rohan Sippy, Roopa de Choudhury and Kamia Mulhotra under the banner of Ramesh Sippy Entertainment in association with Bombay Mania Production Pvt. Ltd. and is a HBS Raksha Movies Fund release.
Sonali Cable is slated for 17th October 2014 release.