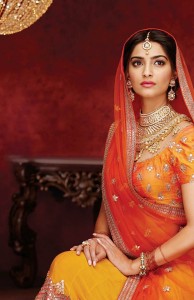 Known for his family entertainers and classic love stories, filmmaker Sooraj Bharjatya is also always known to present his heroines in the most beautiful manner.
As the release of his upcoming film, Prem Ratan Dhan Payo, is just around the corner, lead actress Sonam Kapoor couldn't be more excited. Says Sonam, "I've been a huge fan of Soorajji's films, they are so entertaining and his leading ladies have so much to do. My character, Maithili, knows exactly what she wants which is really cool. Plus, I get to play a princess."
Sonam also got a chance to be serenaded by the original Prem, Salman Khan in the film and admitted that though she was intimidated initially, he completely put her at ease. She beams, "Salman is such a superstar and incredibly charismatic. But Soorajji and he went out of their way to make me comfortable".
Talking to TOI about Salman, the actress said, "It was quite amazing working with him as he is an extremely kind and a really nice guy. Every day, we would have lunches together outside his van and I loved the whole community feeling and bonding that would happen. I like the fact that he is hard working and that he is still idealistic and not cynical. Usually, cynicism comes with time, experience and more importantly, with success. But he is still idealistic. The whole 'Being Human' shows that idealism. Once, I wanted him to wish one of my girls on her birthday and join us in her cake-cutting. He is such a kind human being, he immediately joined us."
Adding about director Bharjatya, "Sooraj sir gave me lot of love. I cherish it. I had an amazing experience."
Prem Ratan Dhan Payo releases this Diwali on November 12, 2015. Sonam will also be seen in upcoming film on Neerja Bhanot next year.
Stay tuned we will have more from Sonam about PRDP coming up next week!