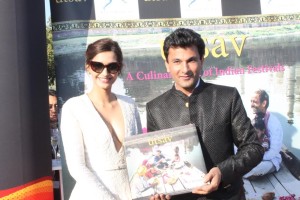 Sonam Kapoor launched 4 times Michelin starred Chef Vikas Khanna 's most awaited book – Utsav – A Culinary Epic at the Cannes International Film Festival.
While India's Chef Vikas Khanna is the first Indian chef to walk the red carpet at the festival, the book penned by him  is the most costliest cookbook and weighs over 15 kilos.
The book will have a formal launch in India by PM Narendra Modi, however the team approached international fashion icon Sonam Kapoor to first launch the book at the French Riviera, given her immense popularity and the fact that the international media has always taken keen interest in Sonam's journey at Cannes.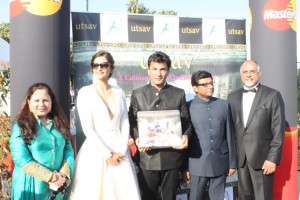 Says a source, "Since Utsav is a tribute to India's rich culture , chef Vikas Khanna was keen to have Sonam launch the book at the 68th Cannes Film Festival as she represents all that is Indian on the global front . Sonam has always been the most celebrated Indian personality at the Cannes Festival , with every red carpet appearance driving the press into a frenzy. Post her first red carpet appearance, Sonam will take time out to launch Khanna's cookbook".
Vikas Khanna said, "Sonam Kapoor is an avid follower of indian culture and cuisine and its a pleasure to have her join in the world premiere of Utsav."