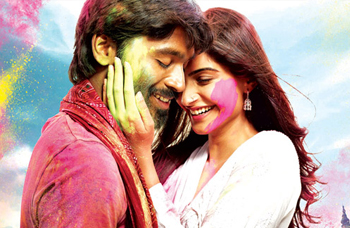 The gorgeous Sonam Kapoor is back to the silver screen in Raanjhanaa, which opens in theaters worldwide today. Co-starring the cute South star Dhanush, the epic romance was directed by Anand L Rai of Tanu Weds Manu fame. The actress chatted with British journalist Ashanti Omkar, who is the Indian Cinema editor for UK's biggest cinema chain, Cineworld Cinemas, about Raanjhanaa and we have highlights from that interview! Check out what Sonam, who is all praise, had to say about the love story!
Sonam says that she had no hesitation in saying yes when she first heard the narration for Raanjhanaa, "It was just fantastic. I immediately took to the character and I simply loved the script. It's a story of 2 people who're very passionately in love."
Describing her character, Zoya, she said, "She's an awesome girl from Banaras. An only child, who is intelligent, and gets into university. She's head strong and rebellious. And the 2 boys go completely go mad after her. It is the energy of the girl that is really attractive, I feel, and this is what gets her all this attention."
She added it was a challenge to play Zoya especially since the character ages from her early teens until her 20s, "It took effort. Every film of mine has taken effort and I've worked really hard each time. And for this one in particular, I did a 1 month workshop in Delhi on street theatre, watched films like the 70s film Guddi and also worked on the dialect and body language required."
One of the talents you may not know Sonam has is that she is a trained Kathak dancer and in the film we get to see her dancing the classical style. "I've actually studied Kathak since I was 5, so it was merely about reconnecting with the art. Baneres is a city with a lot of culture and heritage, so most kids do learn the arts, so it was an essential part of the role. This was actually easy for me."
Dhanush plays Kundan, a guy who fell in love with Zoya at 13 and never gave up on his love. About working with him, Sonam had nothing but praise for the actor, "I saw his national award winning film Aadukalam, and 3 as well. He's a fantastic actor and so very talented. When you're so great an actor, you don't need language or a differentiation of where you're from. It was simply a matter of him being so brilliant at his job. Language was not an issue at all and the expressions of love in our craft doesn't need language, but diligence and creativity, which he has in abundance."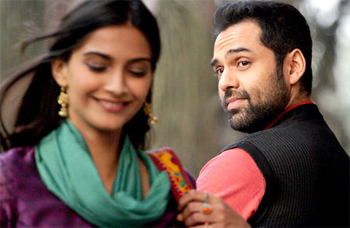 She also revealed that working with director Aanad L Rai was a fantastic experience, "He gave lots of love, respect, and was very patient with absolutely no negativity on set. He's a super positive guy and is only 12-13 years older than me, so not much of an age difference. He's been like an older brother by being sweet and protective, but also gave a fatherly firm vibe. His aim was to extract performances with love."
In fact, Sonam had nothing but praise for the all of the cast and crew, "I would say it's been one of my best experiences to date. It was also an absolutely wonderful team. We all became great friends on set. I would say that my co-stars have become my closest people in the industry as friends – we all got on so well. Especially Swara (Bhaskar) and I. We call each other Behen, which means sister."
Of course, the music of AR Rahman had to be discussed and Sonam said, "I've been so excited about this and it is extremely amazing. He's God's child. I feel that God speaks through him and his music. I feel that it is everybody's job to listen to his music. It is so inspirational and divine. Fortunately for me, I've had epic songs like 'Masakalli', 'Rehna tu', 'Dil Gira' and now 'Tum Tak' and all these songs are about me. I mean, I know they're not for me, but the character, but still, they are the characters are that I'm playing, which is a huge privilege. I'm blessed in a way, to have this music. I honestly feel that these are the best albums in the last 5 years. I've been extremely blessed. My Raanjhanaa favourites are 'Piya Milenge' and 'Tum Tak'. Neeti Mohan who sings 'Nazar Laaye' with Rashid Ali from the UK, is someone to mention in particular, as she's singing for me in the Yash Raj film also. I love Neeti's voice, she is versatile and brilliant. I want her to sing more, as my playback voice."
So what's next for her? A YRF film with Ayushmaan Khurrana and Bhaag Milkha Bhaag with Farhan Akhtar, but that is all she would reveal, saying she can't talk about them yet, "Yes, we're nearly completed the shooting for the Yash Raj film, and Bhaag Milkha Bhaag was amazing. I had a great time working with the very talented Farhan Akhtar."
To her fans she simply says, "Go watch the film on 21st June and keep the love coming."
We know we will be there to see this highly anticipated film so stay tuned for our Raanjhanaa review coming up soon! To hold you over here is the trailer!