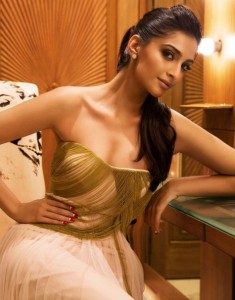 It is no secret that Sonam Kapoor has become somewhat of a fashion icon, her signature style on red carpets and film promotions has been recognised and applauded by many. She turned heads at Cannes but says she does not need to depict who she is in real life in her films.
"It is not mandatory that whatever I am in real life, I would depict that in my roles on screen as well. In fact, I will never play anything of me and my real life in my films. These are two very different things and I would like to look at them like that."
Sonam who is often seen supporting a natural look in her films, Sawaariya, Delhi-6, Mausam and Bhaag Milkha Bhaag in comparison to her looks in real life;  likes to use the word "natural" instead of "de-glam" which is often used to describe her looks in her films. "I don't like the word de-glam; I think it is distasteful, almost as if it meant ugly."
The style diva however, recently said in interview with TOI, "I am, in real life, very similar to the characters I play on screen. So playing a middle class girl comes easy to me."
Sonam who still has a night time curfew told of how she often became attached to the roles she would play in her films. "I start living my characters and the sensitivity of the character I'm playing gets to me so much that at times I fall sick. My mom gets really worried for me sometimes because I still haven't learnt to disassociate myself from the character that I play in a film."
She may not play who she is in real life on reel but she seems to be taking the reel characters into her real life.