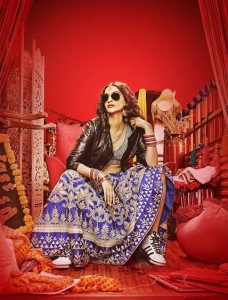 Sneakers in feet, leather jacket over lehenga and liquor bottle in hand – meet the not-so-coy bride of Dolly Ki Doli, Sonam Kapoor!
Touted to be one of the biggest entertainers of 2015, Dolly Ki Doli has just wrapped the last schedule of the film which we hear was also one of the most challenging.
Producer Arbaaz Khan was ecstatic as he tweeted, "Wrapped up shoot of #DollyKiDoli , thanks to @sonamakapoor @PulkitSamrat @RajkummarRao @varunsharma90 @abhishekdograa and the entire team!"
Well, what we hear is that the cast and crew of Dolly Ki Doli left no stone unturned to complete the film. Interestingly, Sonam Kapoor also did 6 changes a day!
A source close from the production team says, "We have been working day and night to finish the schedule, so that our promotions can kickstart as soon as possible! We have just wrapped up the last schedule, wherein Sonam had 6 costume changes! But Sonam, who speaks volumes of professionalism, did it without any hassles!"
Well, Kudos to Sonam Kapoor and the entire team of Dolly Ki Doli!
Written & directed by debutante Abhishek Dogra, Dolly Ki Doli is slated to release in January 2015.