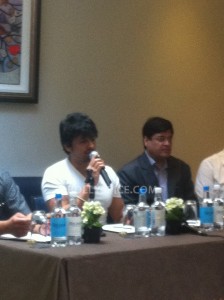 Sonu Nigam is only a few weeks away until he rocks the UK! With three concerts coming up in August, do not miss the chance to hear this sensational voice live. In fact, it is not just Sonu's mesmerising voice that draws audiences but his incredible stage presence and charisma is hugely applauded. Sonu began singing from when he was just three years old. At three and a half, he performed on stage for the first time alongside his father singing, 'kya hua tere vaada'. A Bollywood icon whose voice has been popularly picturised on super stars such as Shah Rukh Khan and Salman Khan, he started singing in Bollywood from the age of nineteen. Having won numerous awards including the MTV Video and Music, IIFA, and TOIFA Award for 'Abhi Mujhme Kahin' (Agneepath), Sonu's voice has taken the world by storm. Not only has Sonu sung in Bollywood but he has also collaborated with artists such as Jay Sean for 'The One' and Britney Spears' remix of 'I wanna go'.
BollySpice caught up with Sonu and asked him on what's his secret behind the amazing connection he makes with his audience, how he feels when performing on stage and his favourite song.
You are very popularly known to make a connection with your audience whilst performing on stage. How do you do that?
There's no formula to it. In fact, no formula is the formula to it. If you start seeing yourself in them, you've done the job. You've cracked it. It's the most amazing thing. It doesn't come with any kind of practice or yoga or meditation. It's not like that. You have to just bow down completely to the audience. When I perform before the concert we always, my entire group, we pray – and all I pray is  'Oh my God please give me the strength to really see them happy. They have left their homes and they've come here to see, to be entertained. They've bought their tickets – or somebody is getting married or somebody is having a function where I have to entertain them. So these are people who want to be entertained.  So please God give me the strength that I can really make them happy. They go back home just enthusiastic and you know fully drowned in the ecstasy that we can give.' This is what I pray to God and this is probably how I'm able to connect with the audience.
You performed on stage as a child, did you find it difficult?
You know earlier when I started singing on stage, when I was four years old – I really just thought that you know, 'this is how life is'. It's almost like a cobbler's son wanting to become a cobbler. A doctor's son imagining to become a doctor. So when I saw my parents singing, I thought this is how life is supposed to be and this is reality. Even though we studied very hard – at the back of my mind singing was always… as far as performing on stage goes, it was something that came very naturally to me.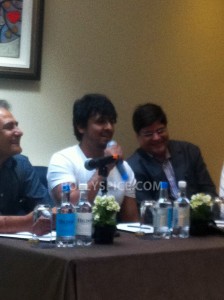 What is the best part of performing on stage?
…Lately I've understood that the best part of singing live in front of an audience is there is no medium to prove anything. If I'm good you'll be able to feel…If I cannot sing correctly you'll be able to get I'm not singing correctly…or am I goofing up – or I'm hitting far notes…So there is no critic to tell the audience whether this song is good or this song is not good. Whether the singer has sung this correctly or not correctly. It's just me and the audience nothing else. That's the best part of performing on stage. It's kind of a litmus test. So before you've got a concert you have to be fit, you have to, you should have done your vocal exercises – generally I do it every day but specifically and especially before a concert I have to be fully geared and fully fit and fully in the right frame of mind. So that I can never be questioned by the music lovers sitting in the front row, 'why are you cheating up on us'.
Is there a particular song that is the closest to your heart? Koi aisa ghana hai jo… (is there such a song that…)
Aisa koi Ghana ha (is there such a song)…  of course – bahut saare ghaane hai (of course there are many songs!) Thank you for speaking in Hindi. I really liked that. Agneepath – 'Abhi mujh mein kahin' came that has changed everything. For me Agneepath song is the ultimate song I've sung. I really wish people could make such songs more in the industry. It's a great song I'm lucky to have sung it.
Perfect Harmony Productions Ltd with their associates Blues Communications, Cisne for Arts and Rock On Music are bringing you the upcoming tour 'Sonu Nigam Rocks UK'. The tour schedule is as follows:
–        O2 Apollo, Manchester: 16th of August 2013
–        Wembley Arena, London: 17th of August 2013
–        Demontfort Hall, Leicester: 18th of August 2013