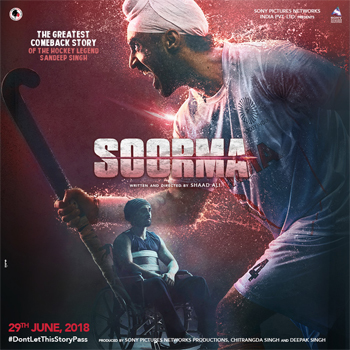 The word biopic is seemingly on the lips of every Bollywood fan these days. Whether it's 2018's Raazi and Sanju or Sultan and Dangal from a few years back, Bollywood has fallen in love with all of these true stories that in film look to find the story behind the story. Lost loves, heartbreak and despair, coming out on top in the end, who could be surprised that they do well in attracting cinemagoers. Their music follows this rollercoaster of emotions through too as it looks to complement the story rather than take it over. Often this means experienced music directors, who are known for being up for the challenge. So, when it comes to Shaad Ali's new biopic Soorma starring Diljit Dosanth, it's not surprising that Shankar Ehsaan and Loy are asked to create the soundtrack.
"Kabhi me hoor hoor kehta hoon" is the opening statement of a classic Punjabi love song, Ishq Di Baajiyan. Diljit Dosanth lends his own voice to a folk song feel that could have come straight from the khet. Backed up by SEL and very light instrumentation consisting of dhol, sarod and occasional flourishes of strings, Diljit carries this song from stem to stern. A touching sound goes direct from ear to heart and is just short enough at just under 5 mins that it doesn't get dull even though it is very repetitive. It's one for the emotional, not for the musical.
The theme song is next, and Soorma Theme doesn't disappoint when compared to so many of its recent biopic relatives-in-sound. Sung by Shankar Mahadevan himself, again the instrumentation is light but stern being characterised by two acoustic guitars and very light strings. The only addition to this is an electric bass and synth drums which only add to the flavour of Punjab permeating the film. Yet it could be a song from a western, maybe alluding to the fight of a lifetime to come in this movie. This song is the hidden tiger coming out to show its stripes but again feels more emotional than musical so it's unlikely to be hitting too many playlists.
Khulbhusan Kharbanda is a well-known support star for over 20 years in both Hindi and Punjabi cinema. He steps forward to open and invite Sukhwinder Singh and Sunidhi Chauhan in the next song Good Man Di Laaltain. This is bhangra like there's no tomorrow. However again keeping with the near folk feel of this album, it's not a techno-club-bhangra hybrid, this is old style bhangra slightly modernised for the 2010s. Thus, its no surprise that it's also in full Punjabi lyrically and that the dhol features heavily backed by synth drums. This is a Sukhwinder special too in that he gets to bellow at the top of his lungs for Diljit on stage. Sunidhi doesn't have much to do here and is also reverbed for an unknown reason, but still a great feel good song.
Its handkerchief or tissue time for the next song, Pardesiya. Ehsaan Noorani is backed by Shankar Mahadevan with tabla and satrangi. There is desperation in this sound topped off by sadness. There is a male chorus and an occasional female voice to break the audience hearts, and every sound is engineered towards bringing the actors sadness direct to the cinemagoer. Yet it is the hopelessness of it that hits the hardest. Even without the visuals, there is a sense of great ending here.
It seems no 2018 movie soundtrack could be completed without a remake. Flicker Singh isn't an official remake but is certainly influenced by some of the early 2000s heavy rock ballads. The lyrics are innovative highlighting both the brilliance of Punjab as a state of great people and the famous flick of the main character's hockey stick. Several all-male singers are employed here each a well-known Punjabi singer. Once again, we have mostly Punjabi lyrics but that is to be expected by this stage. The music is minimal with strings and dhol and the occasional interruption by electronic instruments keeps it interesting. No doubt once listeners have gotten past the lyrics they will notice their feet already tapping to this.
The music for a biopic isn't strictly necessary as of course the real-life person is unlikely to have stopped for a song while experiencing the events on screen in real life. This often means that the music itself is often a background or is blended into the story to explain feelings to the audience where dialog or actions just won't do. Practically speaking then the songs in a biopic are more important than music for normal films. This is the duality of biopic soundtracks we always must consider. It also makes giving them a rating, especially for the whole album, very difficult as each song is certainly fit for purpose, but will a listener remember them by the time they make it to the next biopic? Will they add it to their playlists for any other reason than because the person being depicted is a hero(ine) of theirs? Soorma's music is heavily Punjabi, focuses on the warrior mentality required for hockey but also reminds us that there is a person behind all this who knows love and loss. However, none of the songs are stand outs except for Pardesiya so it can't rate at the highest echelons.