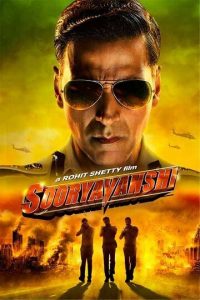 Sooryavanshi
Starring Akshay Kumar, Ajay Devgan, Ranveer Singh
Direction by Rohit Shetty
Sooryavanshi peddles terrorism as a formula. When Muslim characters, mainly terrorists, appear on screen there is middle-eastern strain in the background, a rubaab strain can be heard in the distance. Sadly, Mohile's enterprising spirit proves unequal to the film's asinine aspirations to convert the currency of crossborder terrorism into a successful formula .Tragically Rohit Shetty and his team of writers which I am told includes an expert on political terrorism, seems to have hit bull's eye. Going by the audiences' reaction in the theatre,Rohit Shetty and Akshay Kumar have reason to rejoice.
Sooryavanshi plays the Good Muslim –Bad Muslim game with pitch-perfect aim. 'Good Muslim' Rajendra Gupta is pitched against 'Bad Muslim' Gulshan Grover in a chamber-room confrontation so clumsily orchestrated it looks like a Films Division propaganda film on communal harmony.
No one has time to get embarrassed by the foolishness that prevails in nearly every frame.
In one scene, Akshay Kumar meets Katrina Kaif in a flashback. Katrina, a doctor by profession(looking at her, we'd have never known) sees a man stumbling with a clear gunshot wound in his solar plexus.
"Are you a doctor. I've been shot," Akshay croaks to Katrina.
Gunshot wounds are the least of Akshay's cop-character Veer Sooryavanshi's problems. In what appears like an early onset of Alzeihemer's Sooryavanshi keeps forgetting everyone's name. For some unknown reason, we are supposed to find Sooryavanshi's forgetfulness funny. Or so the road-sign styled background score by Anil Mohile suggests. Every time Akshay calls his colleagues and their wives by a wrong name the music goes all goofy and wink-wink.
Sample this: Akshay's Sooryavanshi, determined to wipe out terrorism from our country, is out enjoying a car ride with his wife and little son. He gets information from his colleagues that terrorists have hidden themselves in a shopping mall. Rather than drive his family to safety he drives them to the mall, where catastrophe happens.
The sheer stupidity of the above sequence will leave you wondering what all the 'research" done on the topic of terrorism yielded for the makers of the film except a pretext to inject large doses of bumper sticker patriotism into the plot. But sorry,it doesn't stick. Even the patriotic classic song Chhodo kal ki baatein is not spared. The great Prem Dhawan's lyrics are altered into some kind of a sing-along nursery rhyme with visuals of Muslims carrying a Ganpati idol.
Subtlety is not a quality in demand here.
At least the above sequence gives Katrina Kaif her one big dramatic sequence to perform. She tries hard, our girl. Have to hand it to her. She tries. But is far more successful recreating Akshay's Raveena Tandon rain song Tip tip barsa pani which comes on as suddenly in the plot as a shower of unpredictable rain in Mumbai.
Akshay, strangely, looks jaded and bored scowling, shouting, fighting, singing and doing deadpan comedy. His cop-colleagues Jaaved Jaafri, Vivan Bhatena et al, try to keep up the spirit. On the terrorists' side there are more heavyweight actors like Kumud Mishra, Jackie Shroff, Abhimanyu Singh, Sikandar Kher and Gulshan Grover who plays Zakir Naik's doppelganger quite effectively.
The narrative repeatedly resorts to real-life footage from the 1993 Mumbai blasts to convince us of its sincerity. But the patriotic pitch is so shrill that good intentions are drowned in the din of drivel. Only at the climax does the film get our interest when 'Sooryvanshi' Akshay Kumar is joined by 'Singham' Ajay Devgan and 'Simmba' Ranveer Singh.
Singh get the best line in the film when Sooryavanshi and Singham are squabbling about their importance to the plot.
"Kisska zyada bada hai koi farq nahin padta…entry," Ranveer deadpans.
Terrorism is not the issue here. Flying cars exploding in midair and that childish mine-is-bigger than-yours glee in a children's urinal is all that matters.