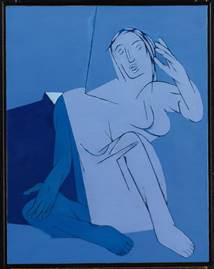 Sotheby's is proud to announce London's first 'Indian and Islamic Week', a high profile series of public exhibitions and three dedicated auctions presenting the works of renowned artists and craftsmen from the Indian Subcontinent and the Islamic world. This exciting initiative will take place at Sotheby's London from 3 – 8 October 2014, comprising Modern and Contemporary South Asian Art on 7 October, and Art of Imperial India and Arts of the Islamic World on 8 October.  The sales will combine to offer more than 450 fine and varied works from South Asia, the Middle East and beyond, showcasing over 1500 years of artistic endeavour and craftsmanship.
To celebrate the launch of the inaugural 'Indian and Islamic Week', Sotheby's has partnered with Newby teas to offer a special Indian Afternoon Tea, available at Sotheby's Café from 3-8 October.  Sotheby's renowned head-chef,  Amanda Keller, has created a delicious Afternoon Tea menu, inspired by the flavours of India, which will be served with a selection of specialist Newby teas.
Highlights from across the three sales include: Indian modernist Tyeb Mehta's exquisite Blue Painting (pictured above), 1982  (est. £600,000-800,000); a royal astrolabe dedicated to the 16th century Ottoman leader Sultan Bayezid II (est. £800,000-1,000,000), and a magnificent private collection of 31 albums, containing over 2,000 photographs of India, Ceylon, Burma and Southeast Asia, dating from the 1850s to the early 20th Century (est. £150,000-220,000).
Auction Previews: Art of Imperial India , Art of the Islamic World