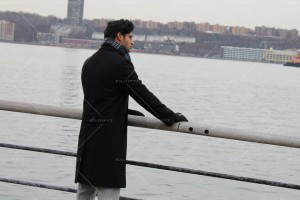 A video of the emotional track 'Jind Meriye', from the movie Purani Jeans is now LIVE. The video of the song features actor Tanuj Virwani.
The video shows him in a solemn mood as he goes about his day to day activities in New York. It revolves around Tanuj as he comes across various situations that remind him of his former days with his close friends. It will make the listener reminisce their cherish moments.
The son of the legendary Punjabi singer Hans Raj Hans, Navraj Hans, and Ram Sampath have lent their memorable voices to this new song, with Ram also having composed the song. The lyrics are penned by Munna Dhiman.
Purani Jeans is produced by Eros International and NextGen Films, and is directed by Tanushri Chattrji Bassu. The movie stars Tanuj Virwani, Aditya Seal and Izabelle Leite. Purani Jeans revolves around the rekindling of old bonds between a young boy and his hometown folks. It is slated to release on 2nd May 2014.