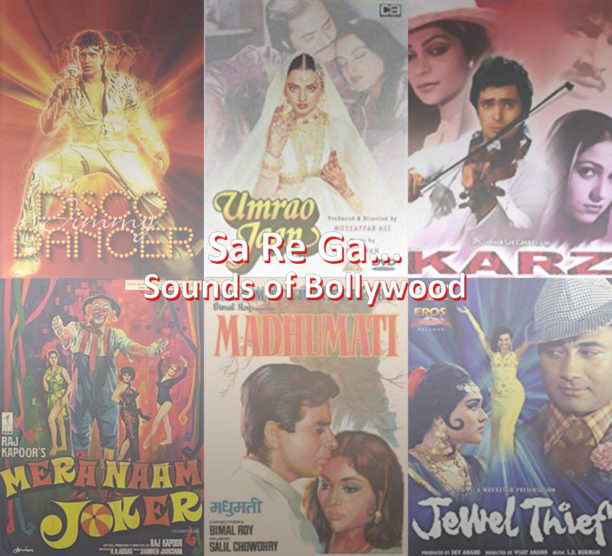 On March 14th 2019, we reach a milestone for Bollywood cinema: the talkies. Alam Ara released March 14, 1931 bringing the revolution of sound and thus music. The release occurred at the Majestic Cinema in Mumbai and was so popular the police had to be called to control the crowds. With the film having been lost to the sands of time it's impossible to know who actually wrote the album, but we do know that Wazir Mohammed Khan was the first playback singer. Things have not changed since, as the soundtrack of any film has a profound effect on the careers of the actors in the film, on how the film itself does and on the legacy of those who took part in it. After all, a song in a Bollywood movie is not simply music directors, instrumentalists and playback singers, it's the cameraman, the location people, the set designers and art directors and most importantly the actors who bare their talents for the tune. So below is an homage on this special anniversary to the most influential songs in Bollywood history in order of age.
'Aaiye Mehrebaan' – Howrah Bridge (1958)
Singer: Asha Bhosle – Composer: OP Nayyar – Lyricist: Qamar Jalalabadi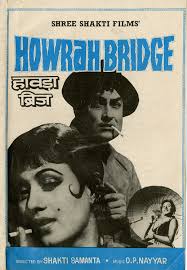 Imagine if you will a club where the hero and the villain have come for a friendly smoke at separate tables and watching the beauty of Madhubala roll up to the mic with the now immortal words that all know "Shok se lijeye ji, ishq ki imtihaan". Like so many of the great songs, the lyrics have been reused all over the place, the scene recreated a thousand ways and yet for those that remember, it still rules the roost for its sheer elegance. The song shows off OP Nayyar's rhythmic and melodious stylings at their best.
'Suhana Safar' – Madhumati (1958)
Singer: Mukesh – Composer: Salil Chowdury – Lyricist: Shailendra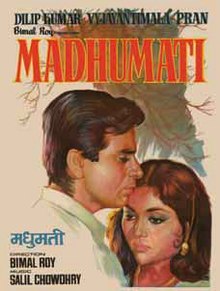 Mukesh as the playback singer lays down a lively track while Dilip Kumar strolls along the edge of a cliff on-screen, stopping occasionally to yell out at distant peaks to hear the echoes. He is worried about getting lost in all that is around him but he continues to travel and marvel in this path on foot. A stroll in the countryside, upon a beautiful mountain with trees everywhere; standing at the edge of the cliff: Dilip Kumar defining all that he is about as an actor. A decidedly early version of the item song, it belies for the audience the horror and tragic romance that is to come.
'Khoya Khoya Chand' – Kala Bazar (1960)
Singer: Mohammed Rafi – Composer: S.D. Burman – Lyricist: Shailendra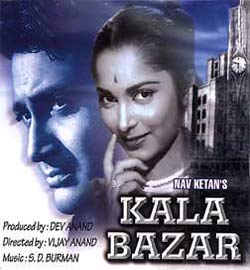 Mohammed Rafi sung so many songs for Dev Anand including this light romantic number. So akin to him in tone, diction and manner, we defined them as Dev Anand songs on just his voice. 'Tu Kahan Yeh Bata' from Tere Ghar Ke Samne and the Title song from Jab Pyar Kisi Se Hota Hai are just 2 examples. In particular though, it's the 3rd verse of 'Khoya Khoya Chand', which shows off Dev Anand's skills. "Hum mit chale hai jinke liye, bin kuch kahe, kuch chup chup rahe"! This is the line that has Dev Anand's suddenly launching himself down a small embankment and proceed to do a 'duck dance' all while Waheeda Rehman, and the audience, watches on to fall in love. This made Dev Anand the unquestionable dancing star of the time.
'Mere Saajan Hai' – Bandini (1963)
Singer: S.D. Burman – Composer: S.D. Burman – Lyricist: Shailendra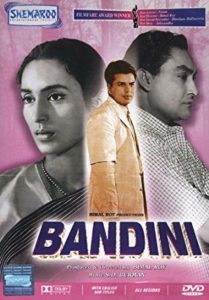 S.D. Burman was a Bengali music director brought up on the strands of folk songs like Baul geet and Bhatiali. In this song, he sings for Nutan, expressing the words she cannot say out loud, as if directly from her heart. Having come out of women's prison and accepting a life with the young prison doctor who loved her very much (played by Dharmendra), she finds herself so close to the man she actually loves, she makes the bold decision to go after him. This is both iconic for the sound of SD Burman's voice as well as for the heart-rending scene between Nutan and Ashok Kumar. Tissue box please…
'O Haseena Zulfonwali' – Teesri Manzil (1966)
Singer: Mohammed Rafi – Composer: R.D. Burman – Lyricist: Majrooh Sultanpuri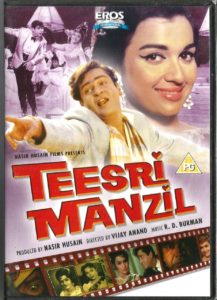 By this point, the item song is not only well established in Bollywood, it has its own character: Helen. Here she dances with the dancing king of the time Shammi Kapoor. This is by far not the only major dance number in this film, nor is it often regarded as Shammi Kapoor's greatest hit song, but it is iconic in defining Shammi Kapoor for those who weren't there in his heyday. The trumpet, the gold jacket, the hairstyle is all part of Bollywood folklore. Helen is also showing many of the tropes she used in later films, but this is still the one people often think of straight away if put on the spot. Mohammed Rafi though seems to have come out on top with this song, having given Shammi Kapoor a different sound again uniquely his own, livelier, big band jazz style which he would continue into bigger hits like Junglee and An Evening in Paris.
'Hooton Mein Aisi Baat' – Jewel Thief (1967)
Singers: Lata Mangeshkar, Bhupinder Singh – Composer: S.D. Burman – Lyricist: Majrooh Sultanpuri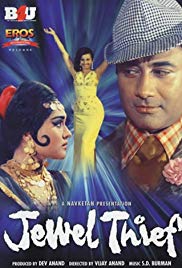 This song is the climax song of a very twisted thriller Jewel Thief. Here Lata Mangeshkar sings a memorable emotional number for Vyjantimala allowing her to show off some of her fantastic dancing skills. She uses the song to try to bring Dev Anand out of the trance he may or may not be in. Dev Anand returns to his dancing ways as he moves across the floor to Bhupinder Singh's outstanding opening and interjections in the bridge, that tell the audience and his beloved Shalu that all is not lost… While this whole album was full of superhit after superhit, this song was definitely something special.
'Jeena Yahan Marna Yaha' – Mera Naam Joker (1970)
Singer: Mukesh – Composers: Shankar-Jaikishen – Lyricist: Shailendra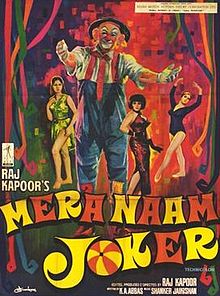 Every actor is remembered in his/her time for their tropes; the little things that stood them out against the rest. The very best get the chance to set this trope for themselves and Raj Kapoor was certainly that. In this film he tells the audience how he would like to be remembered… Raju the sad clown. This epic film in 3 parts, leads up to this song sung soulfully by Mukesh with the immortal lyrics "Je chahe jab hum ko awaz do, hum hai yehi, hum the jahan" … A haunting ending to a film that stays in the mind because of the greatness of the actor it is about. "Yeh mera geet, Jeevan sangeet, kal bhi koi, doho rayega" … the poster seems to ask will it be you?
'Jeevan Se Bhari' – Safar (1970)
Singer: Kishore Kumar – Composers: Kalyanji-Anandji – Lyricist: Indivar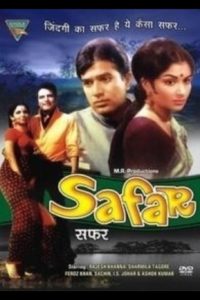 This song may have been picturised against Rajesh Khanna, at the height of some of his greatest works, but the song itself is little known. On top of that, the song itself is not about him, it's about the eyes he is drawing. And those eyes are Sharmila Tagore's, an unmatched beauty of the time, who lit up the screens with beautiful performances both serious and light-hearted. This is a simple and light tune, with Kishore Kumar delivering tunefully "Sagar bhi taras kar rehete hain, tere roop ka ras peene ke liye".
'Yeh Shaam Mastani' – Kati Patang (1971)
Singer: Kishore Kumar – Composer: R.D. Burman – Lyricist: Anand Bakshi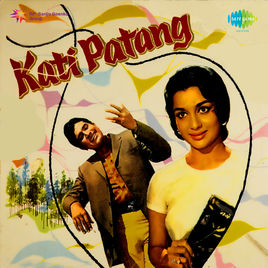 Rajesh Khanna was bringing out hit after hit and this song is all him, all his charm and charisma, all his philosophical peace, both in dialogues and in song. Comparing his heroine, the widowed Asha Parekh, to a still lake with great depths within, he talks about love being free and unstoppable, before Kishore Kumar launches into the striking whistle that opens this epic song. Every line is a piece of lyrical genius, the music just enough, a song meant to be heard just at the sunset because "Yeh shaam mastani, madhosh kiye jiye".
'Jab Tak Hai Jaan' – Sholay (1975)
Singer: Lata Mangeshkar – Composer: R.D. Burman – Lyricist: Anand Bakshi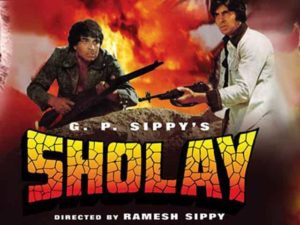 If it's possible to be a Bollywood fan and not know of Sholay then that they are in a strange parallel universe indeed. 'Jab Tak Hai Jaan' is an item number in nature, but one with a very important purpose in the story. From the female lead perspective, we have Hema Malini showing off her impressive dance skills. She suffers and yet, distracts as Amitabh Bachchan finds a way to rescue both her and her true love Dharmendra from the clutches of enigmatic villain Amjad Khan. So big was this song, it made it to the major posters advertising the film. Another classic of Lata Mangeshkar's vocal talents, you can ride the waves of emotion: love, endurance, pain and gumption, at their best.
'Ek Hasina Thi' – Karz (1980)
Singer: Kishore Kumar – Composers: Laxmikant-Pyarelal – Lyricist: Anand Bakshi

Laxmikant-Pyarelal gave this album all they had and each song in this film was a superhit in its own right. However, this particular song is special as it's a 2-parter. The first is an encore song following Rishi Kapoor on a giant LP disc belting out Om Shanti Om with the memorable Kishore Kumar's voice. For his beloved audience, he does an instrumental of a long-forgotten tune whose intensity drives him to remember a past life, causing him to collapse, which is the inciting incident to an exciting film. The second part is the climax, a song to both reveal the villain and her evil deeds and to wow an audience gathered in a local high school. The heavy use of guitars makes this an early true rock song in Bollywood.
'Dil Cheez Hai Kya' – Umrao Jaan (1981)
Singer: Asha Bhosle – Composer: Khayyam – Lyricist: Shahryar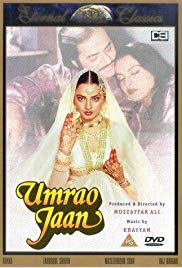 While this song will always be remembered for Rekha's amazing performance, the credit must lie with Asha Bhosle as the singer. With such sublime ease, she gives a lesson in light classical music as she sings for Rekha's courtesan character, entertaining the movie's villains all while calling out to the mysterious figure who stands in the shadow unseen. Rekha, in front of camera, shows off her dancing skills without ever getting up and uses her eyes to pass on the important message. He listens in dismay "Bas ek baar mera kaha maan lijiye" she says to the figure as she silently pleads with him to leave… more tissues please.
'Yaad Aa Raha Hai' – Disco Dancer (1982)
Singer: Vijay Benedict – Composers: Bappi Lahiri – Anjaan, Lyricist: Faruk Kaiser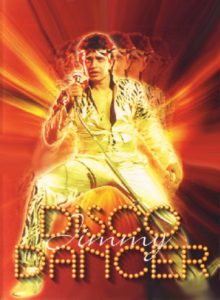 Disco Dancer changed the way so many things were done in Bollywood music that it rocketed Bappi Lahiri to the top of the music director charts even while in direct competition with RD Burman. Once again each and every song in this film is a superhit, but this one stands out as it proves you can be sad and still disco like its 1982! Its 'boppy' lyrics work well with Bappi's dance track tune as Mithun Chakraborty reveals that he has remembered something so dear "Yaad aa raha hai tera pyar".
'Mamiya Kero' – Arjun (1985)
Singers: Shailendra Singh, Chorus – Composer: R.D. Burman – Lyricist: Javed Akhtar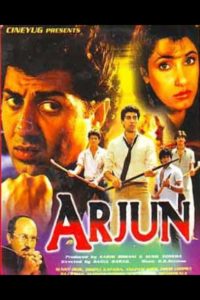 It certainly wouldn't be often that anyone would consider Sunny Deol a front man for a great song as he more often lets his fists do the talking. However, this song early in his career is the definition of the angry young man: a man who will not live in the fears that so many in society struggle with whatever the cost. He sings with his close friends "Duniya mane bura to goli maro, daar ke jeena hai koi jeena yaaro". Stomp your feet and feel the rage of society's problems boil in your blood.
'Na Jaane Kaha Se Aayi Hai' – Chaalbaaz (1989)
Singers: Amit Kumar, Kavita Krishnamurthy – Composers: Laxmikant-Pyarelal – Lyricist: Anand Bakshi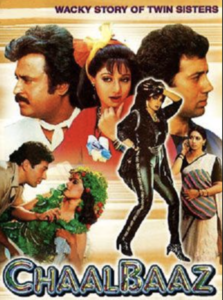 This one won Best Choreography for Saroj Khan and helped Sridevi Kapoor take Best Actress in the same film. Surprisingly also featuring Sunny Deol. Amit Kumar and Kavita Krishnamurthy keep it light and fun, while Sunny tries to woo Sridevi who seemingly blows him off with "Kisi ki haath na aayegi yeh ladki". The comic timing is excellent, the beat and rhythm of the dancing in the rain to a finger clicking beat just come together perfectly.
The songs and films on this list are from an era that is classic. Actors and actresses snapped their fingers, twisted their thumkas and made you dance/sing along, all the while keeping you locked into the film. Stay tuned because in Part 2, we will next step into the 90s full throttle for a decade of major transition in Bollywood music making.