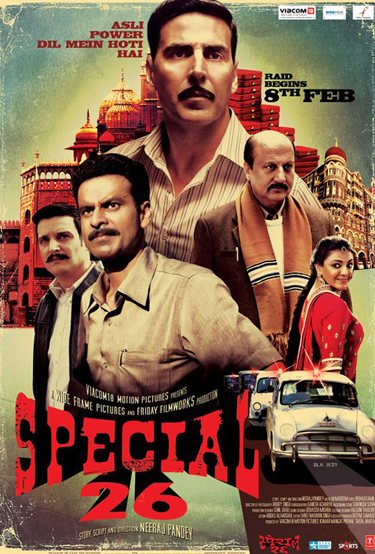 Special 26 is a forthcoming drama which is directed by Neeraj Pandey. It stars Akshay Kumar, Kajal Aggarwal Manoj Bajpai, Anupam Kher, Jimmy Shergill and Divya Dutta in pivotal roles. The film is slated for release on 8 February 2013 and promises to be a thrilling action caper. It is based on real life events during the 1980s when a group of con artists who robbed a famous jewelry store in Mumbai, by posing as CBI officers. They also robbed politicians and businessmen who were storing away black money. The music has been composed by M.M. Kreem, who also composed soundtracks to other films such as Dhokha (2007) and Paheli (2005). The lyrics have been written by Irshad Kamil, who also wrote songs for the hit Son of Sardaar (2012). So does the music to Special 26 have anything great to offer? Read on to find out our verdict on it!
The first track is Tujh Sang Lagee, which is sung by K.K, with supporting vocals from M.M. Kreem. The music has been nicely composed and I very much love the rustic elements which feature in the song. It has been performed well by K.K and there is a great melody flowing in his voice, which keeps the song alive throughout. Overall, there's not much to complain about with this song and is definitely one of the highlights of this album.
There is also Kaun Mera, which has three parts to it. Part One is sung by Chaitra Ambadipudi and has been wonderfully performed by her. She has an angelic like voice which gives the song the precise texture it needed. The music has also been well crafted and I enjoyed hearing instruments such as the piano and the violin in this particular number. Part Two is sung by Angaraag Mahanta and is average overall. I don't mind the presence of instruments such as the electric guitar in Bollywood songs, but I felt that it just did not work very well with this song. Not as strong as Part One in my opinion. Part Three is performed by the lovely Sunidhi Chauhan. This version has music being played silently in the background, with Sunidhi's voice being placed at the centre. Sunidhi's vocals are great as usual, but I found this one to be a little dull to listen to. Hence, Part One is the best of the three and I would recommend that you at least listen to Chaitra's version.
Next up we have Mujh Mein Tu, which is sung by Keerthi Sagathia. I genuinely loved Keerthi in this song and his melodious voice gives it substance. I also relished the lyrics and the great mix of rock, classical and up-tempo samples in this song, which gives it that extra kick! Another cool track to feast your ears on! However, I cannot say the same about the acoustic version, which is performed M.M. Kreem. His vocals are decent, but I just found Keerthi's version to be more powerful and was nicely blended with the composition.
The next track is Dharpakad, performed by the legendary Bappi Lahiri. Though the lyrics are a little silly, I think every Bollywood lover can afford to indulge in one or two silly songs. There is nothing memorable about this song in the long term, but I still recommend that you try it out just for the amusing lyrics which are sung by Bappi Lahiri.
Finally we have Gore Mukhde Pe Zulfa Di Chaava, which is sung by Aman Trikha, Shreya Ghoshal and Shabab Sabri. The music to this has been guest composed by Himesh Reshammiya, with guest lyrics by Shabbir Ahmed. There are a few catchy elements to this song, due to instruments like the dhol drums and the harmonium. The vocals by the singers were fine but in general, I think there is no real wow factor to the song and it was a tad dreary for me to listen to. I would advise you to skip this one, since it is a run-of-the-mill track.
To sum up, Special 26 is a respectable album and there are a number of songs which will appeal to many Bollywood enthusiasts. These include 'Tujh Sang Lagee, 'Kaun Mera – Part One,' and 'Mujh Mein Tu.' M.M. Kreem has delivered a good effort with this album and hopefully, it will have some impact. I love that most of these songs have substance to it and they are not frustrating to listen to. Thus, I recommend that you embark on an experiment with the soundtrack to Special 26. You never know, you may end up liking it!