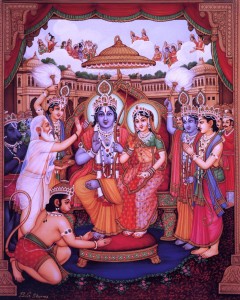 As the skies erupt with fireworks and thousands of dancing candles light the path, the world celebrates Diwali, the return of courageous Lord Rama.
Banished to the forest for 14 years, Rama returns home to Ayodhya with Sita and Laxman.
The Ramayana symbolises selfless duty, selfless love, courage and sacrifice – aspects that are universally relevant – aspects that colour the human world and beyond.
Traditionally in India, storytellers express the beauty of the Ramayana and mesmerise swarming crowds – sometimes in the hundreds! Children and adults gather together and act out Ram-Lila, scenes from the Ramayana to cheering and excited onlookers. The sound of music resonates in the Diwali air with the chanting of Rama's names, celebrating his victorious return home and the power of love overcoming hate.
Keeping in spirit with the art of storytelling and devotion, BollySpice presents this special audio media for you to celebrate, understand and explore this momentous festival.
Happy Diwali!
Ramayana: The Living Legend portrays distinguished storyteller Dr Vayu Naidu vividly bring to life the magic al epic that lies behind Diwali, the festival of lights.
The piece is produced by journalist Rahul Verma and edited by Daniel Avis:

Dr Naidu has a Ph.D in Performance Oral Traditions (University Of Leeds) and has performed the Ramayana everywhere from the Barbican to London's hip Bombay-style café Dishoom.
She is the author of the Ramayana-inspired novel Sita's Ascent (Penguin)
Touching on themes including honour and the battle between might and right, it is highlighted how the epic inhabits every day contemporary India – religiously, culturally and politically.
Picture credit: BG Sharma; Ranchor Prime "Ramayana: A Tale of Gods and Demons"