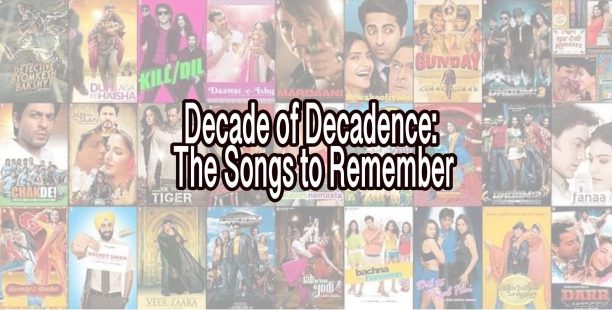 "Life isn't measured by the number of breaths you take, but by the number of moments that take your breath away". Bollywood's music has been around 89 years going into 2020 and it's been taking our breath away for however long we've been listening to it. Everyone has a favourite singer, music director and genre which defines for them the perfect song. This of course makes a list of the best songs of the decade a difficult task as they are so subjective to each person. There's so many perfect songs in Bollywood! Thus, below is a list of some of the great songs of the decade!
2010
'Pee Loon' – Once Upon a Time in Mumbai

Music: Pritam – Singer: Mohit Chauhan
Overalapping sounds, lightly classical and a love story blossoming… so simple a formula but this song shows why it continues to work. Mohit is sublime backed by Pritam's instrumentation.
'Hairat Hai' – Anjaana Anjaani

Music: Vishal-Shekhar – Singer: Lucky Ali
Yes, they are in a car driving across the US; but how many times has the music allowed you to feel the acceleration even when sitting on your sofa. Lucky Ali is a perfect sound for this.
'Sheila Ki Jawani' – Tees Maar Khan

Music: Vishal-Shekhar – Singer: Sunidhi Chauhan
The combination of Katrina on screen backed up by Sunidhi Chauhan's melody made Sheila the most famous name in India for a while.
'Tere Naina' – My Name is Khan

Music: Shankar Ehsaan Loy – Singer: Shafaqat Amanat Ali Khan
Kajol is an apt name for the actress and this is quite literally her song. As an audience, all we get to do is fall for her all over again under the spell of SEL's voodoo.
'Fire' – Kites

Music: Vishal-Shekhar – Singer: Vishal Dadlani
Hrithik and Kangana to one of the hardest dance battles to a motif of "Love is hell" brought the sound that the space needed. Listen while angry or passionate but don't try to stop the feet.
'Bin Tere' – I Hate Luv Storys

Music: Vishal-Shekhar – Singer: Shafaqat Amanat Ali Khan
"Koi khalish hai hawa mein bin tere"… some of the best songs can be just purely sad and here's an example. A consistent but not boring beat, easy driving melody and those lyrics.
2011
'Sadda Huq' – Rockstar

Music: AR Rahman – Singer: Mohit Chauhan
Angry, angry, angry… and somewhat justified. One on a list of great songs by the maestro AR Rahman for this album, Mohit screams pain for Ranbir to portray negativity.
'Seniorita' – Zindagi Na Milegi Dobara

Music: Shankar Ehsaan Loy – Singers: Farhan Akthar, Hrithik Roshan, Abhay Deol
At the other end of things, these boys just want to party in the middle of Spain… time for Hindi flamenco. Javed Akhtar lyrics, SEL music, a night on the town… beauty all around.
'Sadi Gali' – Tanu Weds Manu

Music: Amit Trivedi – Singer: Lehmber Hussainpuri
And had they returned to India they would have encountered this song at any wedding they attended. Another gem from Amit Trivedi and probably the most famous of his many great songs.
'Bekaraan' – 7 Khoon Maaf

Music: Vishal Bharadwaj – Singer: Vishal Bharadwaj
"Na dil me kasak hogi, na sar mein junoon hoga"… in this song you will find the most blissful of peace. Let Vishal Bharadwaj settle in your heart, but don't let it drown you… lillah.
'Chamak Challo' – Ra One

Music: Vishal-Shekhar – Singer: Akon
Who would have guessed Akon knew how to sing in Hindi and so well at that? Next, you'll tell me SRK is playing an android!!!
'Jaane Kiske Khwaab' – Guzaarish

Music: Sanjay Leela Bhansali – Singer: K.K.
Before even hearing the song, you'll be mesmerised in both Hrithik magic and Hrithik's magic but listen closely to the music. It will mesmerise you till you can't take your ears and eyes off it.
2012
'Pareshan' – Ishaqzaade

Music: Amit Trivedi – Singer: Shamali Kholgade
The world may go crazy about you but there's nothing like love to bring out your inner rock concert. A simple song done to a rock beat with a harmonium for Parineeti and Arjun.
'Jiya Re' – Jab Tak Hai Jaan

Music: AR Rahman – Singer: Neeti Mohan
Neeti Mohan's first big hit song, this will easily make it on a list of Anushka Sharma's best songs. A power ballad full of good feminist sentiments and just a ton of fun.
'Tumhi Ho Bandhu' – Cocktail

Music: Pritam – Singer: Neeraj Shridhar
While this is a 'remake' (before that was a thing), it brings its own personality to the words, with shots and a party atmosphere, traditional Indian moves for a western audience and beat.
'Pani Da Rang' – Vicky Donor

Music: Rochak Kohli – Singer: Ayushmann Khurrana
Please enjoy Ayushmann Khurrana from where it all began. Sung, acted and made beautiful along with Yami Gautam, there's nothing complicated here… it's just a good song.
'Chinta Ta Ta Chita Chita' – Rowdy Rathore

Music: Sajid-Wajid – Singer: Mika Singh
Akshay showing off moves under the tutelage of Prabhu Deva… this is extremely complex, but like all things Prabhu Deva, it looks easy. Mika does a great job being Askhay's voice.
'Hona Hai Kya' – Talaash

Music: Ram Sampath – Singer: Ram Sampath
Ram Sampath shows off his ability to work in gritty styles and western rock in this Aamir Khan mystery thriller. An album full of superb songs and somehow this one stands above all.
2013
'Sun Raha Hai' (Male) – Aashiqui 2

Music: Ankit Tiwari – Singer: Ankit Tiwari
A great album headlined by this song. This is heartbreak, its sadness without anger, its desperation. Look deep into Aditya Roy Kapur's eyes and let the song in.
'Nagada Sang Dhol' – Goliyon Ki Raasleela

Music: Sanjay Leela Bhansali – Singer: Shreya Ghosal
Another song of sadness and desperation, sung this time by Shreya for Deepika… all covered behind the veil of intrigue and the ritual of a festival, all of which is masterfully conveyed by the music.
'Jeene Laga Hoon' – Ramaiya Vastavaiya

Music: Sachin-Jigar – Singers: Atif Aslam, Shreya Ghosal
At the other end of the scale is this love story song for Girish Kumar and Shruti Hassan. "Jeene laga hoon pehle se zyada, pehle se zyada tumpe marne laga"… and that's just the beginning.
'Sunny Sunny' – Yaariyan

Music: Yo Yo Honey Singh – Singer: Yo Yo Honey Singh
Back in 2013, no Punjabi could touch Yo Yo Honey Singh in Bollywood. This one is just one example of a whole list of dance/hip-hop style with all the production quality of its western counterparts.
'Dilliwali Girlfriend' – Yeh Jawaani Hai Deewani

Music: Pritam – Singers: Arijit Singh and Sunidhi Chauhan
This song is just one of many (all) in this album which are superb just for listening, but Ranbir, Deepika and co, all found a way to make these songs another level, especially this one.
'Iktara' – Wake up Sid

Music: Shankar Ehsaan Loy – Singer: Kavita Seth
This may have also been a Ranbir film, but it's Konkona who takes this song away. Kavita Seth is expertly guided by SEL's music but finds a space all her own to let it out.
2014
'Jumme Ki Raat' – Kick

Music: Himesh Reshammiya – Singers: Mika Sing, Palak Muchhal
If you're a super action hero like Salman, occasionally you just need a stress-relieving song with your closest health professional… this is that song.
'London Thumukdha' – Queen

Music: Amit Trivedi – Singers: Labh Janjua, Sonu Kakkar, Neha Kakkar
Kangana and Amit Trivedi team up for another Punjabi wedding, this time it's Kangana's to her arranged London beau. It's both traditional and modern… for both old and young.
'Shaayraana' – Holiday

Music: Pritam – Singer: Irshad Kamil
This may also be a remake before its time, but its quirky country and western feel and beautiful lyrics make it easy to pass over that detail. Just enjoy Irshad singing under Pritam's direction.
'Patakha Guddi' – Highway

Music: AR Rahman – Singer: AR Rahman
While this wasn't in the film itself, it became a hit on its own. AR Rahman brings his learnings in Hindustani to a driving rhythm and just refuses to give up. Be dragged along for the ride.
'Palat' – Main Tera Hero

Music: Sajid-Wajid – Singer: Arijit Singh
What better way to be introduced to Varun Dhawan then in a remake of an earlier David Dhawan song pictured on Govinda and even redone in his style?
'Locha-E-Ulfat' – 2 States

Music: Shankar Ehsaan Loy – Singer: Benny Dayal
Love must be fate, but then why is it such a problem to fall in love. Take a listen to this SEL directed song, sung by Benny Dayal with all the comedy and tragedy that is love.
2015
'Jee Karda' – Badlapur

Music: Sachin-Jigar – Singer: Divya Kumar
But since Varun isn't one-dimensional, neither is the music around him. This is angry Varun: "mushkil kar de jeena mera, haste haste mit jaane aaj".
'Yaara Re' – Roy

Music: Sanjoy Chowdhury – Singer: KK
A writer trapped in his own story; this is the song where he realises where it all went wrong. Heart wrenching, may even require a tissue box
'Gulaabo' – Shaandar

Music: Amit Trivedi – Singers: Vishal Dadlani, Anusha Mani
At wildly different, this is a fun Amit Trivedi special. A simple sound taken to another level between Vishal Dadlani, Shahid, Alia and special appearance by Shahid's sister.
'Gallan Goodiyan' – Dil Dhadakne Do

Music: Shankar Ehsaan Loy – Singers: Yashita Sharma, Manish Kumar Tipu, Farhan Akhtar, Shankar Mahadevan, Sukhwinder Singh
A multitude of stars make this SEL song a massive Punjabi dance off on a cruise ship. Every personality gets a bit, each story fitted it perfectly to a sublime song.
'Aayat' – Bajirao Mastani

Music: Sanjay Leela Bhansali – Singers: Arijit Singh, Mujtaba Aziz Naza, Shadab, Altamash Faridi, Farhan Sabri
Whatever else is tried in Bollywood, the true test of an Indian singer is in Hindustani classical. Arijit may be the king of Bollywood, but without this song his throne would be empty.
'Kyon' – Barfi

Music: Pritam – Singers: Pritam, Sunidhi Chauhan
Like so many Ranbir songs, Pritam finds a melody and rhythm of dance, even though none is needed. Ranbir and Priyanka honour this with little dance steps for this song by Papon… light and easy.
2016
'Jag Ghoomeya' (Female) – Sultan

Music: Vishal-Shehkar – Singer: Neha Bhasin
"Jag ghoomeya, thare jaisa na koi" … such a beautiful line that even Salman Khan did a version, but this is the best one by far… listen and fall in love.
'Kala Chasma' – Baar Baar Dekho

Music: Various Artists – Singers: Amar Arshi, Badshah, Neha Kakkar
If you can stop yourself shaking your head to this song, then you're a better person than I. A remake of an old Punjabi song brought to Bollywood by Baadshah but still true to the original.
'Hi Heels Te Naache' – Ki & Ka

Music: Meet Bros and Yo Yo Honey Singh – Singers: Jaz Dhami, Aditi Singh Sharma, Meet Bros
Meet Bros have brought to Bollywood some great dance songs, so it's only fair that this makes the list being probably the most interesting example of what they've been doing for so long.
'Pashmina' – Fitoor

Music: Amit Trivedi – Singer: Amit Trivedi
Love stories may not get weirder than Charles Dickens' Great Expectations, but Fitoor is still an Indian remake and this one I've chosen because Amit Trivedi gets to show off his singing talents.
'Bulleya' – Ae Dil Hai Mushkil

Music: Pritam – Singers: Amit Mishra, Shilpa Rao
Just in case you're not up on Afghan or Pathan, Bulleya refers to the greatest friend a traveller can have: Bulle Shah. This is thus a devotional song, somehow wrapped inside a rock song…
'Nachange Saari Raat' – Junooniyat

Music: Meet Bros, Jeet Ganguli – Singers: Neeraj Shridhar, Tulsi Kumar, Meet Bros
Meet Bros are back again in this list this time with Neeraj Shridhar and Tulsi Kumar for a high energy Punjabi dance hit coincidentally for Junooniyat. Try to stop yourself dancing to this one.
2017
'Halka Halka' – Raees

Music: Ram Sampath – Singers: Shreya Ghosal, Sonu Nigam
Politics may have meant this song didn't make the final cut, but how can you leave out calypso in the middle of Gujurat mixed in with a love song for the ages. Sonu and Shreya are unbeatable!
'Sweety Tera Drama' – Bareilly Ki Barfi

Music: Various Artists – Singers: Dev Negi, Pawni Pandey, Shraddha Pandit
Families are all weird, whosever they are. Love is just a little more weird and thus everything else looks normal. Here Kriti schools Ayushmann and Rajkummar Rao in a purely Bihari style.
'Main Hoon' – Munna Michael

Music: Various Artists – Singer: Siddharth Mahadevan
Michael Jackson may have passed but Siddharth Mahadevan is going to make sure Tiger Shroff has the best chance of bringing him back in this power Michael song.
'Swag Se Swagat' – Tiger Zinda Hai

Music: Vishal-Shehkar – Singers: Vishal Dadlani, Neha Bhasin
The number of YouTube views for this song could make is a serious contender for best song. But even over Katrina and Salman's chemistry there is the note of inclusivity which makes it relevant.
'Gulabi 2.0' – Noor

Music: Armaan Malik, Amaal Malik – Singers: Amaal Malik, Tulsi Kumar, Yash Narvekar
This may be a 2.0, but it leaves its 1.0 for dead. This is not for people of the old style; this is dance for the new age. Girl power on lady's night at the club! "What's next Paris or Rome?"
'Baarish' – Half Girlfriend

Music: Various Artists – Singers: Ash King, Shashaa Tirupati
Few instruments are as well purposed for rain as is the santoor. Tanishk manages to bring this to light while allowing Ash king to sing a sublime love song for the ages.
2018
'Aahista' – Laila Majnu

Music: Niladri Kumar – Singers: Arijit Singh, Jonita Gandhi
In case by now you needed any proof that love was crazy, there is this beautiful and smooth love song by Arijit and Jonita in the most epic of the love stories, Laila and Majnu.
'Pal' – Jalebi

Music: Various Artists – Singers: Arijit Singh, Shreya Ghosal
"Hasu mein jab gaye tu, rodu mein murjhaiye tu… saathiya"… not for many a year has a song touched the heart so easily. Arijit, Shreya, the words, the tune each force their way in.
'Theher Ja' – October

Music: Shantanu Moitra – Singer: Amaal Malik
If you can be reflective in love, then this is it. And yet this pulls no punches nor hurts anyone. As a song it's both sad and happy, as a video cute and depressing. Yet beautiful in every way.
'Qaafirana' – Kedarnath

Music: Amit Trivedi – Singers: Arijit Singh, Nikita Gandhi
This makes the trifecta of beautiful songs for Arijit Singh for 2018. While the first was crazy, the second sad, this was hopeful. Listen to this outside and you can almost feel the mountain air.
'Andhadhun Title Track' – Andhadhun

Music: Amit Trivedi – Singer: Raftaar
Just for something different, Raftaar brought this as the title track to superhit film of 2018 Andhadhun. This song tops off another superb Amit Trivedi album but is great on its own.
'Khalibali' – Padmaavat

Music: Sanjay Leela Bhansali – Singer: Shivam Pathak
Just for something different, we have a dark love song, both a dance song and a villain's song at the same time, yet completely captivating. Then comes Ranveer and his performance…
2019
'Ghar More Pardesiyan' – Kalank

Music: Pritam – Singer: Shreya Ghosal
If 'Aayat' was proof of Arijit's kingship, this gives Shreya the crown of Queen. The classic tale of Ram and Laxman, intertwined with a blossoming love story and its all too easy to let it in.
'Dil Hi to Hai' – The Sky is Pink

Music: Pritam – Singer: Arijit Singh, Antara Mitra, Nikhil D'Souza
When you've done everything else, why not get Arijit Singh together with a gospel choir… the results are here to see and hear. Just listen and fall for it.
'Ek Ladki Ko Dekha' – Ek Ladki Ko Dekha To Aisa Laga
Music: Rochak Kohli – Singer: Darshan Rawal
The original song was both an Anil Kapoor classic but wouldn't have done for the purposes of this film. Still this remake is bold but Rochak Kohli deserves many plaudits for pulling it off.
'Rappan Rappi Rap' – Mard Ko Dard Nahin Hota

Music: Karan Kulkarni – Singer: Benny Dayal
It's unlikely to find a more fun, light-hearted song and no malice. There are tons of film references, mixing both Hollywood and Bollywood, with a smattering of Japanese anime to boot.
'Apna Time Aayega' – Gully Boy

Music: Various Artists – Singers: Ranveer Singh, Dub Sharma
The Gully Gang say "Apna Time Aagaya! Tu nanga hi to aya hai, kya ghanta lek kar jayega?" The music is collaborated between Divine and Dub Sharma, but the plaudits are all Ranveer.
'Beh Chala' – Uri

Music: Shashwat Sachdev – Singer: Yasser Desai
The song that proves even Para's have office romances. "Musafire kaha beh chala" is just one of the lyrics your ears glide upon as this song sweeps you away but keeps you firmly grounded.
So, it is a goodbye to Bollywood music of the 2010s, a decade where the book has exited stage left. Bollywood may have become the world's 2nd most popular movie industry in the world through its music, but it never loses its edge, always stimulating, always exciting.