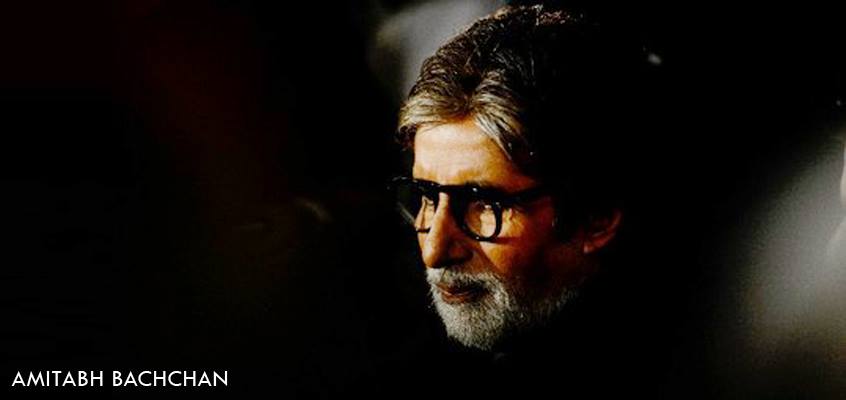 .
To celebrate the 71st birthday of Bollywood royalty Mr. Amitabh Bachchan; BollySpice has put together a special feature which looks at the actor's greatest moments. When we think of Amitabh Bachchan, there are many classic films, songs and scenes that come to mind but we also wanted to shine the light on some of the other favourites that we have. Read on to check out what made it onto our list!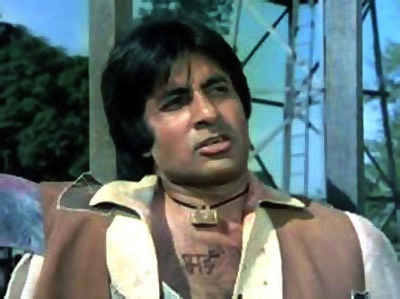 Entrance Scene: Mard – Every Amitabh movie had heroic entry scenes, with audiences often having to wait for up to half an hour of the film until Amitabh entered. Always innovative and awe inspiring – Coolie, Hum, Toofan, Agneepath…but for our favourite pick we'll have to go for Mard. Our hero awakes from his siesta to see an old and helpless lady being dragged to her death, caught up alongside a car, which is being erratically driven by the rich, young and spoilt heroine. Amitabh leaps into action with his horse and companion Baadal, in order to rescue the old lady (who coincidentally just happens to be his long lost mother). After saving the old lady and fighting the drivers bodyguard, when Amitabh is asked his name, he cooly rips open his shirt to reveal the word 'Mard' engraved onto his chest. Wah, they just don't make them like that anymore!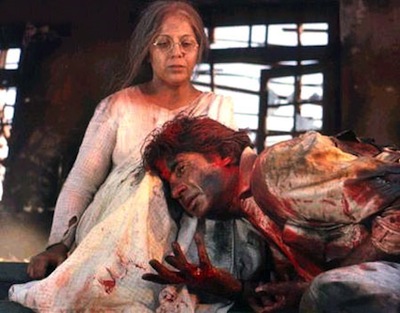 Death Scene: Agneepath (1990) – Nobody can die like Amitabh on screen. In even more recent films like Paa, he can still jerk tears straight from our eyes. Of all the many many superb choices, we'll have to settle for Agneepath. A heavily wounded Vijay walks his mother back to their family home, whilst receiting his father's sonnet. His closing words to his estranged mother are: 'Main gunda nahin hoon' (I'm not a gangster/bad man). Still gives us goosebumps even thinking of it!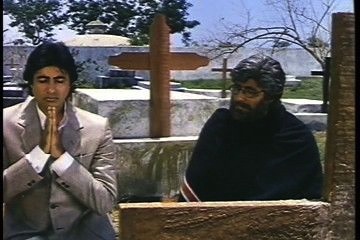 Double Role: Aakhree Raasta – Amitabh defined and perfected the double role – Desh Premee, Mahaan (a triple role), Don, Adaalat…When he did so, you literally felt that there were multiple Amitabhs who co-existed in this world, so good was he. Our pick is a scene from Aakhree Raasta, where father and son meet in the graveyard to commemorate the death anniversary of their respective wife and mother. What follows is a powerful scene of emotional dialogue-baazi about right and wrong, victory and defeat. You come away feeling for both characters and also torn between which one to root for.
'Kajra Re:' Bunty Aur Babli (2004)
– Of course this song from
Bunty Aur Babli
has to be mentioned! Mix Aishwarya Rai dancing, the cool Amitabh Bachchan just going all in and the funny cuteness of Abhishek Bachchan… makes it to good ya! Add in a killer track and you have one of the most iconic brilliant numbers in Bollywood history. Hai Hai!
'Holi Khele:' Baghban (2004)
– Big B's energy and dancing in this song is too adorable that we just had to include it in this list! He is the only one was able to pull off a song as energetic as this one with such grace and enthusiasm making it a real hit Holi number!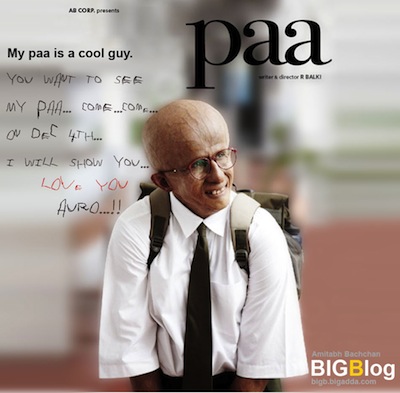 Great in Every Scene: Paa (2010) – Looking at the poster, if you did not know that this was Amitabh Bachchan you would never ever, ever guess that this is THE "Angry Young Man". But it is not only the prosthetics and the make-up, the actor, the man disappeared into Auro. It is such a nuanced and brilliant performance every scene in this film deserves to be on the list.
'Kabhi Kabhi Mere Dil Mein:' Kabhi Kabhie (1976)
– If there is one song which can be considered as one of Amitabh Bachchan's finest romantic numbers, then it is certainly this one from Yash Chopra's romantic drama
Kabhi Kabhie
. The stunning, lyrics from Sahir Ludhianvi, Khayyam's melodious music and not forgetting Amitabh's picture-perfect lip-synching, it is definitely a classic that will be treasured forever!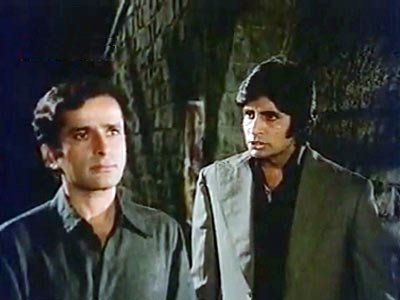 'Mere Paas Maa Hai:' Scene from Deewaar (1975) – This action-thriller solidified Amitabh's position within the film industry and made him an overnight sensation in India. Though Deewaar is an adrenaline-pumping watch from beginning to end, this particular scene between Amitabh and Shashi Kapoor has acquired cult status. The dialogues from this particular scene are uttered today by Mr Bachchan's millions of die-hard fans!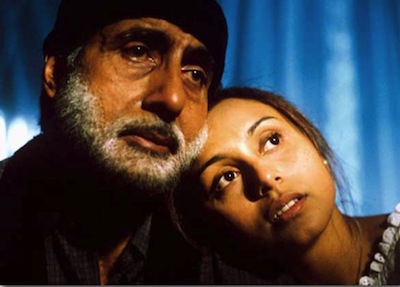 Great in Every Scene: Black (2005) – While we are including picks with every scene of a movie another Amitabh Bachchan performance has to be his Debraj Sahai in Black. Whenever I think of that movie, I am moved to tears seeing the scene in my mind when Rani comes back to tell her teacher her results and he does the little victory dance. You have chills now too don't you? So many moments, so many shades, so much feeling, it is a tour de force performance that is a must see for every film fan be it Bolly, Holly or anywhere in the world.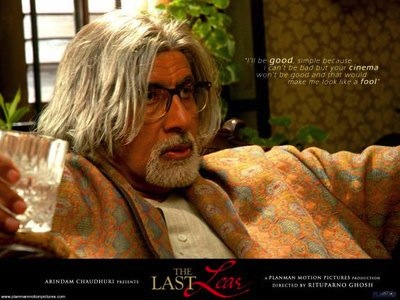 Great in Every Scene: The Last Lear – Mr. Bachchan stuns with the power of his performance in The Last Lear. Our reviewer Aly Kassam said it best in his review, "As I write this review, I do not know behind which corners to search for words to describe the astonishing talent that runs through Amitabh Bachchan's veins. When watching him on screen, it's hard for any viewer to forget they are watching Amitabh Bachchan. But in this role, you forget about Big B and you are only intrigued into the world of Harishraj Mishra and his eccentricities. There is no, I repeat, no other actor in this industry that could have pulled this role off with so much power. Whenever he projects his baritone voice and bellows Shakespearean dialogues, it sends an intense shiver through your body. For all those in doubt of his talent, let me remind you that Amitabh Bachchan is THE best. If you don't believe me, go watch The Last Lear and leave behind any star-persona you have attached to his name. It's a pleasure to watch the film just for him. Not even Shakespeare would be able to find words to express how brilliant he was. More so than Shakespeare, The Last Lear is an ode to Amitabh Bachchan."
'Rang Barse:' Silsila (1981)
– For many people who celebrate Holi, this colourful festival is not complete without them singing to this popular number, which was sung and picturized on Amitabh Bachchan in Yash Chopra's
Silsila
. With lyrics from his father, the late Harivansh Rai Bachchan, this is one Holi song that has not become obsolete, despite being released over 30 years ago.
Special Appearance: English Vinglish (2012)
– Despite only appearing in the film for a mere 5 minutes, Amitabh Bachchan proves in this Sridevi starrer that sometimes special appearances do in fact work. His brief role in Gauri Shinde's directorial debut was endearing and funny to watch and he showed a totally different facet of himself which we rarely see. You can even go as far as to say that this 5 minute appearance was more entertaining than some of the flop busters which he has starred in during the past decade.
'Chhu Kar Mere Mann Ko:' Yaarana (1981)
– Though the film has to some extent been forgotten, this romantic number which was picturized on Amitabh remains popular to this day. Sung by the wonderful Kishore Kumar, it is another memorable moment in the actor's career which is treasured by his loyal fans!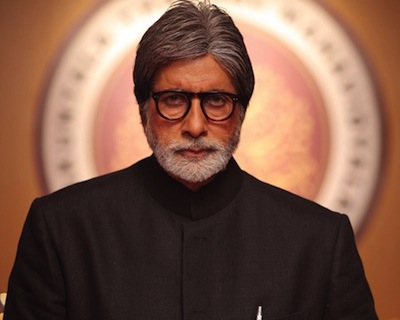 Great in Every Scene: Mohabbatein (2000) – Amitabh Bachchan made a comeback like no other in Aditya Chopra's romantic drama. Taking on the role of a headmaster in a boy's college, Amitabh proves in this film that he is indeed a qualified method actor. The way in which he releases his character's emotions is phenomenal and unforgettable. No doubt he thoroughly deserved the Filmfare Best Supporting Actor Award which he won at the time of this film's release.
'Yeh Dosti:' Sholay (1975)
– If anyone is looking for a great friendship song; then you need not look any further. This superb classic from Ramesh Sippy's blockbuster hit has Amitabh and Dharmendra telling the world that their friendship is unbreakable.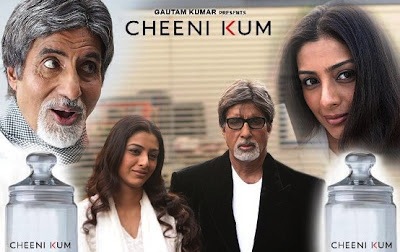 Great in Every Scene: Cheeni Kum – One of the things that has been so amazing about his career is when he tries different films and stretches our thoughts of who and what he can play. He proved that in Cheeni Kum. Pick a scene, any scene and you will be wowed with his performance as Buddhadev Gupta.
'Jhoom:' Jhoom Barabar Jhoom (2007)
– Along those same lines of surprising the audience has to be his special appearance in the 'Jhoom' song from
Jhoom Barabar Jhoom
. Could he have been any cooler? We don't think so! Check it!
'Lodi:' Veer-Zaara (2004)
– We have to mention Lodi from Yash Chopra's brilliant Veer Zaara. It does not get any better than Amitabh Bachchan, Hema Malini, Shah Rukh Khan going full on Bolly in this classic number! We will just let you experience the magic.
Finally, BollySpice would like to wish Mr Amitabh Bachchan a very happy birthday! We hope that he will continue to entertain us all for many years to come!
Written by Bodrul Chaudhury with contributions by Anjum Shabbir, Samreen Tungekar and Stacey Yount