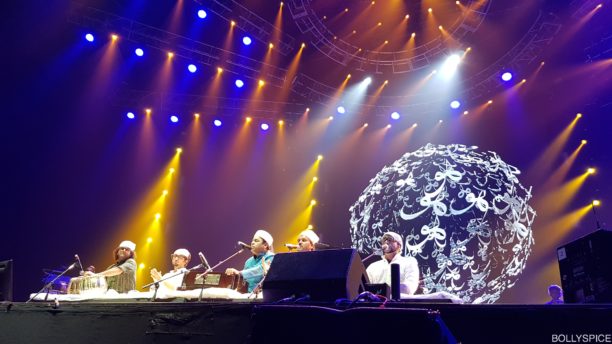 I had the pleasure of attending the AR Rahman "Yesterday, Today, Tomorrow" concert on 8th July, at the SSE Arena, Wembley celebrating 25 years of the maestro's music. When you hear the name AR Rahman, you immediately think of a plethora of songs which he has expertly composed and sung, and during the evening, it was a real treat to hear these very songs performed live. Armed with a great line up of singers, AR Rahman was accompanied by Neeti Mohan ('Jiya Re' – Jab Tak Hai Jaan), Jonita Gandhi ('Sau Tarah K' – Dishoom), Benny Dayal ('Badtameez Dil' – Ye Jawani Hai Deewani), Javed Ali ('Kun Faya Kun' – Rockstar), Haricharan and a few more upcoming talents.
The show was hosted by Anushka Arora, and opened with a show reel showcasing all the highlights of AR Rahman's career so far, including his most recent performance with Chris Martin (Coldplay). He then arrived on stage, followed by Neeti who opened the show with her energetic and melodious performance of 'Jiya Re' (Jab Tak Hai Jaan). She then continued with a power packed performance of one of AR Rahman's South Indian film songs. A big portion of the concert was dedicated to his South Indian film songs, which received a very positive response from some of the audience.
Jonita Gandhi arrived on stage next and sang 'Dil Hai Chota Sa' from the film Roja. The first half of the song was performed in Tamil (I believe) and when Neeti joined Jonita on stage, she sang the remainder of the song in Hindi. As we all know, the film Roja released in Bollywood too.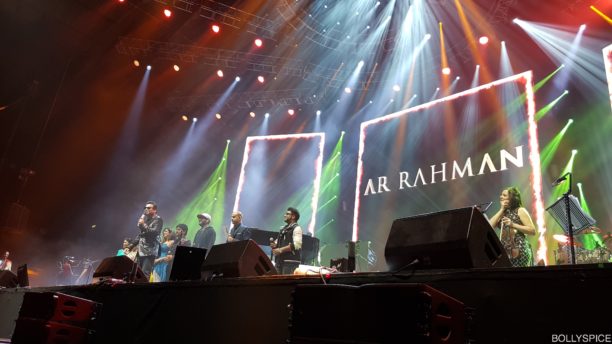 Then it was time for AR Rahman himself, to perform and so he began with the powerful Dil Se title track (which also featured an exceptional piano interlude which he played on the grand piano) and then he continued with 'Tu Hi Re' (Bombay). It was truly an exhilarating experience to hear AR Rahman sing these classic songs live.
This was followed by a set of pure Tamil songs, unfortunately many of which I and some of the audience were not familar with! They were sung by Benny, Jonita and Haricharan. Despite not being able to understand the language, I thoroughly enjoyed the music of these songs, as they say, music is a universal language!
AR Rahman then returned to the mic, and sang one of his latest songs for the film Sachin: A Billion Dreams. I must give a special mention to the production design of the show. Be it the lighting effects, the stage screens (which showed various abstract captures of the singers on stage) it all added a special touch to their performance and it was truly a spectacular visual treat!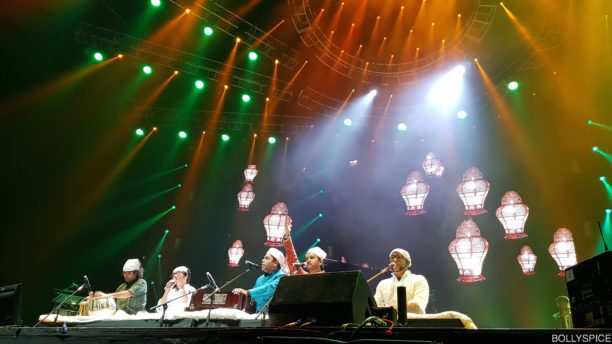 After the interval, it was time for singer Javed Ali to shine. Many had been waiting for him on stage, and when he began with the prayer song 'Arziyan' (Delhi 6), the audience were simply captivated by his singing. AR Rahman also accompanied Javed, and played the harmonium too. They then performed 'Kun Faaya Kun' (Rockstar). Neeti Mohan then returned to the stage, and gave a superb performance of 'Mayya Mayya' (Guru). AR Rahman then performed 'Enna Sona' (OK Jaanu) with Neeti and Jonita accompanying him on the vocals. This was followed by 'O Hum Dum Suniyo Re' (Saathiya), 'Humma Humma' (Bombay/OK Jaanu) and 'Patakha Guddi' (Highway) which was sung by AR Rahman, with Javed and Benny accompanying him.
The finale of the concert saw a medley of more Tamil songs ('Columbus' from Jeans being one of them), followed by 'Take it Easy Urvashi' (Hum Se Hai Muqabala) and a more mellowed down version of the universally popular song 'Jai Ho' (Slumdog Millionaire). It was more of a mashup style performance, with AR Rahman and all the singers on stage. Overall AR Rahman's audience interaction was really encouraging and all of the singers were fantastic, and performed their songs with grace and ease. The main disappointment was the lack of pure Bollywood songs which could have been performed, especially as it was a celebration of 25 years of his music.