In it's 12th year, all eyes are on Florence, Italy, for Bollywood and Indian cinema lovers, as the River to River Festival opened with a big bang. The only festival in Italy totally devoted to films from and about India, this year's festival is running from 7 to 13 December 2012 and in a new highlight the festival will also visit Rome for two days. This year's special guest and honoree was the esteemed Amitabh Bachchan. Mr. Bachchan, along with the fabulous Indian director Anurag Kashyap joined the festival director, Selvaggia Velo, a resident of Florence, who has passionately put together a very interesting line-up, for 2012, to celebrate 100 years of Indian cinema.
Talking about the process of how she chooses films Ms. Velo explained in an earlier interview, "I started in India in Bombay in February and March, and then at the Cannes Film Festival and then again in June in India, Delhi. There was a specific incident that struck me but the thing that always leaves me surprise is the enthusiasm that the rookie directors put out to meet me and to give me their films. I am as excited as them when I'm going to watch their movie."
About Mr Bachchan attending the festival she said, "When I received the email in which he told me that he would come to the Festival was July and I was left speechless. I've been dreaming of the opening night with Big B on stage!"
Now read on to see our special report from Florence with some highlights only seen on BollySpice!
First up, Mr. Amitabh Bachchan addressed the European press at a very private press conference at the Savoy Hotel, Florence. He also opened the festival and received the key to the city from the Deputy Mayor of Florence. The festival includes a Bachchan retrospective which includes films like Sholay, Deewaar and Black, which had a special screening with a Q&A with the actor. We will have more on that in a bit. Also showing was the documentary about the esteemed actor titled Everlasting Light by Ram Madhvani.
Festival favorite director/producer Anurag Kashyap, has brought both parts of his Gangs of Wasseypur, which had a world premiere in Cannes and then opened the London Indian Film Festival for it's UK premiere. It's Italian premiere, which opened the festival saw queues at the Odeon Florence.
Cineworld Cinemas Bollywood editor, Ashanti Omkar is also part of this festival in 2012, where she is giving a talk on Bollywood and the expression of emotions in today's India, alongside Franco La Cecla. Ashanti Omkar told BollySpice: "It is such a pleasure to be invited to this prestigious festival, in this gorgeous city of Florence, Italy. It has already captivated my heart, with warm people and a genuine love for Indian cinema and culture. Interacting and meeting Amitabh Bachchan outside London, was a thrill I cannot describe in words. As usual, he regaled the press in the afternoon, and all the crowds who came to catch a glimpse of him, in the flesh, in the evening, with his meticulously crafted words of wisdom. In a 1400-year-old palace in Florence, there was a cocktail reception for the festival, attended by Anurag Kashyap. He was in high spirits at the success of Gangs of Wasseypur, on the worldwide festival circuit. I am looking forward to my talk, on Sunday 9th December, where the emotional aspect of Indian cinema will be discussed. This is the first time that my words in English, will be translated into Italian, in real time. This festival is a work of passion, by Selvaggia Velo, a very inspiring Florentine lady, who loves all things Indian and speaks excellent Hindi. She was dressed in a beautiful and glittering sari, and captivated all the crowds. Many Indian cinema lovers came from different parts of Italy, to enjoy the opening night, as did the Ambassador for India, based in Italy. Many beautiful venues in Florence, are part of this festival, which then goes to Rome after Florence, for 2 days." Stay tuned we will have more from the festival and about Ms. Omkar's talk coming up soon!
We have more from Mr. Bachchan in his own words on both Twitter and his blog about his experience at the festival.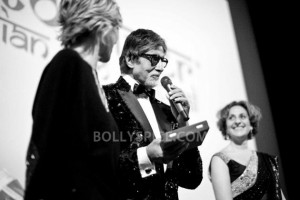 Before he traveled to Florence, Mr. Bachchan wrote on his blog: "And in a while to Florence, Italy for the 'River to River Film Festival, where they do a retrospective of my films. The world of Film Festivals grows in importance I feel, most of us not having time to attend them and discover what India and Indian film makes us proud."
On Twitter, he said, "Tomorrow to Florence, Italy, River to River Film Festival for my retrospective … Italy ? Hindi Cinema ? Hmmm … lets see !! First time in world an entire film festival dedicated to Indian Cinema ! Been a while … 100 years … and finally recognition !"
About the first night he wrote, "Overwhelmed as I am with the beauty and elegance of Firenze, the opening of the River to River 12 India Film Festival tonight at the Odeon Cinema, one of its oldest is a delight to be present at, where the Deputy Mayor of the City, with his designated sash or ribbon of honour around his shoulder, presents me with the keys of the City of Firenze, and invites me to the city again not as a tourist but as a guest. Nothing could have been more overwhelming than this recognition, in the presence of the Ambassador to Italy of India and other distinguished guests."
Adding on Twitter, "Just back from the River to River Festival .. honored and applauded and presented the keys of the city by the Deputy Mayor of the City. Such warmth and such love .. thank you Firenze … tomorrow shall be showing them 'Black'"
Anurag Kashyap let us in on a little more of the night, "Big B was awarded "Keys to Florence" tonight and then there was a italianflashmob dancing to a medley of Amitabh Bachchan Songs"
He then tweeted the next day, "A lazy morning .. was snowing yesterday and today bright and welcome sunshine .. Tonight at the River to River Film Festival 'Black' and a Q&A with the audience .. last night was wonderful .. the Deputy Mayor of the city of Florence presented me the keys of the City … honored and humbled!!"
Mr. Bachchan attended the screening of Black and after the event tweeted, "A full house at the Odeon, Florence .. in the Q&A a lady with the same symtoms as the girl in 'Black'..crying copiously!! A standing ovation amidst shouts of 'bravo' for screening of 'Black' .. here in Florence for RR film fest .. thank you Sanjay LB .."
Also part of the cool program were films like India's first feature, Raja Harishchandra, which was restored, as well as Rockstar, by Imtiaz Ali. Chittagong by Bedabrata Pain and Deewaar (The Wall) by Yash Chopra.
Adding and we can't thing of a better way to close with this quote, "Good bye Florence .. it was a most enjoyable trip .. . Meeting many of my country and others too, who have loved our cinema .. it is a world phenomena now! We have beaten the cynics!! The honor, the pride that Indian Cinema is attaining is a win for India."
Many thanks to Ashanti Omkar
Credit: Francesca Manolino, Davide Bellanti