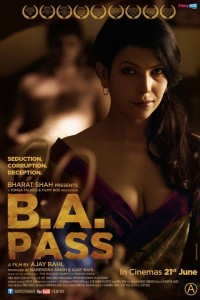 The faded, vintage glamour of the Delite Cinema provided the ideal location to host the press conference of new release B.A. Pass. We caught up with the stars and director of the film at the cinema, little more than a stone's throw from Delhi's Paharganj, where much of Ajay Bahl's debut was shot.
Despite getting its theatrical release on August 2, the project has already achieved critical acclaim at film festivals from Delhi to London and Montreal to Paris. Lead actor Shadab Kamal was also the recipient of a 'Best Actor' award at the Osian Cinefan Festival of Asian and Arab Cinema.
"Honestly speaking, I was not expecting it. I didn't even know Osian had an award for 'Best Actor'."said Kamal. "I was with my friends hanging out and enjoying myself when I got the call that I had won."
The 25-year-old actor went on to add: "I was going through a very bad day that day, I have never shared this with anybody, but I had a break-up in the morning and that very same evening I won the award.
"So I was going through a lot of emotions and didn't know whether to be happy or be sad."
Starring opposite Kamal in the film, Chak De India actor Shilpa Shukla said that despite the film's bold storyline, as an actor, the complexity of her role made her eager to be part of the project.
Shukla also spoke about how it was important that her family were behind her: "Pappa was very encouraging. When we won the 'Best Film' award, – voted for by the people – at Osian, that was a moment of victory."
"Of course, it wasn't just about getting his permission, but the fact that he enjoyed the film, which was important."
Based on the short story The Railway Aunty by Mohan Sikka, if you have already read the book – as I had – be prepared for director Ajay Bahl's twist in the climax.
Although marketed as a bold, erotic drama, as the lights come up you may find that it is the movie's consuming story and convincing performances that you'll be thinking about more than the erotic content that has been its marketing strategy.
Check out our exclusive images from the press conference with director Ajay Bahl and actors Shadab Kamal (Mukesh), Shipla Shukla (Sarika) and Dibyendu Bhattacharya (Johnny).
Read our BollySpice review of B.A. Pass here.
B.A. Pass releases in India August 2.
Photo Credit: Yash Arpan Dutta