The green carpet became a runway for the sexiest stars in Bollywood to strut their stuff into the 14th annual IIFA (International Indian Film) awards ceremony.
Headed by the badshah of Bollywood, "King Khan", the procession of fashionistas attracted a rambunctious crowd.
Shah Rukh Khan looked dashing as ever, wearing a crisp black suit and a smile that made every female in the vicinity weak at the knees – including Mani's mum!
Heads turned as Mr. Khan walked down the carpet, not just on account of his slick sense of style, but also because of the smart black leather sling wrapped around his right arm. Only the King of Bollywood could turn an injury into a fashion statement! Insert Picture 1 – Shahrukh Khan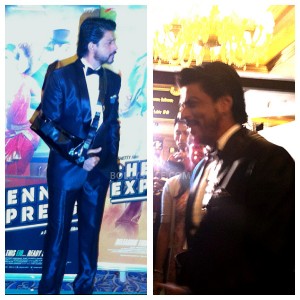 What he didn't quite manage to pull off however, was the unkempt beard and long hair, which made him resemble an extra from Pirates of the Caribbean. He claims to have been unable to shave due to his injury. Hmmm, we aren't convinced, SRK.
Hot on the tails of Mr. Khan – or just hot in general – was model turned actress Lisa Haydon. The 'Aisha' star smouldered in a see-through embroidered dress. Haydon, who we've dubbed "The Asian Angelina Jolie", kept it classy and simple, choosing to accessorise with a pink lip and her favourite YSL ring. With a daring thigh-high split, she showed off her picture perfect pins finished with gold Louboutins, making us as green as the carpet with envy. You have two new fans here, Miss Haydon, and not just because you complimented Bea's head chain. Insert Picture 2 – Lisa Haydon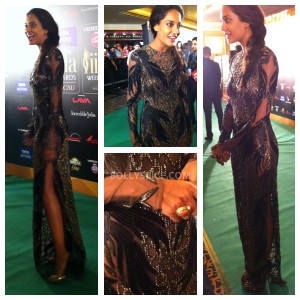 An interesting twist to the glitter and glam was Neha Dhupia who took fashion into her own hands. She covered up more than other stars (too much, in our opinion) in a high-necked, full-sleeved lace bodice and floor-length skirt, strongly resembling a Victorian governess. Not a green-carpet-ready look! Insert Picture 3 – Neha Dhupia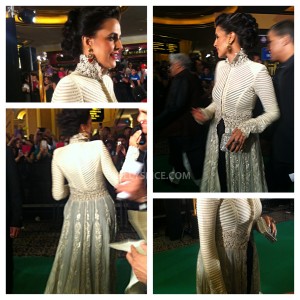 The Anamika Khanna dress, which was intended to look classy, instead aged the 32-year-old actress considerably when combined with the severe makeup and high swept bun. We'd love to see Neha in bright colours and smiles please! Cheer up Ms Dhupia, your film Santa Banta is releasing this year!
Following Neha's cloud of gloom, we had a much needed chuckle at the prospect of writing about Boman Irani's bowtie. We had a seven-minute laughing fit at the irony, during which we coined the nickname Bow-tie-Boman – which has now been shortened to Bow-man. Ha, geddit? Insert Picture 4 Boman Irani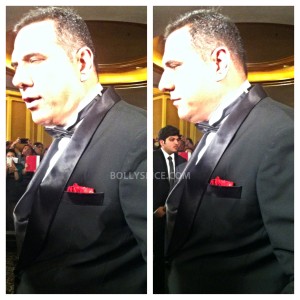 (It's currently 3.52am, please excuse our dry jokes. At this point, even Fardeen Khan's silk pocket hanky is funny).
Dia Mirza reminded us of Taylor Swift at the 2009 CMAs in her caramel tulle gown with sequinned gold bodice. We loved the messy but elegant side plait which showed off the sweetheart neckline.
Her dress captivated audiences as she glittered like a true star across the carpet. Not so magical however, was the story behind it. Apparently it was her stylist who saw the Aisha Kambali creation on the runway and 'just had to have it.' Erm, that's how we feel about most dresses, Dia… Insert Picture 5 – Dia Mirza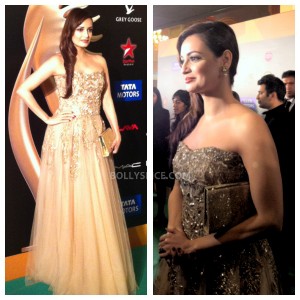 Tulle and sequins seemed to be all the rage on the green carpet tonight as Amrita Rao also appeared looking like a fairytale princess in a gown very similar to Dia's. Picture 6 – Dia and Amrita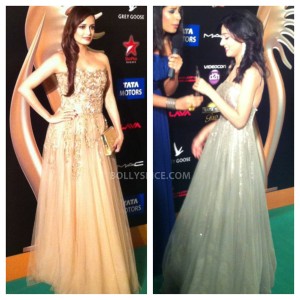 The petite starlet sparkled in a Monica and Karishma design from their Jade Collection. Even in her killer heels, the actress only came up to our shoulders, making us feel a little better for being shorties ourselves. Insert Picture 7 – Amrita Rao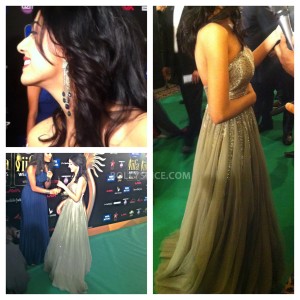 Rao was followed by her Main Hoon Na co-star Zayed Khan who made us melt into a puddle on the green carpet in his dapper black suit. Taking style tips from cousin Fardeen, Zayed also tucked a silk handkerchief into his left breast pocket, in true James Bond fashion. Insert Picture 8 – Zayed Khan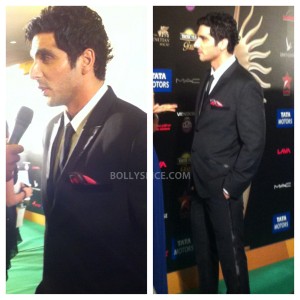 The boys pulled out all the fashion stops tonight, with even Shahid Kapoor dropping jaws and drawers as he jaunted down the green carpet. Managing to look both adorable and sexy, Shahid – who clearly took tips from Bow-man – finished his suit with a maroon bowtie. Insert Picture 9 – Shahid Kapoor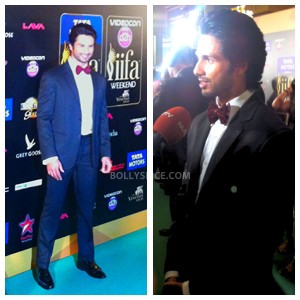 Now what we're having trouble deciding is who out of Shahid and Zayed, wins the award for 'Man we most want to take home.' After a long and heated debate, we're leaving it to you, the readers, to decide for us – please comment below to help settle this argument! Insert Picture 10 – Shahid and Zayed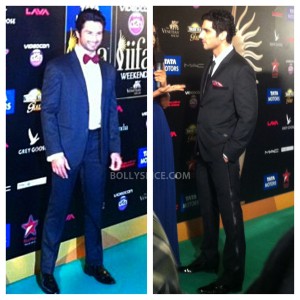 Taking a more traditional Eastern angle, as surprisingly few stars did, Madhuri Dixit swanned out in a glamorous black sari. Although she looked more suited to a wedding than an international awards ceremony, the gold accessories and swept-up curls made the star look as elegant as ever. Insert Picture 11 – Madhuri Dixit
Abhishek Bachchan provided a short distraction from the fashion, entertaining us all by dancing down the green carpet with backup dancers and dhol players to boot. Mr. Bachchan, in a lime green sherwani, plucked some of the waiting press from the crowd to join him. He immediately came to us first of course but we politely declined… We kid, we joke. We wish. Insert Picture 12 – Abhishek Dancing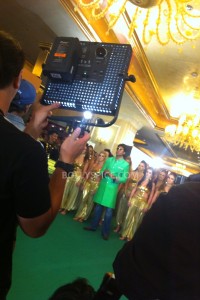 Managing to steal our hearts whilst clutching his mother's hand was Sonu Nigam's son, Nivaan. The adorable lad stole the show with his navy velour jacket teamed with blue jeans and black sneakers. Little Nivaan is definitely one to watch, as his dad proudly boasted of how the talented little cutie can already draw, play the piano and the guitar! Nivaan and his curls have definitely enchanted us, rightfully earning our Best Dressed award – he's the most stylish kid we've ever seen! Insert Picture 13 – Nivaan Nigam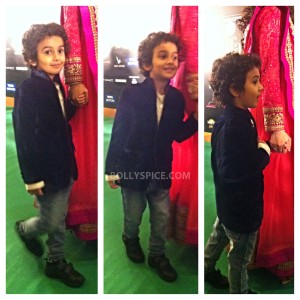 It's a shame Nivaan's daddy didn't take style tips from his son, as Sonu chose to don a boring pinstriped black suit.  Zzzz. Insert Picture 14 – Sonu Nigam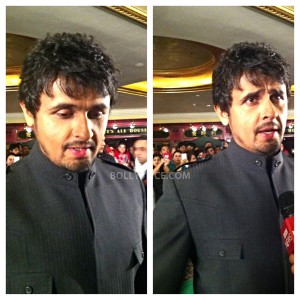 Coming in a very close second for Best Dressed was Anushka Sharma.  The Jab Tak Hai Jaan actress certainly did not look ainvayi ainvayi floating down the carpet in her angelic dress. The oyster cream Deepika Kervan gown was certainly a winner, making us want one for ourselves! Anushka looked like royalty, and wowed us and awaiting fans even more when she turned around to reveal a diamante-filled back. Breath-taking. Insert Picture 15 – Anushka Sharma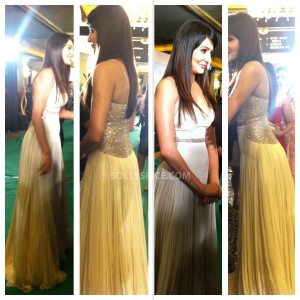 Last to walk the carpet was Vidya Balan and can we just say Ooh La La, what a beauty! Although we weren't in love with Vidya's sari, her winning personality more than made up for it. The Ghanchakkar star covered up in a black sari with a white blouse. Insert Picture 16 – Vidya Balan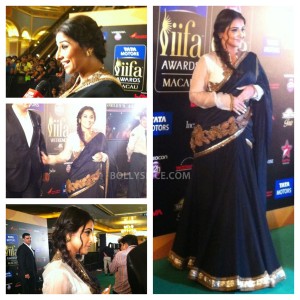 We felt the sari was slightly ill-fitting and all in all quite dowdy but her natural beauty took centre stage. Could Vidya's loose fitting sari be hinting at a new arrival…? Perhaps she's expecting more than just an award… Insert Picture 17 – Vidya Hand on Stomach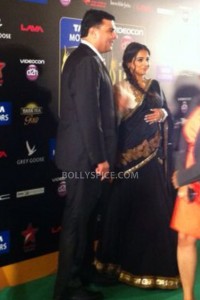 So, one green carpet, two lattes and three coats of nail polish later, that's our IIFA recap – phew! Time to sleep and dream of owning all the pretty dresses we saw (except Neha's). We had fun getting all the hot gossip just for you guys, so now it's your turn – let us know what your favourites were in the comments below! See you soon!