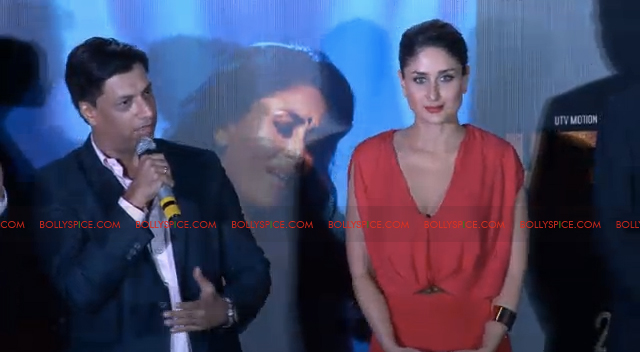 The very first trailer of the much-anticipated movie Heroine was released today in Mumbai much to the excitement of journalists in the audience and fans all over the world. The trailer was presented by UTV's Siddharth Roy Kapur, director Madhur Bhandarkar, National Award winning actor Arjun Rampal, acrice Divya Dutta and of course the Heroine herself Kareena Kapoor.
Before going on stage, the actors and director were all pumped up and had trouble expressing how excited they were that the first trailer was getting ready to release to the world.
Arjun Rampal said before going into the theater, "I am very excited. The trailer explains the mood of the film and the different experiences she had in her life."
Kareena Kapoor said to be as excited as her fans. "I am extremely excited. It has been an exciting journey for all of us. I hope you guys like it."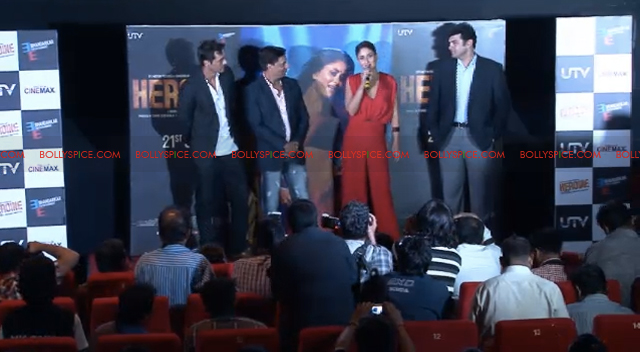 Director Madhur Bhandarkar seemed like a young kid being taken to a toy story. "I am nervous, excited, I don't know how to react. The response has been great! I am sure people will like it. Jalwa!"
The trailer was shown twice and received a loud round of applause. Everyone seemed to be really impressed with the trailer that shows Heroine to be aggressive, edgy, filled with glamour and scandals.
According to producer Siddharth Roy Kapur it's a film Madhur was born to make. He thanked the whole team of UTV, before introducing the director of Heroine on stage.
Exploring different subjects
Bhandarkar has been making films for 11 years and in each film he is known to explore different subjects. He gets inspired by real life incidents and builds a story of fiction around it. "I try to explore different subjects, like the corporate world, the fashion world, the media world. I am really happy that those films were critically accepted and I also received a National Award for my work. "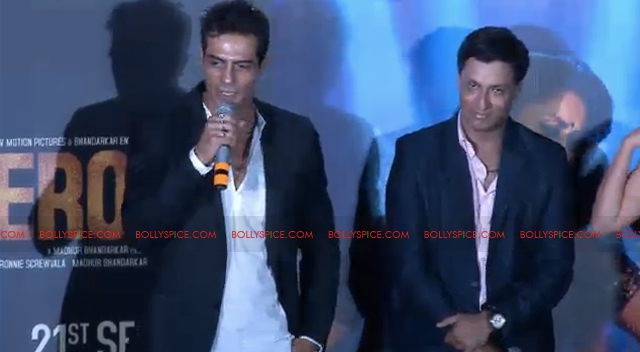 Bhandarkar assured everyone that if you have liked his previous films, you certainly won't be disappointed with Heroine. "I want to thank everyone who was there and supported me during the ups and downs. We have completed the film in 7-8 months. I can assure you, the way you have loved my other films, you will love Heroine also."
The film is about the rise and fall of a movie star. One tends to wonder who the inspiration was behind this film. "Obviously we have been inspired. You can say that 70% is realistic while 30% is fiction. It's difficult to pinpoint someone as we have taken from everyone. Kareena's character of Mahi is eccentric, edgy and aggressive. People will identify with this film. It's about a star and her ups and downs in her professional as well as her personal life."
Heroine = The Dirty Picture?
After the trailer released on the Internet, people started making comparisons between UTV's The Dirty Picture, which won numerous awards last year including Best Actress. Madhur Bhandarkar reacted to the allegation. "There is no comparison. The Dirty Picture was a film about an item girl in the 80s who becomes a star. This film is about the rise of a star of today. These are two different films. I have seen The Dirty Picture and it's a very good film. But Heroine is nothing like that. There are several films being made on the underworld, but you don't compare those either, why this comparison?"
Siddharth Roy Kapur plays it safe
Producer Siddharth Roy Kapur was questioned on this comparison and on who, according to him, has given the better performance: His girlfriend Vidya in The Dirty Picture or Kareena in Heroine? Siddharth plays it safe, much to the amusement of the cast and audience. "Both performances will be acclaimed as the best performances of the last few years. It is a good time for cinema."
"Great to be part of the team"
Actor Arjun Rampal, who plays the role of a superstar, is very happy with the way the film shaped up. "It's been a long journey. I am happy, we all believed in this. I am very proud of the way the film shaped up and proud the way Miss Kapoor has performed. It was great to be part of this team."
Arjun explains why he took on the film. "I liked how this main protagonist goes through different relationships and her reasons to make those choices. That is what I liked about this subject."
The actor is then questioned on the intimate scenes he had with Kareena. He thinks about it and then comes up with a hilarious answer, which makes everyone crack up. "Yeah, those were some wonderful moments and they will stay with me for the rest of my life", he says with his signature smile. "I want to thank Madhur, Kareena and UTV for making this possible."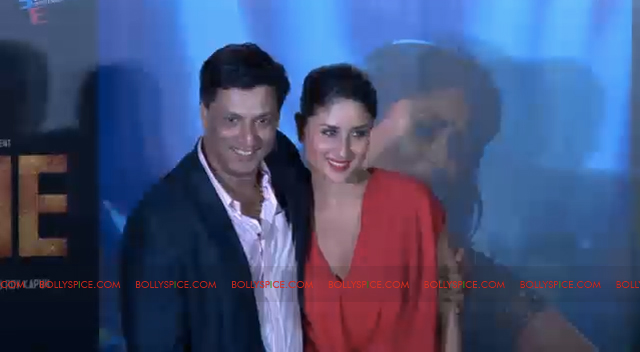 Actress Divya Dutta didn't say much at the trailer launch but did mention that it was an honour to be part of one of the most awaited movies of this year. She added that the promo look brilliant.
"I always wanted to be a Heroine"
Heroine Kareena Kapoor seemed to be quite speechless about all the praise. She said she was luck and happy that this film was written in her destiny and thanked Bhandarkar. "There is nothing much than I can say. As a child, it's always been a dream to grow up and be a heroine. Even in school, I just looked at myself in the mirror and not concentrating on my studies. Listening on my walkman to the songs of Sri Devi and Madhuri. Thinking one day I will be a heroine! My journey would have never been complete without Madhur. The entire UTV TEAM has been fantastic. I was so glad this film was in my destiny."
Earlier Kareena had declined the film and it went to Aishwarya Rai Bachchan. She stepped out for obvious reasons and the film went back to Kareena. The 31-year old actrice explains that she had no reservations earlier on to do the fim. She was to busy with other projects she had signed, so she wouldn't be able to give any dates. "I was busy shooting for Bodyguard, Ra.One and Talaash so it was difficult to shoot. I wanted to take all my time to get it right. I am really happy they came back."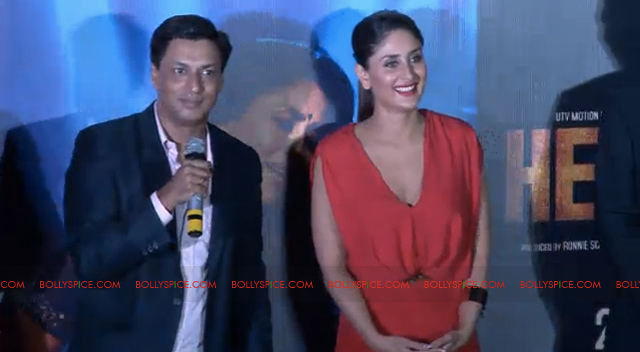 Heroine is edgy and bold. It also shows the darker side of being a star. So has Kareena ever experienced any of the things her character goes through? "Nothing as such has happened. I haven't really had any personal experiences like in the film and if it will… I would probably handle it a little more care… and thought. Mahi does not think."
Kareena, who is known for her spontaneous and incredibly real acting said that once again she did not do any extra preparation, "I haven't done any research for my character."
"The journey has been fantastic," says the heroine about Heroine.
If the trailer is anything to go by, then be ready for a wild ride in terms of story, music and of course performances. We are surely looking forward to this one. Are you?
Heroine releases on the 21st of September!
Here is the trailer again!
httpvh://youtu.be/ZWB_h91HqP0