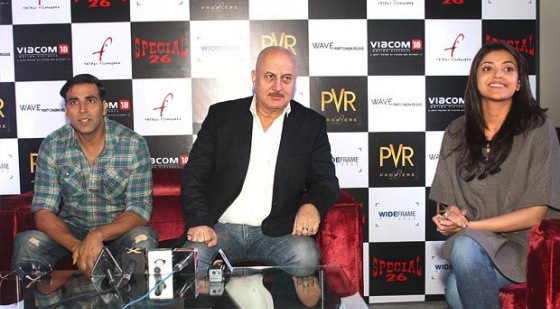 The team of the upcoming film Special 26 was in New Delhi recently for promotions. Actors Akshay Kumar, Kajal Aggarwal and Anupam Kher along with director Neeraj Pandey attended the press conference at a South Delhi venue. They took questions from representatives of various media houses and talked at length about the film as well as the controversy surrounding the Kamal Hassan starrer Vishwaroopam.
When asked whether the film was based on real-life incidents, Akshay Kumar answered that it was a mix of fake and real. Calling it a 'toungue-in-cheek thriller', he added that working on Special 26 was a very satisfying experience as he got to challenge himself as an actor.
Anupam Kher too shared similar sentiments about the film and even called it one of the ten most important films of his career! Kajal Aggarwal was not very forthcoming about her role in the film as she felt her director wouldn't like her to talk about it, but insisted that it was a very interesting character.
Talking about the USP of the film, director Neeraj Panday claimed that it was Akshay in a never-seen-before role. Akshay added that he was not convinced with the script at first but Neeraj had a vision and he convinced Akshay with his narration. When asked why it took him 4 years to make another film after A Wednesday, Neeraj replied, "I didn't plan it this way but somehow getting the whole ensemble cast together took a long time."
Talk veered towards the controversy surrounding Vishwaroopan and Anupam came down strongly on what he called 'appeasement politics'. Calling the controversy 'completely ridiculous' he lamented how the government gives in to a few unreasonable people shouting slogans. He went on to say that we are going through a phase which is taking us back to the dark ages. Akshay gave his own example of being forced to show his OMG Oh My God to a few people for approval. When asked how they were planning to support Kamal Hassan, Anupam quipped that the fact that they are talking about Vishwaroopan in a press conference for Special 26 is their way of supporting him.
Anupam also shared his experience of attending the Screen Actor Guild Awards in Los Angeles and how amazing it was for him to share a table with actors like Robert De Niro, Bradley Cooper and Jennifer Lawrence. He expressed his happiness at being part of a film like Silver Linings Playbook which has received 8 Oscar nominations.
The press conference ended with the Special 26 team reiterating that it is an out and out commercial film and should not be mistaken for an offbeat one. Well, commercial or offbeat, we do expect a super film from the maker for A Wednesday!
Special 26 is set to release on 8th February, 2013.
Check out the trailer!