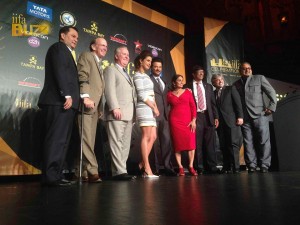 Hurricane Priyanka Chopra breezed through Tampa Bay on Tuesday as part of the IIFA press tour to promote the awards in April.
Priyanka has been on the move all week, having been at the "fun part" but not the awards ceremony of the Golden Globes in Los Angeles on Sunday, a Hollywood IIFA press conference Monday, the Tuesday conference and a similar stop in the Big Apple scheduled on Wednesday.
In addition, the former Miss World and new Guess Girl said she's also in the U.S. to shoot the music video for her next single, which is releasing next week. With the IIFA press tour, the upcoming single, hosting the Idea Filmfare Awards also next week and her movie Gunday out next month, Priyanka says she has "quite a few big announcements" going on.
One announcement you won't hear from her soon: an engagement.
The star says of course she wants a ring on her finger sometime, but don't look for it anytime soon.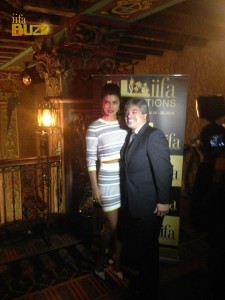 A running joke at the Tampa press conference was started when local cardiologist and philanthropist Dr. Kiran Patel, who was involved in bringing IIFA to Tampa, accidentally called her Priyanka Kapoor, as Anil Kapoor was at the press conference as well. Anil joked that he "hopes Priyanka Chopra will be Priyanka Kapoor soon," to which Priyanka laughingly replied, "No Kapoor!"
Asked about it later, Priyanka added a bit too emphatically, "There is no Kapoor coming into my life, please God!"
Priyanka said she was excited to be back in Florida, her "favorite state in the whole U.S.," though she spends most of her time there in Miami and was on her first visit to Tampa Bay. Calling herself a total beach bum, she expressed dismay at the clouds that hung over Tampa on Tuesday and hoped they'd lift so she could catch some rays before heading to New York.
She also talked about her first experience with IIFA, hosting as the reigning Miss World in 2001.
"The teleprompter froze," she said. "And so did I."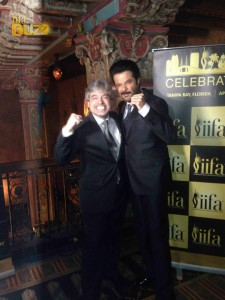 Then new to the industry, she said, she was dumbstruck by all of the stars in the audience whom she didn't know watching her get stage fright.
And then breaking the ice was Preity Zinta, "a really awesome chick," Priyanka said. "She said, 'Oh, the teleprompter froze. She'll be all right.' "
"I was struck by this film fraternity, where we all have each other's backs," Priyanka said. It still took eight years to overcome her stage fright from hosting, but that incident helped.
And she loves IIFA, which she described as "basically a big weekend party" and "an experience," because "it lets us meet fans one-on-one, and not too many industries can boast about that."
About the IIFA award ceremony, Anil Kapoor has this to say, "It's the most magnificent of the awards ceremonies." Adding, "The show in Tampa should be the biggest and the best."
IIFA also announced Tuesday that Priyanka is on the list of performers for the awards, which also includes Shahrukh Khan, Sonakshi Sinha and Yo Yo Honey Singh. Shahid Kapoor and Farhan Akhtar, who came together to host the 2012 show in Singapore, were announced as the hosts.