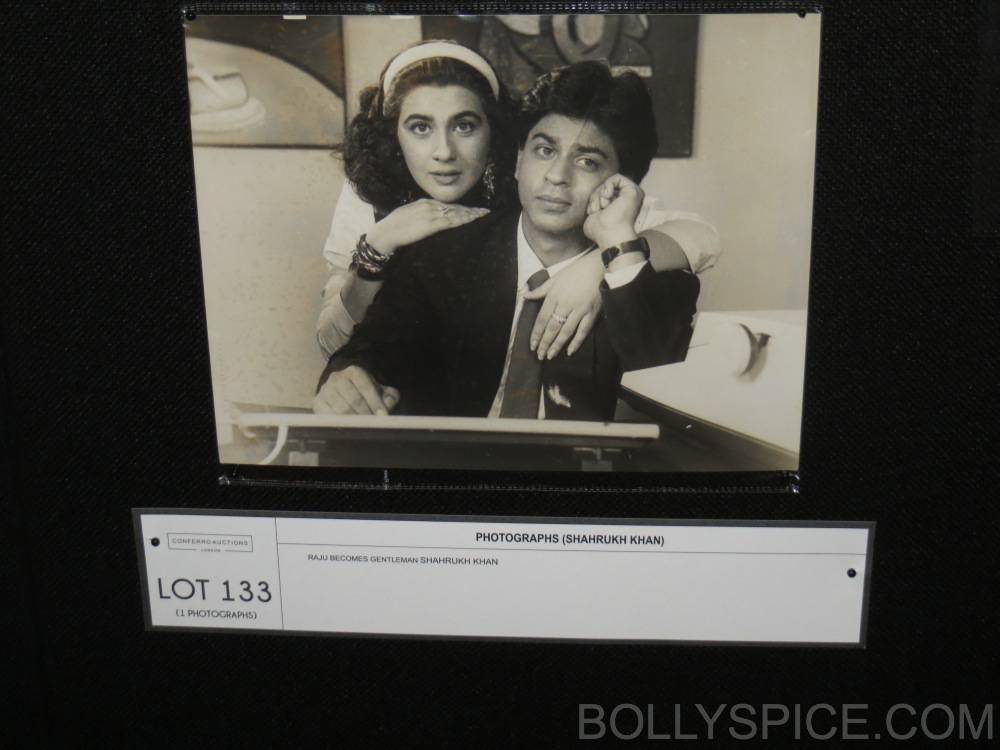 The Westbury gallery in London's Mayfair was recently adorned with rare Bollywood memorabilia. "Conferro Auctions", a British based auction house, premiered through a special and rare event – a vintage Bollywood auction that took place on the 29th of November.
Consisting of a 150 lots, the memorabilia reflected a wide range of vintage Bollywood posters, banners, LP's, synopses, lobby cards and gramophones. From Amitabh Bachchan's angry Deewar (1975) to Rehka's courtesan persona in Umrao Jaan (1981), the gallery was truly a celebration of Bollywood and the history that has been made since the very first Bollywood film Raja Harishchandra, a century ago in 1913. The auction covered the myriad of Bollywood's journey, including the shockingly erotically charged poster for Satyam Shivam Sundaram (1978) to the vintage Purab aur Paschim (1970) LP and so much more.
Not only providing a unique opportunity for buyers to own a piece of Bollywood history, the auction was also in partnership with charity, "Pratham UK". The Founder and Director of "Conferro", Sharan Seth stated: "I am delighted to be partnering with Pratham UK and helping to make a real difference to the lives of millions of illiterate children across India. It is partnerships such as these that raise awareness of the importance of education and help underprivileged children in India avoid a life of poverty and destitution".
The charity does not stop there.
Also contributing to a children's charity was a star studded cricket bat. Donated by BBC Asian Network's Tommy Sandhu the bat was signed by 32 film legends such as Irrfan Khan, Shabana Azmi, Javed Akhtar, Priyanka Chopra and Ranveer Singh. All sale proceeds are to go to the charity, "Children in Need".
We were there to experience a special look and what shone through was the emotive power of Bollywood.
As guests gazed at the magnitude of memorabilia it was clear that this auction was not only portraying history, but also a unique emotional connection that is shared between individuals and Bollywood worldwide.
Hand painted posters, etching Bollywood Star faces to perfection, powerfully reflected the emotional human aspect prevalent within Bollywood.
Ajay Seth- a passionate collector, father and inspiration to Sharan Seth, revealed his favourite piece of memorabilia as the vintage Baarish (1957) poster. Mr. Seth also revealed how he was given the poster: "Basically, I had to lure the gentleman that I will buy you a house. Then along with Baarish he gave me the other posters. Otherwise he was saying – no, I will not give."
We expand on the emotional resonance of the auction and the magic of Bollywood with Bollywood expert, Ashanti Omkar:
The Emotional Resonance of Conferro's Bollywood Auction:
There have been a lot of emotional responses who have come and said – "You know what? My Dad used to collect this. He used to love LP's and I feel very connected to them. It was the same for me… HMV has just rebranded to "His Master's Voice" which was the original title anyway with the picture of the little dog.
When you see that at Bond Street with the new flag ship store you think- they had these records, HMV had a relationship with Indian cinema from back in the day of 78. You've got all of that here and thousands of collections of records is astounding.
A gentleman started crying. He had come all the way from Kent. We are in Mayfair, many miles away – he literally had tears in his eyes when he saw the record collection. He said, "All my favourites are right here. I'd never seen the original art work!" That was a beautiful emotional response.
There was another gentleman who was with his wife and I thought that they were going to have a fight! Basically, she said "his LP's were just littering the house so I chucked them!" He said: "Look this is what they are worth! Do you understand that this is not just a LP, but it's the art work that comes." There is so much more to it – original photographs, film stills that have come from Bollywood.
I myself almost had a melt down when I saw the Sholay poster! Deewar, Sholay… Because for me, I had watched these films as a child in Africa. Bollywood at that time was new to me – I was only 5 or 6 years old. And they used to beam these films out to us every Saturday.
I think you can read about it, but when you see those posters up real life, and you see oh here's a little tear on this poster which actually makes it even more unique because this was from the first edition and these are things that made it really, really interesting and amazing for people.
Why London?
Putting it in Mayfair, London was very important- they literally could have picked anywhere in the world, why not India, why bring it all to London?
One of the key factor's with that was that they wanted London to be where it all happens. Mayfair is where all the best art galleries are, Sothebys is around the corner, Christie's is around the corner, why not launch an auction house that specialises in Indian artefacts and the value put to Indian artefacts is yet to be determined. So trying this out for the first time was very important.
A Bollywood Journey:
All of these things came together to show the different eras of Bollywood – the Russia special lot, "to Russia with love", Raj Kapoor had a love affair with Russia literally. He was embraced, he was carried when he landed in Russia. People such as Padmini were loved in Russia, Nargis – when Raj Kapoor introduced his son Rishi Kapoor and landed in Russia with a lot of aplomb with the film "Bobby". We have got huge posters of all of this. We have got the original "Awaara" poster, the original LP. The people who own "Conferro Auctions" were very keen to actually capture a piece of history and they've captured it.
What would you say is magical and unique about Bollywood?
I think the formula of these films- you go in to see the vibrancy, the colour, the song and dance – there is a lot of stress on music. Nearly every film is a musical and that is something that is quite unique. In Hollywood yesteryear, obviously the Mary Poppins style film happened and we still get the odd musical… but it's not something that's seen very often. In Hollywood, a musical will be typically Disney's kind of Tangled– something like that would incorporate the song with the narrative. In Bollywood, it's a part of the cinema. It's a part of the history.
Check out the pictures of the amazing collection of Bollywood Memorabilia