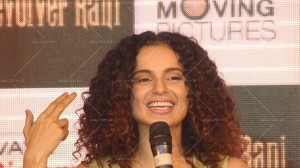 Kangna Ranaut is all set to rule our hearts again with Revolver Rani! The cast and crew of Revolver Rani held a special press conference yesterday at a suburban hotel in Mumbai, with a loud and colourful ambience to associate to and celebrate the theme of the film.
Kangna said that her sister was totally against her doing the film. "My sister heard the script with me and she didn't want me to do such an aggressive, abusive role. But I had already decided I want to do this," she said. Talking about shooting in Chambal, Kangna stated," I thought the whole violence story of these areas was in the past. I had no idea I will be shooting in a place where even milkmen carry guns!" Her performance in Queen has been widely applauded and she hopes people accept her as Alka too. "I didn't expect so much love for Queen, but I really hope people accept me in Revolver Rani too. This film is totally different from Queen as Rani was a quiet and shy character while Alka is more than the opposite of that. I hope when people go to watch this film, they don't keep Queen in their minds." She also laughed and added," After watching Revolver Rani, nobody is going to marry me."
Filmmaker-producer Tigmanshu Dhulia was also present at the conference and said that Revolver Rani is B grade entertainment. "I have watched Revolver Rani 2-3 times during its editing and every time I watch it, I notice something new. That is the sign of a classic. The film is so unpredictable and well scripted that I told Sai (director) that we don't have good actors in the industry to pull this off" he added. Vir Das, who is also a part of the film, said that he has never done cinema like this before. "In all my films before this, I have done comedy. In this film, comedy happens to me," he smiled.
Revolver Rani is directed by Sai Kabir Shrivastav and will hit the theatres on 25th April.
Here is the launch in pictures!
(Photo Credit: Charla Manohar)