Last Friday, the 23rd Septmeber 2011 saw some of the most lauded and iconic stars from American, Canadian and Indian cinema and entertainment take to the stage in London to promote one of the most exciting Hollywood crossover films to emerge in recent times, Speedy Singhs, releasing in the UK on Friday 30th September 2011. International comedy sensation, Russell Peters, and rising star of cinema, Vinay Virmani, joined fellow cast and crew members including much adored comedian/actor Gurpreet "Ghuggi" Singh and co-producer Ajay Virmani as they addressed the audience and conducted a Q&A session with media in attendance at the posh Jumeirah Carlton Tower Hotel, Knightsbridge.
Mr Ajay Virmani spoke about their promotional trip, introduced the actors and briefly spoke about the film: "We were just India and stopped in London because I understand that London loves Russell. He sold out the O2 for two nights in a row. We could not fly over London and not stop here. It's a very simple movie. There is nothing complicated about it and is made from the heart. It talks about relationships and has a backdrop of Ice Hockey. But that is only a backdrop. There is also a message for families who come from India (to Canada) and struggle. It's a story about a young boy who is coming of age."
"Gurpeet Ghuggi is best known for his comedy in India and when He goes to places like Southall (UK) or Brampton (Canada) the traffic comes to a halt. You will see him in a very different character in the movie. Vijay Virmani is playing the lead in the movie and is also the storywriter. Breakaway/Speedy Singhs is his film and a lot is based on his experiences when he was growing up in Canada. And Russel Peters is the funniest person I have met in my life," said the co-producer.
Speaking about the movie and co stars Ghuggi Singh said: It's a great blend of emotions. I haven't seen such a good film in recent times. It's a great combination of Hollywood, Bollywood and Pollywood. Pollywood because I am a Punjabi movies actor (laughs). Even though Vinay Virmani is a debutant in this film, he has done a great job. It was great to share screen space Russel Peter because I have always admired him as a great comedian. I am really excited."
Debutant Vinay Virmani, the leading actor and son of the co-producer thanked the media personas for coming to the press meet. He also went on to talk about the film and believes that wherever people are; India, Punjab, London or Toronto, they will be able to relate to it. He also believes that it's a family film which everyone can watch together and enjoy. Speaking about its UK appeal the actor said: "The UK appeal is very special. We have every UK artist on our Soundtrack, from Jassi Sidhu, Rishi Rich, Veronica to RDB. The music is very special in this film."
Russel Peters, who is worldwide famous for his stand-up comedy shared his experience of watching the film at The International Toronto Film Festival: "I was nervous before seeing the film. There were a couple of moments where I got teary eyed and that is not easy."
Q&A with the Press:
As a comedian yourself, did you work together with the scriptwriters?
Russell: I took what they gave me and flipped it. Thank God they did not say that you have to say exactly this. I have been on sets where they say 'Nah, that has been written and that's what you have to say'. They allowed me to do what I needed to do.
How do you think will the background of Ice Hockey appeal to the rest of the Asian audience as it's a big sport in Canada?
Vinay: Yes, it's the national sport there. Hockey is Hockey. Hockey is the national sport in India and it's in our blood. The only difference is that we play it on ice. I think there has not been a really good film in a while that showcased the sport. Hockey is also just a backdrop and a vehicle in the film.
Why did you change the name of the film for audiences outside of Canada?
Vinay: Breakaway is a very Canadian and Hockey term. It also means breaking away from traditions and cultures. We felt that Speedy Singhs is also a great title. It sums up the energy of this film.
Do you all know how to play Ice Hockey?
Russell: I have only played street hockey because I grew up in Toronto. Neither me nor my character in the film are Ice hockey fans.
Vinay: Shooting Ice Hockey is really tough. Fortunately, we don't have much of it in the film.
Ghuggi: I actually tried twice to play but suddenly I thought I don't have enough insurance (laughs).
What was it like to work with Akshay Kumar as a producer?
Ajay Virmani : It was wonderful. He is the co-producer of the film and brought the Bollywood element to the film. He also brought a lot of script sense to Ii as well as emotional elements that appeal to any sort of audiences but mostly to the Indian audience. He is very professional and always on or in time. He was also a great contributor the
music.
Why do you not like to work in Bollywood movies?
Russell: I does not appeal to me. I have never watched a Bollywood film. I think most NRI kids watch Bollywood films because they see their parents watch them while they grow up and feel a sense of nostalgia.
Now that you have partied with Sonam and Akshay, Do you plan on watching their movies?
Russell: I always appreciate people as humans. Whatever you do for a living is irrelevant to me. Guys like Akshay and Anupam Kher are great people. I would love to find out if Sonam is a great person but the most we got to do was take a picture and she walked away and I was like 'okay' (laughs).
Speedy Singhs releases in cinemas across UK and worldwide on 30th September 2011.
Check out some pictures from the event, and watch an exclusive video of Ghuggi Singh and Vinay Virmani dancing on "Ni Aja Ve" after a request from a journalist at the event: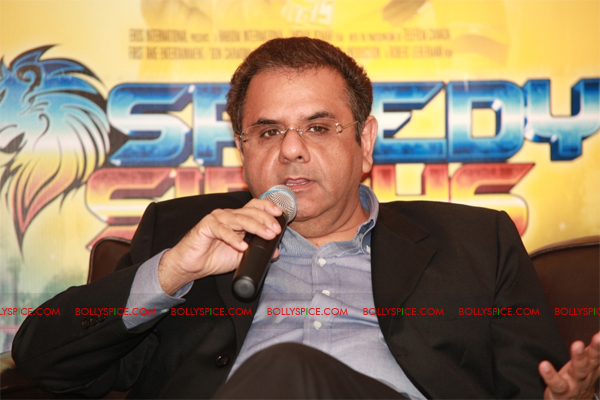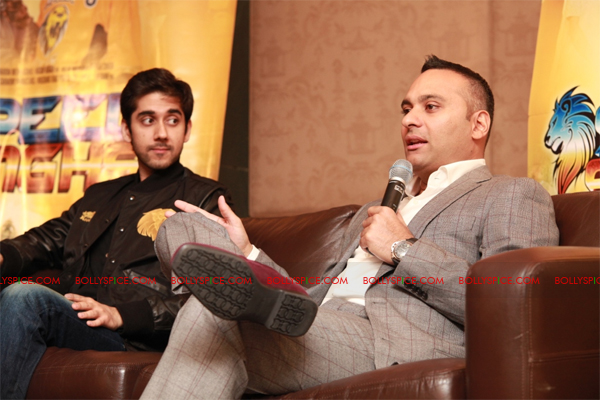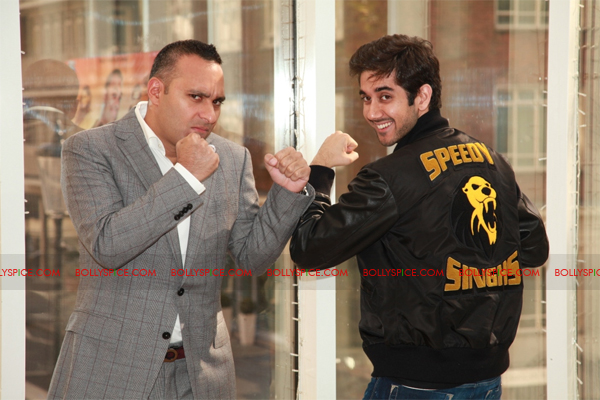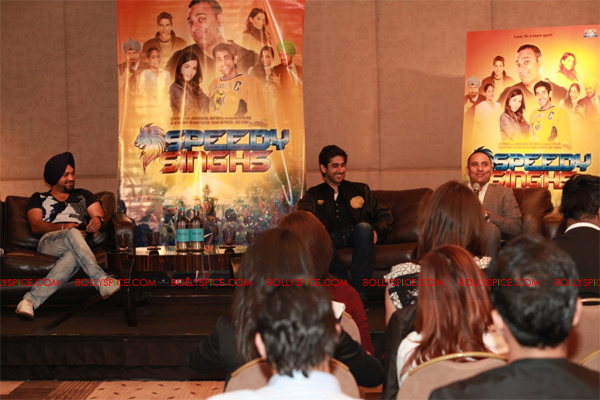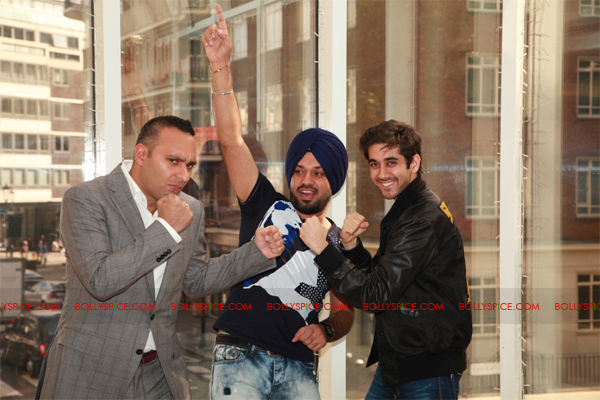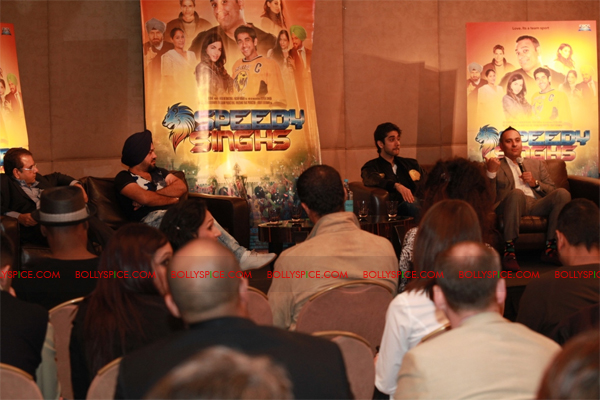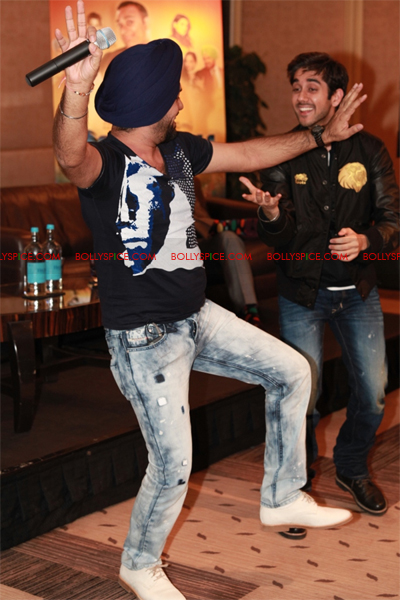 httpvh://youtu.be/82mL5qcFiGI