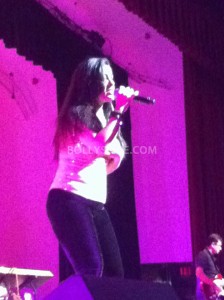 Brought by Kanu Chauhan of Rajsun Entertainment, Sunidhi Chauhan, winner of multiple awards and honors for her vocal talent, has become a household name with many blockbuster hits under her belt such as 'Beedi Jalaile' and 'Sheila Ki Jawani'. Alongside Sunidhi, supporting her with the male vocals was former Indian Idol 5 contestant, Rakesh Maini. Last but not the least, the very talented band with their unique hairstyles as the host, Raviraj Kande, charmingly put helped make the perfect recipe of a perfect show.
Bringing confidence in his dance and sur in his awaaz, Rakesh fired up the crowd with oldie songs like 'Badan Pe Sitare' or the most recent hits like 'Tum Hi Ho'.
The stunning superstar of the show, Sunidhi Chauhan, made her entrance with a rocking performance of 'Crazy Kiya Re'. The power-packed singer brought people dancing down the aisles as her sultry voice couldn't help but lure everyone towards her.
Singing classic hits such as 'Desi Girl', (which had more boys on their feet than girls), 'Ainvayi Ainvayi', 'Kaisi Paheli Hai Yeh', 'Mere Haath Mein', 'Sheila Ki Jaawani', and duets with Rakesh Maini such as 'Disco Deewane' were enough to drive the crowd wild with her electrifying stage presence.
Raviraj Kande had his own charming comedic bit on the different types of Indians from different states and a mimicry act on bollywood film stars', which had the audience rolling in laughter.
With shrieks of happiness of seeing Sunidhi back on stage for the 2nd half the show, Sunidhi brought everyone dancing to their feet, ending the show with 'Beedi Jalaile', with cries for more.
This was Sunidhi Chauhan's first show in New York after approximately 15 years, and here's hoping for many more!