We fared a tad better with the press room on the big day of the TOIFA Awards Ceremony, but the starlets and heroes did need the whole day to shop and get all glammed up. There was also no access to celebs on the red carpet, who chiefly interacted with hosts Chunky Pandey and Shreyas Talpade, and the throngs of fans around the barricades. Yet amidst the chaos of sight-seeing and getting ready, Kulraj Randhawa, Zarine Khan, and Sujoy Ghosh took some time out of their schedule for a few interviews. They told us about their upcoming projects, their favourite sight-seeing destinations, and their love of movies.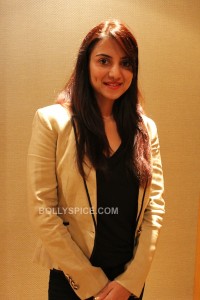 Kulraj Randhawa

The fun and feisty Kulraj Randhawa who made her Bollywood debut with Yamla Pagla Deewana, was back in Vancouver to visit her relatives as well as enjoy the performances at the big show. We chatted about her transition from Punjabi films to Hindi films and her upcoming projects
How are you enjoying your stay in Vancouver?
It's lovely and good. Well it's been a blessing, especially after the weather we have in India right now.
Which performances are you looking forward to at the awards show?
Ohh lots of performances! In fact, most of the female fan following in Vancouver are all gaga over Ranbir, and they're looking forward to it. I think I'm quite excited to see him and Shah Rukh, of course.
How has the transition from Punjabi films to Hindi films? Was it daunting?
I think it was not that tough. I was lucky enough to get good projects, in Punjabi I did good ones, and then I did Hindi, where I was quite lucky to be working with a lot of good actors. I'm looking forward to be doing more Punjabi films and more Hindi ones too!
What are some of your upcoming projects we can look forward to?
I'm going ahead and doing a film with Jimmy Sheirgill right now, which will begin in May right in the middle of the heat!

I met up with Zarine on the 8th floor patio, which had a gorgeous waterfront view of Canada Place. The weather was less than lovely but Zarine definitely took in all the Vancouver tourist spots as well. We talked about her career that's flourishing in the south and the media scrutiny for curvier women.
Have you been checking out some sights around town since you came a few days earlier for the show?
It's been really great; it's my first time in Vancouver. It's a beautiful city, a little bit has been ruined by the rain but I still could get to go around. Did a lot of shopping, and went sight-seeing yesterday to Grouse Mountain and also the Capilano Bridge, it was super fun because I'm an adventurous person. Today, we're planning to go to this Granville Island, so I'm looking forward to that. I love the people here, they're so warm. The welcome we had was really not expected and that the Hindi film industry was so big here too. Thank you for that.
Which performances are you looking forward to at the awards show?
Actually, Ranbir is hosting and I'm a great fan of his humour so I'm looking forward to that one and I think, Priyanka is performing too.
So you've been working in Tamil and Hindi films, how has that transition and experience been?
It's great, because there's no big transition. Most of our Hindi film industry people work there, and their people work here. A lot of the South actors have come to our industry now, like Asin and Ileana so there's no transition here, because we're all working for each other and it's a great experience.
How do you go about choosing the rights scripts to suit you?
Yeah, that's kind of a tricky thing, because with me I have to be very careful since I don't really belong to a Bollywood background, as they say. So it's kind of difficult, you know, because it's all your instincts and with me I have made a grand debut with Salman Khan, so I want to keep up to that. And be very choosy, as too I would rather the do quality work than just want to take up anything for the heck of It, so I wait and do good work.
Does it ever get annoying with the scrutiny around your body?
No, I like my body and Indian women are supposed to curvy. Right from our yesteryear actresses, to our sculptures in Kajrat, for all to see they're all well-endowed and curvaceous women there. I'm very comfortable with my body and I think even our industry is becoming very much comfortable with the kind of body type as I have now. As you see a lot of actresses, I don't really want to name them, they've all gone big and they have been accepted. For example Vidya Balan really had to put on a lot of weight for The Dirty Picture and was really accepted well. Actually, she's the one who made things so comfortable in being okay with being big.