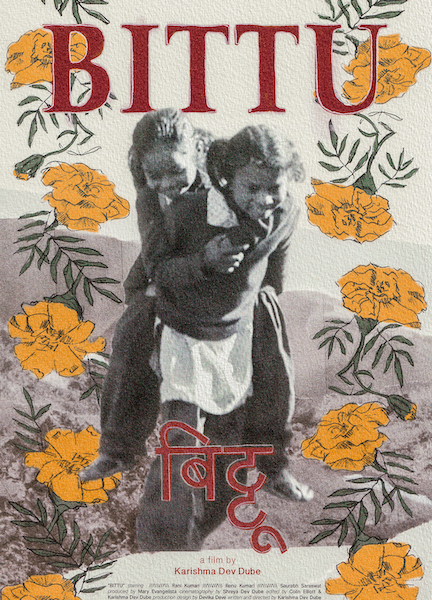 Bittu, the live-action short film directed by Karishma Dev Dube, stays with you long after it fades to black and the credits roll. But I am getting ahead of myself…before I go on to praise this stunning and heartbreaking film, let's set the scene.
Based on a true story, Bittu, set in a forgotten Himalayan community, follows streetwise eight-year-old Bittu and her sweet polar-opposite best friend Chand. On the day the film occurs they have a big fight at school. What happens next brings them to an end they never imagined. According to the director/writer, "At its heart, the film is about a fierce sense of loyalty and friendship held by a young girl who is punished for her individuality and somehow saved by it."
Check out the trailer

In just over 16 minutes, Karishma Dev Dube has crafted a story that feels completely honest, substantial and perfectly told. She presents the tale of Bittu with vignettes, which so works in this form because you feel like you are completely within the tale and experiencing the characters' lives on that fateful day. It makes the film. Enhanced by the cinematography of Shreya Dev Dube, there are so many moments and shots that create this tale. The two that are standing out to me as I write this, are the birds, which seem to be vultures, flying over the schoolyard. Then the final scene of Bittu and Chand, (minor spoiler) reminded me of a scene in Jane Eyre where Jane lays next to Helen and holds her hand. I may be wrong about that, but it struck me at the moment. There are many more meaningful moments as I think back on the film. 
Another aspect that makes this film so exceptional is that you know and understand the characters fully – their motivations, their emotions and who they really are at heart. It is quite the feat to have that all truly play within the story of a short film.

The performances are extraordinary! A standing ovation must be given to the young Rani Kumari as Bittu. She fully encompasses every nuance of this role. You feel every emotion, especially in the quiet, sad moments in the end. It is an incredible performance from a child who was never in a film before. She is exceptional. Applause must also be given to Renu Kumari (Chand), as well as the adults of the piece the fabulous Saurabh Saraswat, and Krishna Devi who is great and has a wow moment close to the end. 
Incredibly, Bittu is the director's graduate film from NYU Tisch School of the Arts that was a medal recipient of The Academy of Motion Picture Arts and Sciences prestigious 47th Student Academy Award for narrative short film. Now, Bittu, which is presented by Ekta Kapoor, Guneet Monga and Tahira Kashyap Khurrana, founders of Indian Women Rising, has been shortlisted for the OSCARS Short Film Live Action category. It so deserves this honor!
My highest compliment is that I wanted more! The film works brilliantly as a short 16-minute film, but I wanted to experience a feature-length run time because I was so involved in the world, the characters and the story.
The film made me smile, dance a bit, get so angry, and it moved me even before the final climax. Then Bittu made me cry full on tears as the story ended.
As I said, as it faded to black and the story was told, Bittu left me completely stunned, heartbroken, blown away and in awe at how good this film is. I could go on with many more adjectives that praise the piece, but I want you to experience the astounding brilliance of Bittu for yourself. 
One last note: the filmmakers' goal was to spread awareness on the story but also to support these children and families of the village where the film was shot. Check out the official website to find out more. (https://www.bittufilm.com/the-goal)