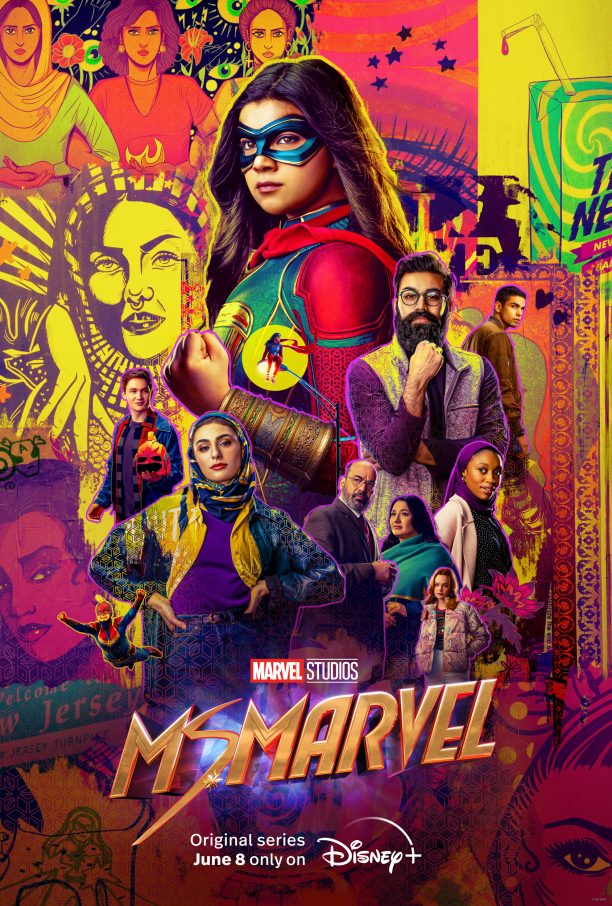 "Ms. Marvel", a six-episode series, is the newest entry into the Marvel Cinematic Universe, also known as the MCU. Debuting on Disney+ on June 8th, the series is based on the very popular comic book of the same name. However, this series takes the story into a whole new and exciting frame. I was granted an early look at the first two episodes, and they were so intriguing I can't wait to see what happens next. But more on that in a minute!
First, let's set the scene to give you a feel for the show.
Marvel Studios' "Ms. Marvel" introduces Kamala Khan, a Muslim American teenager growing up in Jersey City. An avid gamer and a voracious fan-fiction scribe, Kamala is a Super Hero megafan with an oversized imagination—particularly when it comes to Captain Marvel. Yet Kamala feels like she doesn't fit in at school and sometimes even at home—that is until she gets superpowers like the heroes she's always looked up to. Life gets better with superpowers… right? 
The series stars Iman Vellani as Kamala Khan/Ms.Marvel. She is joined on the adventure by Matt Lintz, Yasmeen Fletcher, Zenobia Shroff, Mohan Kapur, Saagar Shaikh, Rish Shah, Fawad Khan, and Laurel Marsden. Arian Moayed, Adaku Ononogbo, Alysia Reiner, Azhar Usman, Laith Nakli, Nimra Bucha, Travina Springer, Farhan Akhtar, and Aramis Knight make up the characters in Ms. Marvel's world.
One of the best things about this series is that the focus is not on her being Pakistani or Muslim… it is just who she is, it is just who her family and friends are…it is her world. Going to the mosque, celebrating Eid, her father calling her beti, Bollywood is mentioned, most notably a debate on Shah Rukh Khan's best movie (DDLJ, of course), Urdu is spoken, and none of that is explained. It is just what is, and I think it is fantastic that they decided to do that. This story and show is not about shining the light on Kamala Khan and her culture; it is about her, her family, her community, and they are just living their lives, and what happens when she becomes a superhero. 
Another cool aspect is that many of the camera angles reminded me of the perspectives drawn in comic book panels. It starts out subtly in the series with a shot here and there, but over the course of the two episodes, as she starts to learn about her powers, it becomes more pronounced. You could see it drawn into a comic book square, and that just connects it to the world it comes from. 
One of the unique aspects and decisions is that they added in a lot of animation. It begins in the opening "monologue this is who I am' scene and then it is sprinkled within the series. Some of it ultimately works, especially that first scene and the plan, and these take the story forward. However, some of it, you blink and miss, and it feels extraneous. From what I have seen so far, they tried to do it too much, taking away instead of enhancing the feel.
The entire cast's performances are the absolute highlight of the episodes I saw. Everyone was terrific and so true to their characters. I give them many snaps.
I cannot imagine, especially after seeing her in the press conference, anyone else playing Kamala Khan than Iman Vellani. She has this sparky energy about her that just jumps off the screen. Not only that, she is so natural – I felt as if she was just Kamala, not acting at being Kamala or Ms. Marvel. In the few scenes where she showed her vulnerability, she also was excellent. One thing and I put this down to direction, is that when she does get her powers, Kamala does not seem that phased, that weirded out, and it weirded me out. It felt like there was something that should have had more focus. The only other note would be that she can't be at 11 in so many scenes in her delivery but again, I only saw two episodes. That is nitpicking, she is terrific, and I am eager to see where she will take this character next as she develops fully into who she is!
Her parents, played by the fabulous Zenobia Shroff and brilliant Mohan Kapur, are perfect. There are scenes where Zenobia was so strong and full of so much feeling, but to reveal why would be a spoiler, so just watch out for those moments. Mohan is fantastic and IS so purely Yusuf; he is not playing Yusuf.
Shout out must be given to Matt Lintz as Bruno, Kamala's best friend. There is so much going on behind his eyes, and you want to know his story. He is earnest and genuine, and I loved him as this character. I look forward to seeing where Bruno goes within the story, and that is entirely down to Matt Lintz's performance.
Rish Shah is a character that is something of a mystery… that is all I can say. A very good mystery, but we will have to see what develops.
Does this fit within the MCU? I will have to reserve judgment because it is just establishing this character, it is Ms. Marvel's origin story in this timeline, but the overall essence feels a bit young. I felt it was a show made more for teens, and somehow that does not work. It does not feel like she and her friends are in high school. But the adventure is just beginning, so that may change as the story continues. No matter what, Iman Vellani, MUST continue to be Ms. Marvel in the movies to come.
In the end, as I said at the beginning of this review, I can't wait to see what happens next. I am very intrigued to see her story, who those people are (no spoilers), and what will happen as the tale of Kamala/Ms. Marvel develops and plays out in the next four episodes. 
If you are a fan of the comic, I know you will cheer this version of Ms. Marvel; if you are new to the character and this comic book world, I think you will really like it. I recommend you do give this a binge.  
As Stan Lee would say, Excelsior, Ms. Marvel.
"Ms. Marvel" begins streaming on June 8th on Disney+.