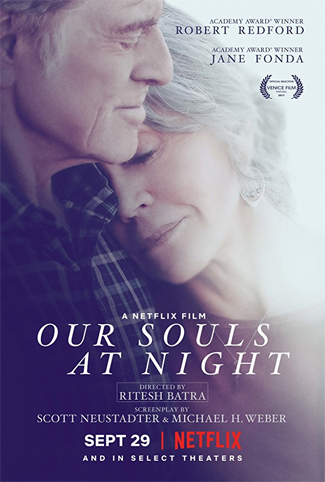 A Netflix Original production, Ritesh Batra's third film is an adaptation of Kent Haruf's final novel, Our Souls At Night, set in the fictional prairie town of Holt, Colorado.
One evening, Addie Moore (Jane Fonda) pays a visit to her neighbour Louis Waters (Robert Redford), in order to make him a proposition of sorts. Addie wonders if Louis would be interested in coming over to her house and sleeping with her. What Addie is proposing is not sex – long widowed, she's looking for companionship, the comfort of someone to talk to and sleep next to, and she wonders if Louis might feel the same way.
The two try out this experiment of sorts, much to the amusement and consternation of those around them. The awkwardness of the arrangement is palpable, but as Addie and Louis talk and learn more about each other, an obvious warmth grows between them. Addie's grandson, Jamie, comes to live with her when his parents separate, and the relationship that builds between Jamie and Louis – as they put together a model train set, as Louis teaches Jamie about baseball and to play catch, and as they add the dog Bonny to their motley crew – is touching and lovely. Addie's son, Gene (also Jamie's father, and a man with much baggage of his own) objects strongly to the growing relationship between his mother and Louis.
Much of the film's charm lies in the presence of Fonda and Redford – and despite the fact that they haven't worked together in almost 40 years, they bring a sense of warmth and complicity to this older couple who begin getting to know each other beyond just being neighbours.
Writers Scott Neustadter and Michael H. Weber (500 Days of Summer, The Fault in Our Stars, The Disaster Artist) manage to preserve the core of Hanuf's book: the awkward first moments; the inevitable small-town gossip; and, most importantly, the warmth and grace that Hanuf brought to his final novel. I'll admit to a bit of trepidation before watching the film – I fell in love with Hanuf's book from the first page, reading it straight through in one evening, and I so hoped the film would capture what I loved about it. In their adaptation, they have made changes from the book – but for the most part, those changes continue to serve the story well.
I'll admit to being a little sad that the character of Ruth has a much smaller place in the film than she does in the novel, where she serves as a counterpoint to the small-town gossips and their disapproval of Louis and Addie's relationship, as well as briefly joining the makeshift family of sorts that grows when Addie's grandson Jamie (Iain Armitage) comes to live with her. That said, the film's ending is one that is much more hopeful than that of the novel; neither gives us a happy ending, but the film left me feeling much less devastated than I did reading Hanuf's novel.
I can't deny the feeling, though, that, as much as I have appreciated Batra's adapted films (this is his second book adaption after Sense of an Ending), nothing for me matches the joy I felt watching his first film, The Lunchbox. Our Souls At Night is a faithful and workman-like adaptation, with much to commend it – but I can't help hoping that Batra's next film will see a return of the magic his first film managed to weave on screen.
Our Souls At Night is currently streaming on Netflix now.