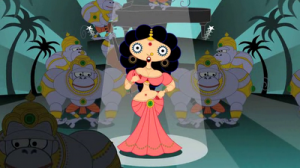 Sita Sings The Blues is an 82 minute animated film by Nina Paley, whose animation experience prior to this was apparently a 4 minute short film. Paley is an American woman who became aware of the Ramayana story when she was visiting her husband who was posted on a work assignment in India.
As a white girl, raised in a Western country, my own familiarity with the Ramayana – one of India's great epic tales – is pretty limited. Coming to the story late, and having to rely on mainstream Hindi films and occasional books that make passing reference to the story – I only really know the basics: Ravana, the bad guy with ten heads, kidnapped Sita, the virtuous wife of Rama, the hero of the tale. Rama, with the help of Hanuman, rescued Sita, but doubted her purity having been in Ravana's custody for so long, and he asked her to undergo a trial by fire to prove her innocence. And that's not the end of the story, but that's all I really know. (Obviously it's time for me to read the book).
One of the things that stands out in the story is that Sita seems to get a pretty unfair deal – which is what ultimately prompted Paley to make a film about Sita's plight. Whether or not Sita is a victim actually forms an interesting argument within the film itself – the film's shadow puppet narrators taking sides to argue that she was either instrumental in exacerbating her own problems and did not need to accept ill treatment from Ram; or that "What could she do but exactly what she did? She loved him unconditionally and was fulfilling her duty as his wife."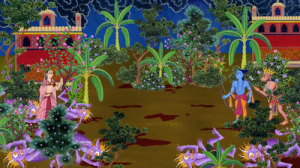 With my limited knowledge I obviously can't deconstruct the Ramayana, but it's an issue that comes up in Bollywood viewing frequently too. If you have watched films from any culture outside of your own, there will be times when you notice that the depictions of gender roles are different, cultural and social roles are defined and represented differently, and that isn't always easy to accept if it isn't in line with our own values.
I guess what I am saying is ultimately this: for Paley to decide to make an animated version of the Ramayana, combining varying animation styles: shadow-puppet narrators, a cartoony, Betty Boop-alike Sita, to classical Indian paintings come to life, all told from Sita's point of view with Sita singing 1920s jazz songs (in place of the Bollywood numbers you might expect), – when you write that down and think about it, it seems pretty gutsy.
It's also awesome. This film is worth watching and talking about and thinking about for SO MANY reasons – there are so many various issues to deconstruct, if that's your thing: the feminist issue, the cultural politics, copyright, history/myth.
Sita Sings The Blues has three distinct narratives running through it. Firstly, there is the present day story of Nina and her husband Dave – based, I can only assume, on the real-life Nina's story. Dave gets placed on a short contract in India while Nina stays in San Francisco. When she finally goes to visit him, it is apparent that something is wrong, and soon after Dave dumps Nina.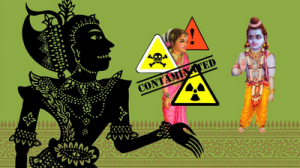 Juxtaposed with the story of Dave and Nina is the story of the Ramayana: Ram and Sita. The epic tale is narrated to us by three unconventional shadow-puppet narrators. I say unconventional because of their narration style – they argue points of the story and disagree all the time on aspects of the narrative, are a little unclear on names and dates, stumble with pronunciation, and frequently talk over the top of each other. It's like having the Ramayana told to you by a group of friends who haven't thought about it for a while and might need to go and look some things up. I LOVE this approach and think it's absolutely perfect for a story that has no one authoritative version. These narrators don't claim to be experts but tell the story informally and with good humour, and with enough information to pique the interest of people like me who only know a fraction of the story.
The approach also allows for various points of view to be presented – as in the "Is Sita a victim or not?" debate. One of the narrators actually compares the situation to when you have a friend who is hung up on a guy who is just not that into her, wouldn't you tell her to move on? While another makes the case for it being unconditional love driving Sita's actions (or inactions) through the epic.
Ahh love. That brings me to the third "storyline" which is actually cartoony siren Sita, mirroring the storylines of Dave and Nina and Ram and Sita, singing her heart out expressing her emotions – from woman deeply in love "Here We Are", to heartbroken "Am I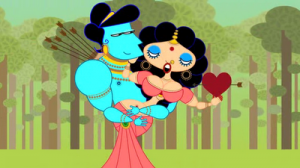 Blue".The musical numbers, sung by Annette Hanshaw, are largely more Old Hollywood Busby Berkley in their animated execution – unsurprising given the soundtrack is jazz. Even so, given the story, and the format, their execution is often amusingly original!
I've been thinking about the choice of music – how it marries the two stories together – and how to interpret the film as a whole. I think what I took from Sita, singing her blues in a language I can understand – coupled with the juxtaposition of Nina's modern day story and Sita's ancient one – is that love and heartbreak are timeless and borderless. That a present day American woman identified with a woman in a centuries old Indian epic so much she was compelled to tell their stories together: isn't that something?
Sita Sings The Blues is available for free download at sitasingstheblues.com under a Creative Commons Attribution Share Alike License.