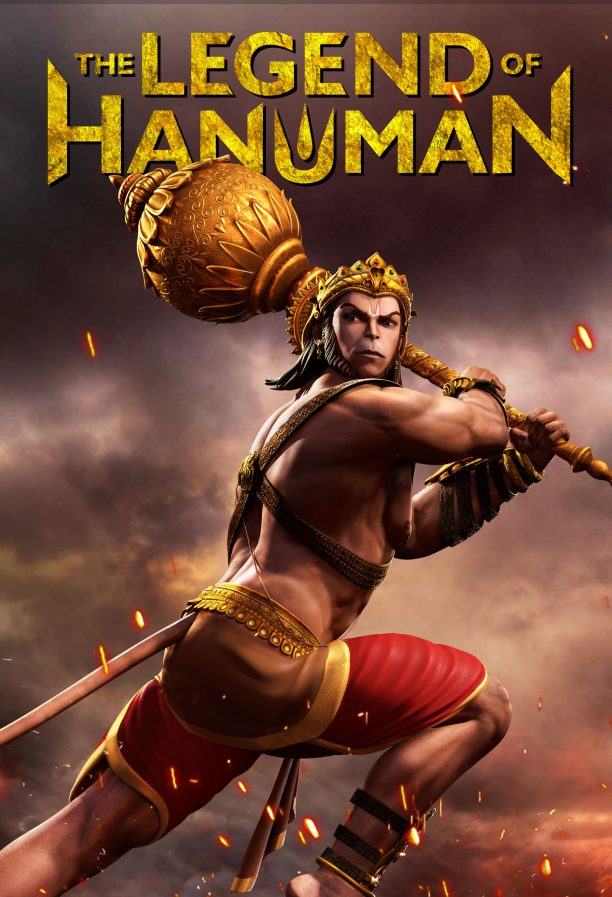 THE LEGEND OF HANUMAN, the first original animated series by Hotstar, is currently streaming in North America. Produced by Graphic India and created by Sharad Devarajan, Jeevan J. Kang and Charuvi P. Singhal, the mythological 13-episode animation series chronicles the unseen story of Hanuman's journey from mighty warrior to beloved God and how the immortal Hanuman became the ever-burning beacon of hope amidst the harrowing darkness. 
 
This is the story of a humble vaanara who forgot His divinity but was awoken to embrace His true power and wisdom to become an immortal legend. When a growing darkness threatens to tear the universe apart, all hope lies in the journey of a young hero. Hanuman's power was taken from Him as a child and He must go on a journey of self-discovery to remember the God inside of Him. Hanuman's quest will take Him through a vast world of characters, demons, lost cities, cultures and forest beings with their rivalries, alliances and wars. At each stage, He and His companions must overcome unthinkable challenges to save all existence. This is The legend of Hanuman!
Let's set the scene:

There are many, many things that stand out in this excellent series.
The animation is full, rich and feels really authentic. I was actually surprised at the amazing quality of the animation. One of the best things is that the background is rendered beautifully and very realistically. The 3D animation technology creates a show that is very vibrant and stunning but also at times very dark. This is not a flat animated world but a fully realised 3-D world and it takes the series up to an 11.
Another highlight to the animation is the great opening sequences for each episode that tell more of the background of the story – these are presented in drawings and static shots, which is an excellent way to tell that part of the mythological tale.
Mention must also be given to the small breaks that are almost an art like interval, for example when Lakshman and Ram tell the story of Sita's kidnapping in the forest. It unfolds like a painting coming to life. It is a nice change-up that really adds a lot to that episode.
The characters are all drawn really well and are very real. The movements, the action, and the overall essence of each character is completely developed and actualized perfectly. In fact, they are so good many times, I forgot I was watching an animated series, which is a high compliment.
Each episode is about 26 minutes long and tells a compact but full story. It certainly leads you on to watch one, then one more, okay one more… okay one more… It is definitely a show and a story that is binge-worthy.
The Legend of Hanuman is both for kids and adults. One of the things I liked the best was that it was not dumbed down too much or to written to too high levels either. You could enjoy this story no matter what your age.
The performances by the voice actors including Da Man as Hanuman, Richard Joel as Lakshman, Sanket Mhatre as Ram, Vikrant Chaturvedi as Sugreev, and Sharad Kelkar as the narrator are absolutely brilliant. They really make each character come to life. You feel as if you are not watching a mythological animated series but experiencing the mesmerizing tale of Hanuman. I read that creation of the animation and the voice performances was not just dubbing, it was done with animatics and that allowed the actors to actually act out the scenes. This certainly played well and made the series so much more true. The perfect cast and their performances really bring the world to life in an outstanding way.
I could go on and say much more in praise of this great series but I think you should experience this for yourself. It is full of great storytelling, incredible visuals and exceptional performances. Be sure to check it out!
Directed by Jeevan J. Kang and Navin John, and written by Sharad Devarajan, Sarwat Chaddha, Ashwin Pande and Arshad Syed, The Legend of Hanuman is streaming now.