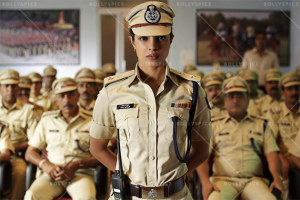 Kolkata, 7th March, 2016: There is no tool for development more effective than the empowerment of women. Focusing on this sensitive as well as most powerful issue, Ms. Mukti Gupta, Managing Director of Mukti World organized a special screening of director Prakash Jha's blockbuster movie – Jai Gangajaal on the eve of International Women's Day. The screening took place today at London Paris Multiplex, Mukti World. The occasion witnessed the eminent presence of Commissioner of Kolkata Police, Shri. Rajeev Kumar and Assistant Commissioner of Kolkata Police, Women Police, Smt. Mousumi Pal. They were accompanied by 100 women police officers along with well known women achievers of the city from all walks of life.
The International Women's Day is a celebration for the people to express their love for women by ushering respect, appreciation, and admiration towards them. This exclusive screening of 'Jai Gangaajal' was Mukti Group's noble way to pay tribute towards the women around the world on the occasion of International Women's Day. Due to prior commitments, the versatile Prakash Jha couldn't be the part of this occasion, but he sent his best wishes to the Mukti Group and the team of Kolkata Police. Speaking on the occasion Mukti Gupta, Managing Director, Mukti World said, "It is our pleasure to organize and be a part of the screening of 'Jai Gangajaal', a movie which is all about the hardships of a woman in the police force and her fearless and bold stance against corruption. Being a woman I feel more connected with the movie identifying with the struggles that continue for women till this day.'
The film addressed many issues that a women cop faces on daily basis when she services the law enforcement board. Even after displaying demonstrations of competency at par with male police officers, women are still subjected to degrading behavior at different levels. Jai Gangaajal is about the hardships of a woman in the police force and how she will stand fearless to disrupt corrupt forces. What better way to empower the lady in your life, than a trip to the London Paris Multiplex to watch Jai Gangaajal.