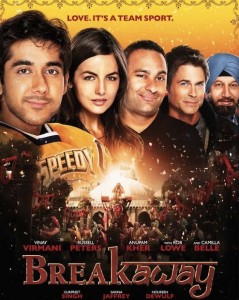 The much awaited cross cultural film of 2011, Speedy Singhs also known as Breakaway is travelling East and West to connect the film to fans worldwide. The film premiered at the Toronto International Film Festival (TIFF) with a star-studded press conference and gala screening with its cast and crew comprising Rob Lowe, Anupam Kher, Vinay Virmani, Russell Peters and producers Akshay Kumar and AJ Virmani. At the film's press conference they introduced the film, their experiences shooting in Toronto, and also shared the excitement that is launching Speedy Singhs at TIFF.
On the night of the Speedy Singhs celebration, the streets of Toronto were adorned with Indian decorations to welcome a carnival of Punjabi Bhangra Dancers, dressed in their traditional attire. The procession was inclusive of heavily embellished elephants and horses and even Bollywood Superstar Akshay Kumar came riding on a horse to participate in the celebrations.
Speedy Singhs is a film that unites drama, action, sport and comedy on the big screen, injecting a hearty measure of Bollywood magic into Canada's favourite sport – hockey. Speaking at the press conference during TIFF, Akshay Kumar, the co-producer of Speedy SinghsSpeedy Singhs."
Anupam Kher plays a strict father in the film who is against his son playing the sport and is similar to this role in Bend it Like Beckham. He admits the similarity commenting, "It's different, but yes in terms of look and being the father of a sportsperson, there is a similarity. But the canvas is bigger. In Bend it Like Beckham it was one girl who wanted to play football, Speedy Singhs talks about the entire community."
The lead actor in the film Vinay Virmani, who is fast becoming a craze all over the world commented: "From a hockey standpoint, it breaks down racial barriers within the game."
Grammy hip hop artist Ludacris flew to Toronto and surprised 'his main man' Akshay Kumar at his private birthday party on the 9th September which took place in Toronto. The party was also attended by Canadian Prime Minister the Honourable Stephen Harper and the First Lady of Canada Laureen Harper. Ludacris jammed up a storm as he performed 'Shera Di Kaum' with Akshay Kumar.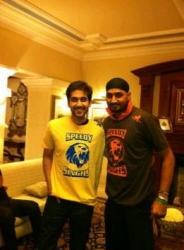 In India, Sikh cricketer Harbhajan Singh supported Speedy Singhs and even matched steps to the already superhit track 'Shera Di Kaum' with the lead actor Vinay Virmani. Harbhajan decided to promote Speedy Singhs since its core theme revolves around a sport (ice hockey). Also, the cricketer relates to the film's strong Punjabi connection, especially with the all-Sikhs team's determination to master ice hockey.
Speedy Singhs releases in cinemas worldwide on 30th September 2011.