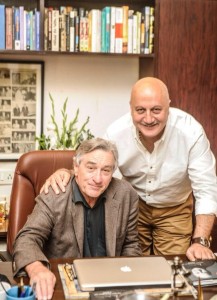 On Sunday evening, the most happening event in the film industry was at Anupam Kher's acting school in Juhu, ACTOR PREPARES. Esteemed Hindi film actor Kher hosted a memorable evening with the screen legend, Robert De Niro, one which we hear the guests will never recover from! De Niro and his daughter Drena had flown in from Goa in a chartered aircraft to specially meet Kher, before flying off for New York. Kher, who had befriended the Hollywood star during the shooting of their Silver Linings Playbook in 2011, had offered to be their host, an offer which De Niro accepted.
The classy wine and cheese soiree was attended by Anil Kapoor, Ranbir Kapoor, Rakeysh Mehra, Satish Kaushik, Ayan Mukherjee, Rohit Dhawan, Varun Dhawan, Ali Zafar, Aditya Roy Kapur, Raju Kher, Dia Mirza, Sikandar, among others. The highpoint of the evening was the interaction between the guests and De Niro in which he fielded questions about his favourite character, his most difficult role, how he chooses scripts, his relationship with his peers, his take on colleagues such as Marlon Brando, his absence at his first Oscar win and much more.
The eager actors and directors were all huddled around the Hollywood phemonenon, many respectfully at his feet, as they took in every word of the maestro. "Reminds me of a masterclass," said Kirron Kher, as the intense discussions continued on. Indeed, so riveted were De Niro's fans that there were few takers for wines and canapés! And then the requests for autographs and photographs began with De Niro patiently signing DVDs of the Godfather trilogy, posters from his various films and books, all of which were brought to the occasion by his well-prepared fans from the industry.
Earlier, when Kher showed De Niro around ACTOR PREPARES, the star of cult films such as Raging Bull, Taxi Driver, Mean Streets, Godfather II, The Mission, The Untouchables and many more incredible films was impressed with the facilities in the studio. 'Continue the good work. The work is in believing the craft and in being inspired,' wrote De Niro on a plaque specially made for the occasion.
The get-together came to an end with the group reluctant to let go of the Hollywood legend. That reluctance was brilliantly encapsulated by Ranbir Kapoor who, when asked by Kher to say a farewell, retorted by speaking De Niro's immortal words from Taxi Driver, "You, talking to me?…!!"
Adding a personal touch, Kher said, "Two memorable things have happened to our school in the last two months. ACTOR PREPARES was chosen among the 26 most unique schools in the world, and now Mr De Niro's presence at our school this evening." And the magic continues….
Check out these fabulous pictures from the event!