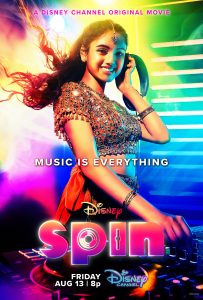 Disney's newest Original Movie Spin premieres on August 13th. Directed by Manjari Makijany (Skater Girl), the fabulous, fantastic film (more on that in a few lines) stars multitalented actress Avantika (Mira, Royal Detective, Diary of a Future President) as Rhea. She is joined by an amazing cast that includes Bollywood renowned actor Abhay Deol (Zindagi Na Milegi Dobara) as Arvind, UK comedienne/actress Meera Syal (Yesterday) as Asha, Aryan Simhadri (Adventures in Wonder Park) as Rohan, Michael Bishop (Grace Beside Me) as DJ Max, Anna Cathcart (Descendants franchise) as Molly, Jahbril Cook (A Week Away) as Watson and Kerri Medders (Alexa & Katie) as Ginger. 


Spin tells the story of Rhea, a relatable Indian American teen. Rhea's busy life revolves around her eclectic group of friends, her coding club, working at her family's Indian restaurant and her tight-knit family. On a journey of self-discovery, she finds a true passion for creating and producing beat-driven music infused with the rich textures of her South Asian culture.
Let's set the scene:


As she spins, mixes, and finds the beat for the DJ battle, Rhea realizes that Everything is Music. Does she get the courage to follow her talent, find her music and play it out in the world? You will see on August 13th! 




As I said earlier, the film is fabulous, fantastic, and many other words of praise. It is enjoyable from the first beat to the last note. Much like in her brilliant film Skater Girl, director Manjari Makijany brings a unique perspective to film with the way she presents her story and brings it to life. Every scene is so well thought out, and each character is so fully fleshed out that you feel as if you are in the story you are not watching a film – this shows real mastery of her craft. I cannot wait to see what else Makijany will bring to the world of film. 


One of the best things about Spin is that though it is the first Disney film that features an Indian American teen as the lead character and features a cast of Indian actors – that is never the focus of the film. Their Indian-ness is never at the center; it just is who they are. It creates such an honest and authentic world. In fact, the entire cast and the characters they play are very diverse, but they are just in the world of the movie, and it is perfectly right. It does not shout look how diverse or how Indian we are… it just is, and they just are! It is not an Indian girl having to discover her Indian side or her American side or having to choose one; it is just about Rhea, her family, her friends, and the music. I loved that the writers decided to tell the story this way. 


The attention to detail is meticulous. From the sets to the menus and the restaurant's food to the clothes Rhea wears, it is all done so well. Even down to the vinyl records and the record store. I loved seeing the vinyl records; I would love it if vinyl came back. Plus, the choice to include the cassette and VCR tapes and even the tape recorder and mixtapes add to the tale because they all fit into Rhea's mother's world of music. I especially loved the many mixtapes (I wonder if kids will know what they are and how they were made)! Then you add in the DJ console set up and the laptops, and you now are in Rhea's 2021. Also, eagle eyes may notice the poster on Asha's wall, which has the name of the song she sings in the restaurant in Devanagari… Jab Chhaaye (जब छाये ). That is detail!


I loved that even from the very beginning, Manjari Makijany set up that everything has music; you just have to find it, and then throughout the story, as Rhea discovers that, we hear it too. It is small, but this deep layer added so much to the film.


The performances by the entire cast are brilliant. Aryan Simhadri as her brother Rohan is fabulous. Anna Cathcart as Molly, Jahbril Cook as Watson, and Kerri Medders as Ginger are the perfect friends for Rhea. They each have their own uniqueness, and they bring so much energy and light to the film. Each actor was real, not reel! I also love that the mean girl trope was not included in the movie, that Ginger only used her power for good. It was so refreshing to see that and even have the wink given within the script.


Of course, Abhay Deol was fantastic. He played the character of a stressed widower hiding from life within the walls of the restaurant while trying to be the best father – wonderfully. He also was adorable when Arvind tried to flirt. You knew and felt this character in every scene sometimes even when he did not say anything.  


Meera Syal as Asha, aka Nani, was perfection! She had just the right touch of filmi without going overboard; she played the loving but strong, opinionated Nani terrifically, but it was in the moments where Nani was talking with Rhea that she was even better. I loved the scene in the bedroom because she delivered her lines with so much emotion, and you could also see the feelings in her eyes. She had fire, light, strength, and so much love that you would want her to be your grandmother. It was an absolutely splendid performance of a fab character.  


Avantika as Rhea was outstanding. She took us on this young girl's journey, and you never were taken out of the story; you were brought into the film's world by her performance. I was so into the story because of her being Rhea, not playing Rhea. You felt everything she was feeling: her stress, responsibility, the first crush, love for her friends and family. So many small moments Avantika created on screen, from relaxing and slouching a bit when talking to Asha to the moment she takes and the breath she takes before she spins, are two examples, but there are so many more that I loved I cannot list them all! This is a sign of an actress that is fully in character. This is a young actress that will go far, and I cannot wait to see her next film!


Mention must also be made of the incredible music! The mixes slap, especially the 'It's All Music' jam. Had it on serious replay, and now that it is out, I had to download. I loved the visuals that went with that track as well. Have to give a shout out to including 'Jab Chhaaye Mera Jadoo' (Lootmaar) sung by Asha Bhosle. I also loved and bought 'Zinda Hoon Main (I'm Alive)', sung by Pratibha Singh Baghel, and the Salim-Sulaiman composed track 'Pakki Yaariyaan' sung brilliantly by Sunidhi Chauhan and Sukhwinder Singh. Be sure to give the soundtrack a Spin (pun intended).


The story of Spin will speak to kids, young adults, parents, all ages. It is aspirational, inspirational, moving but also fun, funny, and just oh so good! In the end, it is all about finding out who you are and what your passion may be and going for it. 


This is one of Disney's best original movies; it has so much heart and an incredible story that comes to life on screen. No matter your age, I highly, highly recommend this film. I cannot wait to watch Spin again!


Spin premieres Friday night, August 13th at 8 pm EST on the Disney Channel and Disney+.