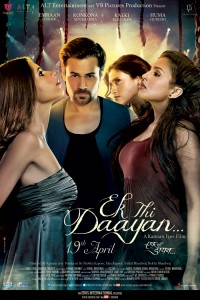 Cine-goers can look forward to a spooky family friendly treat with the Emraan Hashmi-starrer Ek Thi Daayan which hits theaters worldwide on Friday April 19th.
Ek Thi Daayan, directed by Kannan Iyer, is the first thriller-horror to have received a UA certificate from the Censors. Contrary to initial perception that the film would be limited only to an adult audience, the UA certificate clearly establishes the film's enhanced potential and appeal among the youngsters as much as among adults.
Hashmi plays Bobo, a leading magician, suffering from constant hallucinations. His life is falling apart. When he is put through regression hypnosis, a terrifying childhood story surfaces, in which a daayan (witch), who has destroyed his family, returns to haunt him.
Says Vishal Bhardwaj, "The film draws inspiration from folklore. Along with Emraan, Konkona, Kalki and Huma, two young kids play major roles in the film. With schools going in for a summer break, this will turn out to be an enjoyable family outing."
Remarks Ekta Kapoor, "While we have the added advantage of being children-friendly, the film also has all the commercial masala that the audience expects from an Emraan Hashmi film."
"Young couples who want to cuddle up during the spooks and scares have found their film to do so!" she winks!