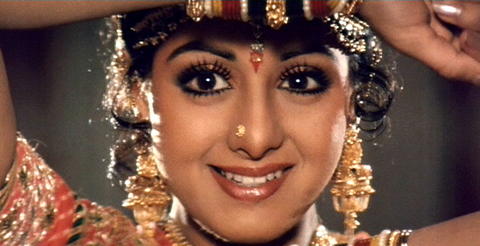 Since the 1980s, Sri Devi has been entertaining audiences and is considered one of Bollywood's best and most esteemed actresses. She has given audiences some outstanding performances and is also known for incredible dancing. We are sure she is on many a fans list of their all time favorite actresses… she is on mine and especially in Chandni! The gorgeous actress was away from the silver screen for quite a while but made a triumphant return in Gauri Shinde's English Vinglish last year. We here at BollySpice loved her so much in that film we named her the Best Actress of 2012! British journalist Ashanti Omkar, who is the Bollywood editor for Cineworld Cinemas, got the chance to chat with Sri Devi and we have some fabulous highlights from that interview. See what Sri Devi had to say about her comeback, motherhood and her iconic Bollywood status.
Did you know that the actress has been seen in over 250 films in both the Tamil and Hindi film industries? "When I think about it and the numbers you've thrown at me, I'm wowed," said the actress.
Unbelievably it had been 15 years since she was on a set as an actress when she started shooting for English Vinglish, "I never felt that I had a gap of 15 years from a film unit. I was quite comfortable, thanks to Gauri (Shinde), my director. She worked on every detail meticulously."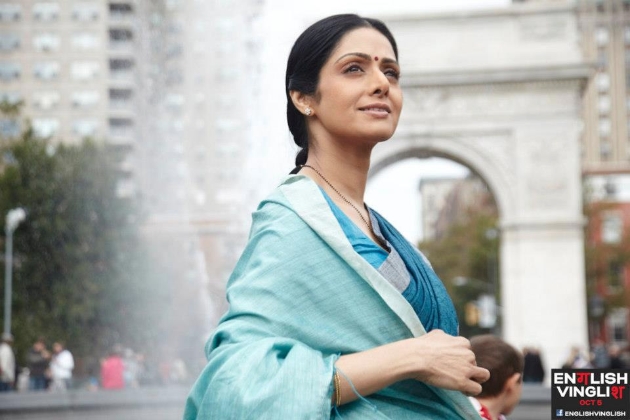 Adding, "My God, the technology has gone somewhere else! I was astounded also at the technical expertise that all the crew imbibed."
Ms. Omkara commented on Sri Devi's natural comic timing and asked, 'Is there something you tap into, that helps you achieve on-screen excellence?' So what did Sri Devi reply? "I don't know, because that's what my husband says — that I'm a joker, a big joker. Even Gauri says this and anything I would say, would make her laugh."
She also went on to talk about what she feels is the most important thing an actress or actor can do, "I believe that more than anything, the eyes are very, very important for an artiste, whether a hero or heroine. To play any character, most of it should speak from the eyes, rather than the lips."
In English Vinglish, Amitabh Bachchan made a fabulous cameo appearance and Sri Devi revealed, "Sharing the screen with Big B is an honour, and I was so looking forward to it. Balki (director of Paa and producer of English Vinglish) told me he was doing it and I was really happy."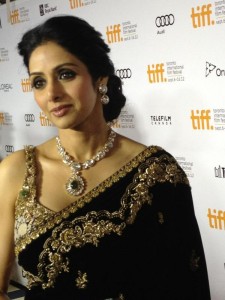 We also learned her beauty secret and how has she maintained her camera perfect looks! "Just be happy and embrace a healthy lifestyle. Yes, exercise is important and the "no pain no gain" adage is true. Keep to regular times, do not eat the wrong foods, and most importantly, keep a good frame of mind and be positive. I'm a vegetarian, which also helps a lot," she revealed.
Along those same lines, who is her favorite designer to wear? "I've worked with so many great designers and everyone has their own style and method. I love to wear all the designers, but Manish Malhotra is very close to me and is a dear friend. We share a great rapport."
She also divulged, just in time for Valentine's day, what love is to her, "Love is not just about sharing Magnum ice cream, but also entails long drives and small things like being at home, watching movies and chilling out with the kids. Those magical, simple moments. My family is love. I won't travel without them and they're my pillars, my strength. Even my favourite city is wherever I am with my family."
So we will see the actress onscreen again? "It all depends on how much more the audience wants to see of me and the type of films available to me. I am absolutely selective with scripts and I was a child star, so my priority is to enjoy life now, rather than doing more films. I have no hurry at all and want to continue to take it easy and really enjoy my family, my kids and my house. Should a script excite me, then I will consider it." And the fans scream soon please soon!
Her final words were for her fans, "I love you all. Whatever I am today, it is only because of you. When I see your enthusiasm, devotion and affection, I feel so thankful to God."