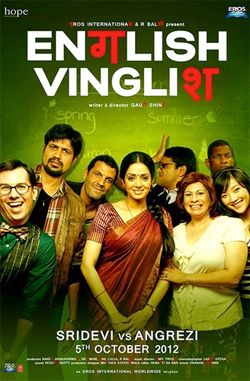 To celebrate the release of English Vinglish, we here at Bollyspice felt it was only appropriate to provide you guys with a brief career retrospective of the film's leading star. It is none other than the beautiful and delightful Sridevi, who officially makes her comeback with with this film. Having been absent from the Indian film industry for over fifteen years, Sridevi has not lost her touch at all when it comes to displaying great acting. This is evident with the high praises she has so far received from critics for her stirring performance in English Vinglish. Bollyspice's very own Anjum Shabbir mentioned in her review of the film that Sridevi's comeback is by far the best you will see so far! It is much stronger compared to other recent comebacks, like Karisma Kapoor in Dangerous Ishhq and even Madhuri Dixit in Aaja Nachle. For now though, let's put English Vinglish aside and take a journey into the history of Sridevi's film career. We will explore some of the pinnacle moments which have made this legend one of the most successful actresses of modern Hindi cinema!
Born in 1963, Sridevi worked for many years as a child artiste in Tamil, Telugu and Malayalam films. She officially made her Hindi debut as a child artiste in the box office hit Julie (1975). Sridevi's first adult role would be in Solva Sawan (1979), despite her being at the tender age of 16. Yet it was in 1983 that she gained recognition from the critics for her emotional performance in the film Sadma (1983), opposite the great Tamil actor Kamal Hassan. She would eventually go onto win the hearts of the mass audience that same year with Himmatwala (1983) where she starred alongside Jeetendra. This film became a huge box office success and established Sridevi as a commercially viable actress in Bollywood.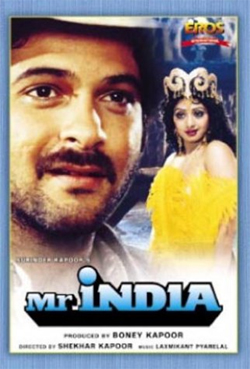 Despite Sridevi having starred in a number of hits during the 1980s, it was really Shekhar Kapur's directorial film Mr India (1987) which reinforced her position within the Indian film industry and enhanced her popularity. Her sensational performance is equally remembered along with Anil Kapoor's and Amrish Puri's. I am sure many still remember her brilliant dance number 'Hawa Hawaii,' which is perhaps one of Sridevi's best and most memorable songs to date. Her role as the news journalist Seema was comedic and bubbly, as well as serious in certain scenes. Many would agree that for the 1980s Sridevi's character was a true depiction of the modern Indian woman, irrespective of the film's fantasy based storyline. Perhaps one of key highlights of the film is when Sridevi does a Charlie Chaplin impersonation at a bar. This particular scene was both amusing and entertaining to watch. Sridevi was definitely one of the key actors instrumental in making this a hugely successful film along with Kapoor and Puri. Mr India is cited by many critics to be one of the greatest films to have emerged from the 1980s. This is especially since many consider the 1980s for most parts to be a dreary decade for Hindi cinema.
With the blockbuster success of Mr India, Sridevi had now reached the peak of her career and went on to star in one her most memorable films of the late 1980s. This was Yash Chopra's Chandni (1989), which illuminated Sridevi's beauty and charm in a way which we had never seen before. Chopra has successfully directed many actresses during his long career, but it can be asserted with confidence that Sridevi is by far the best of the lot! She is the ultimate and quintessential Yash Chopra heroine and Chandni is the film which verifies this notion. She was not only graceful and elegant in this film, but she also gave a tremendous performance as the title character. The music from Chandni is also still incredibly popular today. Though there are many great melodies in this film, the best song is definitely 'Tere Mere Honthon Pe,' which is superbly picturized on Sridevi. Chandni is still considered an institutional classic and it is referred to by many as one of the best films Sridevi has dished out during her long-term career.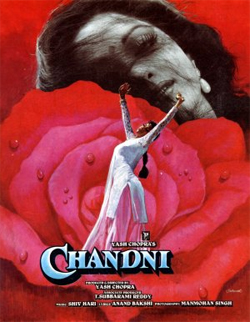 During that same year, Sridevi was also part of another noteworthy film titled ChaalBaaz (1989). She starred opposite Rajnikanth and Sunny Deol and her performance in a double role where she played twin sisters won her the first Filmfare Best Actress Award of her career. ChaalBaaz is also regarded as a great Sridevi classic which is still popular even today. With such big films to her credit, Sridevi's popularity only grew stronger and stronger and she was a force not to be messed with by her fellow contemporaries.
The year 1991 was another pivotal moment in Sridevi's career, as she starred in Yash Chopra's magnum opus Lamhe (1991). She acted alongside Anil Kapoor, Waheeda Rehman and Anupam Kher in this film and played a double role which won her major critical acclaim. In the first half of Lamhe, Sridevi plays a middle class woman from Rajasthan named Pallavi who is admired by a man named Viren (Anil Kapoor). Viren falls madly in love with her, but the feeling is not mutual as Pallavi is in love with another man whom she eventually marries. Pallavi and her husband die from a car accident, though she gives birth to a baby girl just before she passes away. The second half is where Pallavi's daughter Pooja eventually grows up and consistently professes her deep affection for Viren wherever she encounters him. You will have to watch the film to see whether or not Viren responds to her love, despite the big age gap and the fact that his memories of her mother Pallavi still remain with him.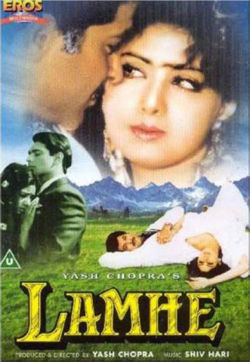 Although Lamhe was unfortunately a commercial failure in India (though it did well overseas), it is arguably one of the finest performances Sridevi has ever delivered in her career. In just one film, she managed to effortlessly enact two female personalities that are completely paradoxical to each other and she did this with absolute professionalism. She deservedly won her second Filmfare Award for her dramatic performance in Lamhe. It also won the Filmfare Best Movie Award amongst the many other awards and acclaim the film received for its bold concept. Furthermore, it is considered by many to be one of Yash Chopra's best works, as he managed to construct an unconventional film which many directors would perhaps have been reluctant to take on during the 1990s. Lamhe is a must watch not only for those who are dedicated fans of Sridevi, but also for anyone who is an absolute patron of Hindi cinema!
Following Lamhe, Sridevi was part of a number of other successful films during the 1990s. This included a double role in Khuda Gawah (1992), where she displayed excellent on-screen chemistry with living legend Amitabh Bachchan. Although it had a run of the mill screenplay nevertheless, the film had solid performances, eye-catching locations, lavish costumes and brilliantly composed music which gave the film a unique style and texture. Sridevi's performance is especially noteworthy and she was able to play both a traditional and modern woman within an oriental context with great skill.
Another memorable film is Mahesh Bhatt's Gumrah (1993). In this film, Sridevi plays a woman falsely accused of drugs smuggling in Hong Kong and the hero of the film, Sanjay Dutt, sets out to rescue her. Despite very good performances from the rest of the cast, Gumrah was really Sridevi's film. She managed to exemplify female emotion and robustness to a great degree that you remember the film largely for her significant contribution towards it. This is another great Sridevi classic to watch for those who have not yet encountered Gumrah.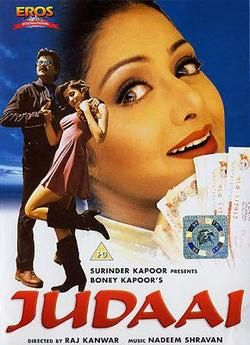 The last major film Sridevi starred in before she left the film industry to raise a family was Judaai (1997). Directed by the late Raj Kanwar, Sridevi played the role of an Indian housewife, whose infatuation with money and wealth prompts her to sell her husband (Anil Kapoor) to another woman who is in love with him (Urmila Matondkar). Towards the end of the film, she eventually realizes her errors and sets out to reclaim her husband before they leave India for good. Sridevi was fantastic in this film! She used her polished acting skills to illustrate her character's greed and individualism at such a grotesque level that money meant more to her than her own husband and family. Another must-see Sridevi film if you are curious to see her portray a radically alternative heroine.
Fifteen years after Judaai, Sridevi is back with a bang in English Vinglish! Many people from B-town have given their responses towards Sridevi's touching performance in English Vinglish. Actor Anupam Kher gave his opinion of the film on Twitter and stated the following: "English Vinglish is spectacularly beautiful. Film with a golden heart. Take a bow Gauri Shinde. Sridevi, ORIGINAL QUEEN OF CINEMA is BACK." The eminent film critic Anupama Chopra also added that: "@SrideviBKapoor is absolute magic in English Vinglish. A 15 year sabbatical but not a trace of rust. Welcome back!" Sridevi also received a lengthy standing ovation from the audience during its screening at the 2012 Toronto International Film Festival last month. To those who have not seen it yet, we hope you now feel enticed to want to go and see English Vinglish which is now showing at a cinema near you. I am sure that Sridevi will provide a knockout performance that will become another classic hit! We also hope this article has verified for you why Sridevi is such a terrific actress and an important figure of the Indian film industry. Sridevi, it's great to have you back!