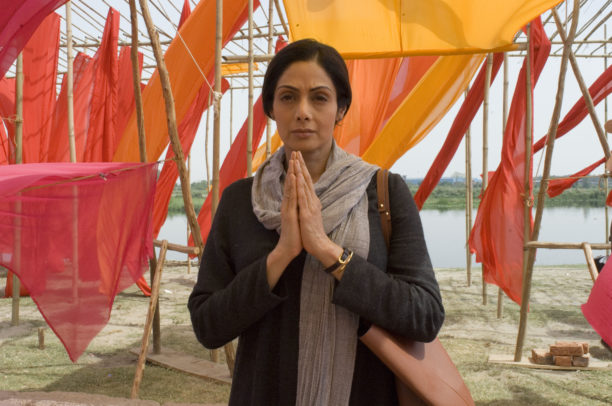 There is no doubt that Sridevi is one of the finest actresses the country has ever produced, just look at her consistently great performances over the last 50 years and 299 movies.
The actress will next be seen in the emotional thriller MOM.
It tells the story of Devki, who loves her family, a husband and two beautiful daughters, but somehow, the true happiness of being a mother alludes her. Arya, a sensitive daughter to her father, cannot accept Devki. Arya believes, a daughter comes into a mother's life, but a mother does not enter the life of a daughter. Devki patiently waits for Arya to accept her, as she believes only a mother can understand what her child does not say. A cruel twist in life, a damaging incident will distance Arya and Devki, to a point of no return. A mother will fight, she will fight for her daughters love even if it means that there are consequences to pay. A mother will choose, not between right or wrong, but between what is wrong and what is very wrong. God could not be everywhere, so he created MOM (mother).
Sridevi immediately connected with the script, especially being a doting mother of two daughters she really understood the emotions behind the character.
Not only did Sridevi restrict social conversation while shooting for the film and barely even spoke to husband-producer Boney Kapoor for 2 months while shooting the film but was so absorbed with her character that even post the day's shoot, she would continue to remain in her character.
The superstar even after the film's schedule, would unconsciously shift into the mind space of Deviki, her character in MOM. In fact Sridevi's daughters would often tell her to snap out of it and only then would she realize that she's unconsciously slipping into the quiet body language of her character.
Says Sridevi, "I was in a different frame of mind while shooting for MOM ….it was not a conscious decision where I decided to avoid talking to people for the sake for my role…but while filming, my head space and the character didn't permit me and allow me to just be normal. I was in a shell, I was not communicating with my family as much as I normally would. In fact my daughter told me at the end of all the shoots and filming that 'Mom thank God you are back to being normal again".
Mom, directed by Ravi Udyawar, with music by AR Rahman, also stars Nawazuddin Siddiqui, Akshaye Khanna, Abhimanyu Singh, and Sajal Ali hits theaters on 7th July 2017.