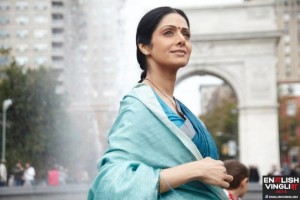 Sridevi is apparently still overwhelmed by the response towards English Vinglish. The actress has said how humbled she feels when fans come to her in person to praise her memorable performance in her comeback film. The film met with huge critical and commercial success and it is considered by many to be one of the best Bollywood comebacks to have occurred in recent years. The film is based on an Indian housewife who is determined to learn the English language while visiting America for her niece's wedding.
Sridevi had this to say whiles at a press conference. "A lot of people and especially ladies approach me. Wherever I go, people even tell me I have changed their lives."
Sridevi also said that the film had an impact on young people. Apparently, they could relate to her character's daughter in the film, who was seen insulting her mother for not knowing English. "A lot of kids said sorry to their parents after watching the film for being mean to them," said the 49-year-old actress.
English Vinglish is now available to buy on DVD and Blu-Ray!