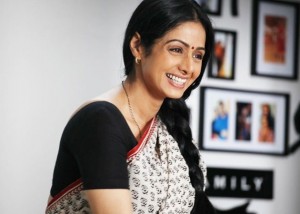 At 49 years young, the living legend Sridevi herself reveals her secrets to staying youthful!
So what does Sridevi do to keep herself looking good? "I believe whatever is inside, reflects on your face. I hate fried and junk food. Being happy and in a good state of mind, thinking positive really makes a difference. I love power yoga and love to play tennis with my children, maybe that is the reason."
English Vinglish is Sridevi's upcoming film, after a hiatus of 4 years (she played herself in a special appearance in the 2008 film, Halla Bol)! What made the actress want to do this kind of role? "I signed this movie because of the script. I fell in love with the script and of course, I loved Balki's previous films like Paa and Cheeni Kum and I thought the audience would relate to the subject like I do. I am praying that everybody is going to love it."
No worries there then, as the trailer for English Vinglish has gone viral on the Internet (mainly on Twitter) and 'til date has gained more than 1 million hits on YouTube!  We can't wait for October the 5th!