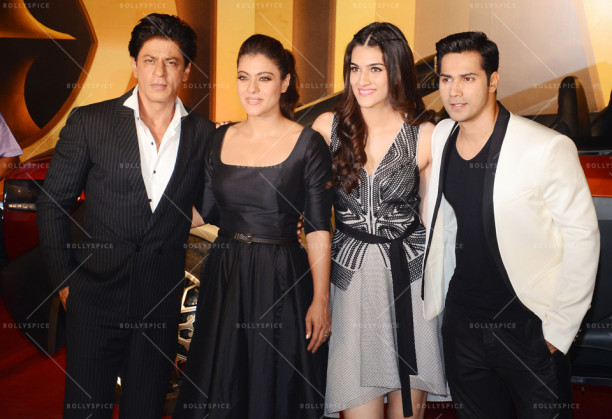 Red Chillies Entertainments Pvt Ltd and Rohit Shetty Productions unveiled the trailer of their upcoming film Dilwale in Mumbai along with fans and media. Director Rohit Shetty was present at the event along with the entire cast of the film – Kajol, Shah Rukh Khan, Varun Dhawan, Kriti Sanon, Varun Sharma, Johnny Lever, Boman Irani and Sanjay Mishra. Far from being a conventional trailer launch, the evening saw the cast display a host of modified designer cars, a concept integral to the film.
The event began with the cast arriving on the red carpet in Dilip Chabbria (DC) designer cars. The trailer of the film was then unveiled to the audience that comprised of the media and fans from across India.
Director Rohit Shetty said, "The great response that we got from our association after Chennai Express, Mr. Khan and me wanted to gift our audience something special. Dilwale is not just an another film for me and my team but a soulful journey that's being helmed by courageous hearts to create magic on screen."
Shah Rukh Khan said making Dilwale was a delight, "Dilwale was a wonderful filmmaking experience and the results will show on screen. Never enjoyed myself more while shooting for a film, right from reuniting with Kajol after a long gap to shooting the heavy duty action sequences, it was all a delight. I'm glad to be sharing the trailer with you guys as it will give you a perfect taste of the fun family film that Rohit Shetty has made!"
"Dilwale is an extremely special film", said Kajol, "Not only for what it offers but also because of the people I have worked with here. I had a great time working on the film most specially with Shah rukh and of course Rohit as well and I think everybody is gonna have a great time watching it as we had a great time making it."
Varun Dhawan said he felt lucky to be a part of the film, "I have always been a big Rohit shetty fan. But never did I expect to do a Rohit shetty film with Shah Rukh sir and kajol ma'am. They are amazing actors and to work with them is something no one has done in my generation. Dilwale is a coming together of all generations. It's the biggest family film ever made in Indian cinema. And I feel lucky to be a part of it."
Kriti Sanon agrees adding, "I feel blessed to have gotten such a big opportunity so soon in my career. Now that we have put up the first look, I can't wait for Dilwale to release. It has been a great learning experience for me and I truly wish all our efforts are paid off upon the release of the movie."
Venky Mysore, CEO, RCE said, "We are delighted to bring to you the first look of Dilwale. This is our second collaboration with Rohit Shetty after we boarded the Chennai Express successfully. Dilwale is a celebration of our association. We eagerly look forward to add to the Christmas festivities worldwide this December."
Dilwale is a family entertainer with a perfect blend of action, romance and comedy. The film is produced by Red Chillies Entertainments in association with Rohit Shetty Productions. The film is marketed and distributed by UTV Motion Pictures. The film will release on 18th December, 2015. The music of the film is composed by Pritam.
Check out the trailer in case you missed it

Plus these cool pictures!
Red Chillies Entertainments Pvt Ltd (RCE) headed by Shah Rukh Khan and Gauri Khan is a company that is surging ahead in the global entertainment industry. Founded in 2002 as a film production house, RCE has branched itself into other spheres of production, starting from setting up a path breaking Special Effects studio, VFX, which brought Hollywood's slick sophistication to Indian cinema.
Its latest venture Dilwale is a film directed by Rohit Shetty. For over a decade, Red Chillies Entertainments has witnessed success in several genres, from huge blockbusters like 'Happy New Year' 'Chennai Express', 'Ra.One', 'My Name is Khan', 'Om Shanti Om', 'Main Hoon Na', 'Chalte Chalte', 'Asoka' and 'Phir Bhi Dil Hai Hindustani' to critically acclaimed films like 'Billu'. In 2005 'Paheli' was India's official entry to the Oscars. Since its inception, the movies produced by Red Chillies have also won several popular and critical awards.